Biography
Biography of Aliyu Wamakko; Ex-Governor; Politician; Sokoto State Celebrity.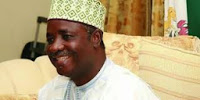 Aliyu Wamakko
Aliyu Wamakko was born on March 1, 1953 in Wamakko, Sokoto State.
Aliyu Wamakko attended Sokoto Teachers? College. He later gained admission into the University of
University of Pittsburgh in the United States, where he graduated in 1980.
Returning to Nigeria, Aliyu Wamakko taught at Sokoto Teachers College.
Aliyu Wamakko worked as a teacher before getting a job as a Principal Assistant Secretary to Zurmi Local Government Area (LGA). He also worked at Kaura Namoda Local Government Area. In 1986, Aliyu Wamako was appointed Chairman of the Sokoto Local Government Area, where he served until 1987. He later worked as the General Manager of the Hotel Management and Tourism Board, Sokoto. In March 1992 he moved to the government house, where he worked as the Director-General, Careers and Special Services, Governor?s Office, Sokoto.
In the year 1999, Aliyu Wamakko contested election as the running mate of the gubernatorial candidate and was elected Deputy Governor of Sokoto State, on the platform of the All Nigeria Peoples Party(ANPP). After his first term of office, he was re-elected Deputy Governor for a second term in April 2003 though he did not complete the second term, having resigned on 15th March, 2006.
In April 2007, Aliyu Wamakko contested for the position of the governor and was elected as the Governor of Sokoto State on the platform of the Peoples Democratic Party (PDP). In a re-run election organized after his election was annulled by the Court of Appeal, he emerged the winner again.
-
Biography Of Attahiru Bafarawa
Attahiru Dalhatu Bafarawa was born on October 4, 1954. He was the governor of Sokoto State from May 29, 1999 to May 29, 2007. Attahiru was a councilor in the local government. In 1979, he contested election to become a member of the Federal House...
-
Biography Of Aliyu Ismaila
Aliyu Isma'ilaAliyu Isma?ila was born October 2, 1956 at Numan in Numan Local Government Area of Adamawa State. He is an indigene of Adamawa State. He had his primary education at Native Authority Primary School, Numan in 1969 and started his secondary...
-
Biography Of Adams Oshiomhole; Governor; Politician; Economist; Edo State Celebrity.
Adams OshiomholeAdams Aliyu Oshiomhole, the action Governor of Edo State was born on April 4, 1953. He studied Economics and Industrial Relations at Rustkin College, Oxford, United Kingdom. He is married. He however lost his wife Clara to breast Cancer...
-
Biography Of Shehu Shagari; Ex-president; Politician; Sokoto State Celebrity.
Shehu ShagariShehu Usman Aliyu Shagari, Turakin Sakkwato was born on February 25, 1925 to the family of Magaji Aliyu and Mariamu both of Fulani extraction in the Northern Nigeria. At the age of four, Shehu Shagari was registered in...
-
Biography Of Ahmed Rufai Sani Yerima
Ahmed Rufai Sani Yerima Ahmed Rufai Sani Yerima- a Former Governor and Senator of the Federal Republic of Nigeria was born on July 22, 1960 in Anka Town in Zamfara State. Ahmed Rufai Sani attended Sokoto College of Arts and Science and completed in 1978....
Biography