Biography
Biography of Bola Frazer, Producer Channels Television.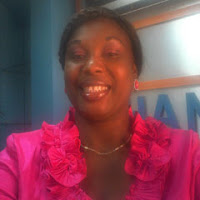 Bola Frazer
Bolanle Frazer popularly known as Bola is a producer with Channels Television. She
Obtained a University degree from Lagos State University Ojo where she studied Geography and Planning. She went ahead to get her masters degree in Diplomacy and Strategic Studies from the University of Lagos(UNILAG).
She is married to Adetokunbo Frazer.
Her Drive and love for the media made her to join Channels Television as a Producer/Reporter in March, 2003.
Bola Frazer is the Producer of Channels Television Weekly Interview Program ?Question Time? and she has produced High Profile Programs such as Road Map 2007, Sunrise, Channels Forum and other Outside Broadcast Programs.
Bolanle Frazer has been Reporting Security for over a Decade; she has received both Police and Military Training with several Awards and Recognition.
-
Biography Of Chimezie Obi-iwuagwu
Chimezie Obi-IwuagwuChimezie Obi-Iwuagwu is a producer with Channels Television. She is happily married and blessed with Children. She attended the Imo State University(IMSU) where she graduated with a degree in mass communication.She went further...
-
Biography Of Olusola Momoh, Vice-chairman, Channels Television.
Olusola MomohOlusola Momoh is the Co-Founder and Vice-Chairman of Channels Television. She is married to John Momoh the Chairman and Chief Executive Officer(CEO) of Channels Television and they are blessed with three Children. She is responsible for the...
-
Biography Of Linda Akhigbe, Presenter, Reporter, And Producer, Channels Television.
Linda AkhigbeLinda Akhigbe is a Reporter, Presenter and Producer at Channels Television. she is an indigene of Edo State, Nigeria. She studied Mass Communication from Federal Polytechnic Auchi, in Edo state.Linda Akhigbe began her career in broadcasting...
-
Biography Of Nneotaobase Egbe, Presenter, Reporter, Producer, Channels Television
Nneotaobase EgbeNneotaobase Egbe popularly known as Nneota is a Presenter, Reporter and Producer for Channels Television. He is a graduate of Geography who has spent the last seven years in Channels Television as a newscaster, reporter and producer. He...
-
Biography Of Ambrose Okoh, Controller News, Channels Television.
Ambrose OkohAmbrose Okoh has come a long way since joining Channels Television in November 1996. He has earned himself the sobriquet ?General?, in his capacity as Controller of News and has played a constructive role in the establishment of Channels Television...
Biography