Biography
Biography of Chamberlain Usoh; Journalist; TV Presenter.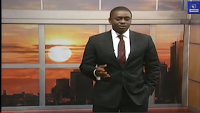 Chamberlain Usoh
Chamberlain Usoh , the award winning TV Presenter and Journalist is a graduate of University of Lagos, Unilag where he studied Mass Communication.
Chamberlain is a producer and news anchor at Channels Television and he is renowned for his insightful contributions on Sunrise Daily.
He began his career by first working at the ITN News Channel 4 in London, the Liberation Chambers in Lagos and several other big organizations before he finally joined Channels TV.
Chamberlain Usoh is named as one of the under 40 TV celebrity in Nigeria. He was named the NMMA TV Programme Presenter of the year, winner of the NBA, Media Merit Award for Excellence in Sunrise Daily Presentation and also the S.E.S Male TV Personality of the year 2011.
The talented young Presenter is goal oriented and is renowned for his focus on high quality presentation.
His hobbies includes Playing squash, tennis and watching football.
-
Biography Of Chimezie Obi-iwuagwu
Chimezie Obi-IwuagwuChimezie Obi-Iwuagwu is a producer with Channels Television. She is happily married and blessed with Children. She attended the Imo State University(IMSU) where she graduated with a degree in mass communication.She went further...
-
Biography Of Temitope Fagbemi, Presenter, Channels Television.
Temitope FagbemiTemitope Fagbemi is a news presenter and anchor of the Daily Foreign Affairs Programme, ?The World Today? on Channels Television. She is a graduate of Mass Communication and Media Technology from Lead City University in Ibadan.Temitope...
-
Biography Of Ayotunde Balogun, Presenter, Reporter, Channels Television
Ayotunde BalogunAyotunde Balogun is a newscaster, presenter and reporter for Channels Television. He was born and raised in Lagos. Ayotunde is an indigene of Ondo State. He graduated in 2007 with a degree in Mass Communication from the University...
-
Biography Of Ijeoma Onyeator; Tv Presenter; Reporter
Ijeoma OnyeatorIjeoma Onyeator, an experienced TV Presenter and reporter, was born in Nairobi, Kenya.Ijeoma Onyeator graduated from the University of Lagos(Unilag) with a B.Sc.(Hons) degree in Mass Communication and went further to obtain a Master...
-
Biography Of Charles Erukaa; Journalist; Tv Presenter.
Cherles Khalifa ErukaaCharles Khalifa Erukaa, an experienced Journalist and broadcaster is a graduate of the University of Jos with a BA in English/Literature, he also studied Public and International Affairs at the University of Lagos, Unilag....
Biography