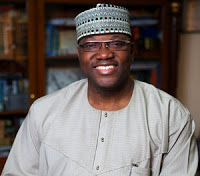 John Olatchy Momoh
John Olatchy Momoh (OON) is the Chairman and CEO of Channels Television, a Television station he founded in 1992. He was born on July 1, 1957 in Lagos, Nigeria. He was born into a humble background as his father was a cook.
The Television Station founded by him is the nine time winner of the Nigeria?s ?Television Station of the Year? Award and a recent winner of the African Achievers Awards Trust?s 2014 ?Best Television Station in Africa? Award.
He is happily married to Olusola Momoh ?the Vice Chairman of Channels Television. She is also a broadcaster and they are blessed with three children.
John Momoh graduated from the prestigious University of Lagos(UNILAG) with a B.Sc. (honours) in Mass Communication and a Master?s degree in International Law and Diplomacy.
John Momoh has professional Diplomas from the UK?s Thomson Foundation and the University of Manchester. He is an alumnus of the prestigious Harvard Business School and a Fellow of the Nigerian Guild of Editors and the Nigerian Institute of Journalism.
John Momoh is a renowned broadcast journalist with vast industry experience spanning over three and half decades. He has had a distinguished career in news television broadcasting and is widely recognized in Nigeria as a transformative industry pioneer.
Prior to founding Channels Television, John Momoh worked as News Anchor, Senior Reporter and Senior Producer for Nigeria?s National Radio and Television Stations, Radio Nigeria and the Nigerian Television Authority
As an employee, John Momoh distinguished himself by winning several notable professional awards including the maiden edition of the Nigerian Media Merit Awards ?News Anchor of the Year? and, the Nigerian Union of Journalists Award for the ?Newscaster of the Year?.
Lohn Momoh was a former General Secretary of Nigeria?s Independent Broadcasters Association and Chairman of the League of Nigerian Broadcasters, John Momoh was honoured in December 2005 by the Federal Republic of Nigeria as an ?Officer of the Order of the Niger(OON).?
Shortly after that, in 2006, he was honoured with a Lifetime achievement Award by the Nigerian Information Society and, two years later, he was nominated as Nigeria?s ?Entrepreneur of the Year? by the Fate Foundation.
He is a Fellow of The International Visitor Programme (IVP), an initiative of the United States Information Agency, a ?Chevening? Fellow and a Fellow of the ?African Future Leaders?, both initiatives of the British Government?s Foreign and Commonwealth Office.
In June 2013, he received the Lagos Business School?s Distinguished Alumni Award.
John Momoh is a member of the International Academy of Television Arts & Sciences based in New York and has served as a JUROR for the International Emmy Awards. He is also serving as a Juror for the AIB Awards ? The Association for International Broadcasters
His television station, Channels TV, is the first Nigerian broadcaster to be nominated at the International Emmy for the International Children?s Day of Broadcasting Award.
John Momoh is a Red Cross Ambassador and Patron of a select number of charitable organizations in Nigeria.
Temitope FagbemiTemitope Fagbemi is a news presenter and anchor of the Daily Foreign Affairs Programme, ?The World Today? on Channels Television. She is a graduate of Mass Communication and Media Technology from Lead City University in Ibadan.Temitope...
Ayotunde BalogunAyotunde Balogun is a newscaster, presenter and reporter for Channels Television. He was born and raised in Lagos. Ayotunde is an indigene of Ondo State. He graduated in 2007 with a degree in Mass Communication from the University...
Kayode AkintemiKayode Akintemi is an award-winning broadcast journalist who has consistently merged his core skill set, broadcast journalism and information technology to enable him practice across platforms on-air and online. He studied Mass Communication...
Steve JudoSteve Judo, is the General Manager, Special Duties of ChannelsTelevision.Steve Judo holds a Bachelor of Science degree in Social Psychology (1980), and Master of Science degree in Psychology (1983) from the University of Wisconsin, U.S.A. He...
Chukwuma OnuekwusiChukwuma Onuekwusi, an experienced Journalist and broadcaster , has a diploma in Mass Communication (Radio/TV Broadcasting) from the University of Nigeria Nsukka(UNN) and he has also attended journalism courses in Nigeria and the...