Biography
Biography Of P-Square (Peter Okoye & Paul okoye); Musicians, Anambra Sate Celebrities.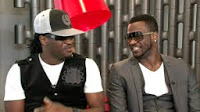 P-Square
P-Square
is the
stage name adopted by the Nigerian R&B duo and identical twin brothers
Peter Okoye
and
Paul Okoye
. P-Square both attended St. Mulumba?s Secondary school Jos, Nigeria. While in the secondary School, P-Square became part of their school?s music and drama team. During the time in question, P-Square Idolized Micheal Jackson who they mimicked and learned his dance step over years. Eventually, P-Square formed a group with some other individuals, and adopted ?Smooth Criminals? as the name for the group in the year 1997. P-Square's great talent made them very popular in the Jos Metropolis in those days.
As years went by, P-Square registered at a music school in order to develop their music talent more. Their effort showed-off when they were employed to produce sound track for some home videos including Bitterness, Evas River, Mama Sunday and Moment of Bitterness.
After their secondary school, P-Square both got admission in University of Abuja to study Business administration. The other members of ?Smooth Criminals? also got admission into various other universities leading to P-Square forming their own group whose names metamorphosed from ?Double P?, to P&P, ?Da Pees?, and finally ?P-Square?. P-Square have over time been managed by several producers.
-
Bryson Of Heraclea
Born: about 450 BC in Heraclea (now Taranto, Italy) Died: ? Plato and Aristotle both mention a mathematician called Bryson, but as is often the case, there is not complete agreement among scholars as to whether these refer to the same person or to two...
-
Theodorus Of Cyrene
Born: 465 BC in Cyrene (now Shahhat, Libya) Died: 398 BC in Cyrene (now Shahhat, Libya) Theodorus of Cyrene was a pupil of Protagoras and himself the tutor of Plato, teaching him mathematics, and also the tutor of Theaetetus. Plato travelled to and from...
-
Biography Hironobu Sakaguchi (final Fantasy)
Hironobu Sakaguchi (1962) once served as the Director of Planning and Development for Square Co.., Ltd.. He is the creator of Final Fantasy game series. In 1991 he was given the honor of Executive Vice President and was recently appointed as President...
-
May-d
Mayokun Awodumila (May D) was born in Lagos, Nigeria to a family of seven (5 boys) and (2girls), he is a University of Lagos Mass Communication graduate, May D's romance with music started when he started watching Micheal Jackson as a kid and...
-
Biography Of Ebele Okoye; Animator; Anambra State Celebrity.
Ebele OkoyeEbele Okoye is an award-winning Nigerian filmmaker. She was born on October 6, 1969 at Onitsha, Anambra State Nigeria. Ebele Okoye studied Fine and Applied Arts (Graphic design/Illustration) at the Institute of Management and Technology Enugu...
Biography