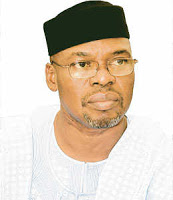 Segun Oni
Olusegun Oni
popularly known as Segun Oni was born on September 5, 1954 at Ifaki in Ekiti State, Nigeria to Hezekiah Adebomi Oni and Comfort Ajayi Oni. His father died on January 28, 1981. Segun Oni is a Nigerian Politician and an ex-Governor of
Ekiti State.
Segun started schooling at Methodist School, Ilogbe, Ifaki at a very young age but he was accepted on a non-formal status in January, 1959. He was not admitted formally into the school register until after the first half-year examinations, having proven by his results in the examinations that he could cope with school life despite his age. He completed his Primary School education in the same school in December 1964.
Segun Oni, thereafter, attended the Methodist Secondary Modern School, Ifaki Ekiti from 1965 to 1968 and Wesley College,Ibadan from 1969 to 1971. Olusegun Oni the trained teacher, having completed his education at Wesley College Ibadan in December 1971, returned to Ekiti to work at Community Secondary Modern School, Ido Ekiti, where he taught Arithmetic, Mathematics and Geography from January 1972 to July 1973, before being invited to join the staff of Ayetoro-Iloro High School, Ayetoro/Iloro Ekiti where he taught Physics, Mathematics and Yoruba until he left for the University of Ife in September, 1974.
At the Univeristy of Ife, Segun Oni read Chemical Engineering but was actively involved in student journalism as a member of the defunct Spit-Fire News Agency, and politics.
He was active in student politics as he was an Electoral Commissioner in 1977 /1978 session in the commission that conducted probably the then best-ever students union elections in Ife having introduced amongst other innovations, a Press parley (at Moremi Hall common room) for Presidential candidates and relocation of the election-eve speech night from the cafeteria to Oduduwa Hall amphi-theatre. That election widely acclaimed by students, staff and the authorities of the University, produced the then youngest ever produced President of the Students Union of the University.
Olusegun left Ife with a Second Class Upper division degree in Chemical Engineering in June, 1979. He then proceeded for his National Youth Service corps where he was posted to the National Steel Development Authority (NSDA) Ajaokuta, later Ajaokuta Steel Company (ASCO) from 1979 to 1980. During the National Youth Service Corps in Ajaokuta, Segun worked at the Metallurgical Coal Research Laboratory.
After NYSC, he was offered immediate employment by Ajaokuta Steel Company where he worked briefly as Chemical Engineer II in the Planning Division.
In September 1980, Segun returned to school and was in University of Lagos, Akoka for his Masters programme in Business Administration (MBA) from September 1980 to January 1982. Simultaneously with this, he was a teacher under the Lagos State Teaching Service Commission. He taught Mathematics, Physics and Chemistry at CMS Grammar School, Bariga and Anthony Village High School, where he was deployed on special assignment to help prepare the then fifth formers for West African School Certificate (WASC) Examination in Physics, after being without a Physics teacher for almost one year.
After his Masters degree, Segun Oni was offered employment at Delta Steel Company Ltd, Aladja from 1982 to 1984, where He worked in the Marketing and Sales Sector of the Commercial Division as a Commercial Officer I, later Senior Commercial Officer where he was at various times in charge of steel billet allocation to the Inland Rolling Mills (Katsina,Jos and Oshogbo) and Market Analysis and Product Development, where he pioneered the marketing of lime, oxygen/ nitrogen/ argon and foundry products. He worked closely with the external Management Advisors to Aladja, Booz Allen and Hamiton Associates, a USA based International firm of Management Consultants, where he assisted mostly with corporate strategy development.
He left Aladja in January 1985 to join Leventis Staff Development Centre of AG Leventis & Co. Ebute Metta, where he was a Consultant and Management Trainer. He was a member of the pioneer team that designed, delivered and executed the Leventis Group Foundation Course for Managers, a very successful Management Development package, targeted to develop high flying management resources for the Leventis Group. After Leventis, Segun worked briefly at Public Finance and Management Consultants Ltd as Director of Projects. Here, he anchored the first National Workshop on Investment Opportunities in Downstream Oil and Gas Industries in Nigeria, and another for the Steel and Metallurgy industries.
Segun Oni joined Rank Xerox Nigeria Ltd as Technical Support Manager in May, 1987. Here, he was responsible for operational and strategic planning for the Customer Services and Logistics Division.
His performance on this job was recognized with a move to the position of Regional Sales Manager for the Western Region covering present day Ekiti, Ondo, Osun, Oyo, Ogun, Kwara, Kogi, Edo and Delta States in January 1992, a position he held briefly, leading the Western Region from the last position (out of seven) to first position in six months. In July 1992, Segun was posted out to Kenya by Rank Xerox Headquarters (in UK) as an expatriate, the first time an African was being so treated. In Kenya, he held the position of Customer Service Operations Manager responsible totally for service and logistics, including imports and exports. In addition, he was also responsible for Service Support to the Xerox Dealership Operations in all countries of the entire East and Central Africa sub-region. He returned to Nigeria in 1995 to take over the position of General Manager, Customer Service Operations at Rank Xerox Nigeria from the expatriate General Manager, thereby becoming the first Nigerian to manage the Xerox service force in Nigeria. This position has since being held by Nigerians.
The position of General Manager, Systems Business was added to Segun?s portfolio early 1997. When Xerox Nigeria was reorganized in October 1997 and the functional structure was replaced with a regional structure, Segun Oni became the Director responsible for the Northern Regional Operations based in Abuja. He led the Northern Region from 15% of total company revenue in 1997 to 36% in 2000 when he retired voluntarily from the services of Xerox.
Segun Oni attained the status of corporate member, Nigerian Society of Engineers (MNSE) in 1987. In addition, he became a full Member of the Institute of Management Consultants of Nigeria (MIMC) the same year.
In 1988, Segun Oni became a COREN registered Engineer.
He had served as Treasurer, Lagos State Chapter of the Nigerian Society of Chemical Engineers (1986-1988).
In Ekiti State politics, Segun Oni was a foundation member of the United Nigeria, Congress Party / (UNCP) where he played a largely supportive role as a party loyalist. He is also a foundation member of the Peoples Democratic party (PDP) in Ekiti.
His support for, and his services to the PDP has been consistent and without any strings attached since the inception of the party. He was nominated by the Honourable Minister of Education in September 1999, to serve on the Board of Trustees of Education Trust Fund (ETF) as Trustee representing the South West. He is still serving on this Board.
Segun Oni was elected Governor of Ekiti State in April 2007 under the Platform of the People?s Democratic Party(PDP). He was However removed from office on the 15th of October 2010 following the Judgement of an Appeal Court which ruled against him in favour of his opponent, Dr, Kayode Fayemi.
Segun Oni
believes that service should be the primary and cardinal objective of politicians, whilst quest for position and leadership should be a by-product of service and loyalty to the political system.
In 2014, he defected from the PDP and joined the newly formed opposition party
All Progressive Congress
(APC). He then held the position of Deputy National Chairman South.
Segun Oni was conferred with the prestigious title of Asiwaju of Ifaki-Ekiti on Friday, October 29, 2010, exactly 15 days after he left office as governor of Ekiti State.
Segun Oni is a Christian of the Methodist denomination. He believes in service to God and people. While in Kenya, he was a volunteer Honorary Consultant to the Kenya. Management Advisory Programme (K-MAP), an entrepreneurship development initiative, where he anchored all their programmes on Customer Service and Satisfaction Management. In Nigeria, he is involved in microcredit where he sponsors a couple of micro credit cooperatives targeted at the youth and women in Ekiti.
Segun Oni is married to Olukemi Adetola (nee Ogunsiji). They are blessed with two teenage children, a girl and a boy.
His hobbies include lawn and table Tennis, Jazz and Classical Music, Community Service and Politics.
In October, 2015, he was named as one of the Ministerial Nominees to be Screened by the National Assembly under the President Buhari Led administration.
Duro Samuel FaseyiDuro Samuel Faseyi is the Honorable senator representing Ekiti North Senatorial district. He is an indigene of Ekiti State. He had his primary school Education at St David?s Primary School, he then proceeded to Ajayi Memorial Secondary...
Kayode FayemiKayode Fayemi, the former Governor of Ekiti State was born on February 9, 1965. He is a native of Isan-Ekiti in Oye Local Government Area of Ekiti State, Nigeria. He had his early education at Christ?s School, Ado Ekiti from from...
Steve JudoSteve Judo, is the General Manager, Special Duties of ChannelsTelevision.Steve Judo holds a Bachelor of Science degree in Social Psychology (1980), and Master of Science degree in Psychology (1983) from the University of Wisconsin, U.S.A. He...
Omole Olusola AdesinaOmole, Olusola Adesina is a distinguished communication and public relations expert whose experience and training span not only the fields of media and communication, but also management activities. He was appointed the Director General...
READ NEWS Peter Ayodele FayosePeter Ayodele Fayose is a native of Afo Ekiti in Irepodun/Ifelodun Local Government Area of Ekiti State, born on the November 15, 1960. Peter Ayodele Fayose attended Saint Leo?s Catholic Primary School, Ibadan. After...