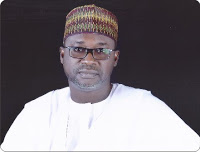 Suleiman Husseini Adamu
Suleiman Husseini Adamu was born on April 19, 1963. He hails from Kazaure Local Government Area of Jigawa State.
He studied at the prestigious Ahmadu Bello University, Zaria, where he graduated in
1984 with a Bachelor of Engineering degree(Second Class Upper Honours) in Civil Engineering; and also obtained a Master of Science degree in (Construction) Project Management from University of Reading, United Kingdom in 2004.
Adamu was winner of the Nigeria Ports Authority prize for the Best Final Year Student in Civil Engineering in 1984.
He is a Registered Engineer and presently the National Vice President of Association of Consulting Engineering in Nigeria (ACEN). He is scheduled to step in as its next President in January 2016. He is also a member of the American Society of Civil Engineers (ASCE) and Fellow, Nigerian Society of Engineers (NSE).
He served on the Governing Council for the Regulation of Engineering in Nigeria, COREN (2006-2009) and is sitting on various committees of ACEN and NSE.
He began his career in the civil service at the Federal Capital Development Authority (FCDA) in 1985, where he supervised roads and bridges construction in Abuja Central Area Project; and at the Water Resources and Engineering Construction Agency (WRECA), Kano State, where he designed, supervised and managed several water and dam projects.
He later co-founded Integrated Engineering Associates (IEA), a leading firm of civil/structural, electrical, mechanical and environmental engineering consultancy where he has been involved in the planning, design, supervision and management of several buildings and civil engineering projects in Nigeria covering a wide spectrum of engineering and infrastructural works like office/commercial structures, roads and water supply schemes.
Between 1995 and 2000, following his secondment by IEA as Principal Consultant under a partnership agreement with Afri-Projects Consortium, Management Consultants to the Petroleum (Special) Trust Fund, Suleiman Adamu was actively involved in the planning and preparation of several national infrastructural projects in the health, education, transportation, agriculture, water resources and energy sectors. At implementation stage he served as Project Manager on several projects, notably under the PTF Urban/Semi-Urban, Regional and Rural Water Supply Programmes, National Farm Power Machinery Rehabilitation Programme and National Waterways Development Project (Dredging of River Niger).
Suleiman Adamu is a policy researcher and political administrator. He served as National Vice Chairman (North West), for the defunct Congress for Progressive Change (CPC), from 2010 ? 2013; and had served in leading positions in several party committees and Presidential Campaign Councils of Buhari-Okadigbo (2003), Buhari-Ume-Ezeoke (2007), Buhari-Bakare (2011), and Buhari-Osinbajo (2015). He co-prepared The Buhari Programme 2003, The Buhari Programme 2007 and The Buhari Programme for Change 2011.
He is a member of Kazaure Emirate Council, and was conferred with the traditional title of Danburam Kazaure in 1998.
Suleiman Adamu has as his hobbies reading, traveling and golf ? and is the current Captain of Kaduna Golf Club. He is married and blessed with children.
In October 2015, he was named as one of the ministerial nominees to be screened by the Nation Assembly under the President Buhari led administration.
Funsho Kupolokun Funsho Kupolokun Born in 1947.He studied at the University of Lagos where he obtained his Bachelor of Science degree in Mechanical Engineering as a Shell scholar in 1971. After his graduation, hejoined Shell BP production...
Udoma Udo UdomaUdoma Udo Udoma was born on February 26, 1954. He is an indigene of Awka-Ibom State.He holds a Bachelors of Arts Degree in Jurisprudence in 1976, a Bachelors of Civil Laws Degree and a Masters of Arts in 1977 from St. Catherine?s College,...
Umaru Garba DanbattaUmaru Garba Danbatta, was appointed the Executive Vice Chairman and Chief Executive Officer of the Nigerian Communications Commission.(NCC) on August 4, 2015 by President Muhammadu Buhari.He was born in Danbatta Local Governement Council...
Suleiman A. Kawu SumailaSuleiman AbdulRahaman Kawu Sumaila was born on March 3rd 1968 in Sumaila Village in Kano State to Alhaji AbdulRahaman Tadu and Hajiya Maryam Muhammad. He had his early education at Sumaila Gabas Primary School, Sumaila,...
Babachir David LawalEngr. Babachir David Lawal is a native of Hong Local Government Area of Adamawa State, Nigeria.He had his University Education at the prestigious Ahmadu Belllo University, Zaria where he graduated with a Bachelor?s degree in Engineering...