Biography
Duncan Mighty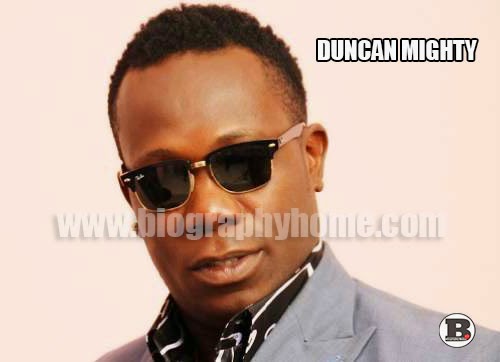 Duncan Wene Mighty Okechukwu (born October 28, 1983), simply known as Duncan Mighty, is a Nigerian musician, singer, and music producer from Obio-Akpor, Rivers State. Though his musical style demonstrates a high-level of genre versatility, it is also heavily influenced by the sounds and culture of his people as most of his songs are sung in his native Ikwerre tongue.
Wene Mighty released his debut full-length album Koliwater in 2008, which was a commercial success. The 22-track album yielded popular songs such as "Ijeoma", "Scatter My Dada", "Ako Na Uche" and drew the attention of many music lovers across the country. His second studio album Ahamefuna (Legacy) was released in 2010 with a lesser number of 15 tracks than its predecessor. The album was also very well received by fans and music aficionados. Tracks like "Obianuju" and "Port Harcourt son" brought him international fame and huge fan following. He received three nominations at the 6th Annual NEA Awards in 2011 and won the "Indigenous Artist of the Year".
In September 2012, Wene Mighty released Footprints, an 18-track album with guest appearances from Timaya, Shaggy, Otuu Sax, Sandaz Black and Wande Coal. He has been honoured by the UN as a peace ambassador.
From his youth, Duncan Wene Mighty began as an instrumentalist, he played drums in church and was the choir director. His interest in music grew with time and eventually led him to the school, where he studied Audio engineering. During his Youth Service, he served as a sound instructor for Benson and Hedges. He also worked at Dolphin Studios while on IT at Muson Centre in Lagos. At this time, Wene Mighty was certain about his singing potential, although his main focus was strongly on music production. He would later begin recording and eventually combining both skills.In 2006, he returned to Port Harcourt where he first rendered his services to record companies D Large Records and 360 Records, before partnering with celebrity jeweler Chris Aire to form AireMighty Records. His father Mr. Okechukwu passed on to the Afterlife in 2007.
The following year, Wene Mighty released his first studio album, Koliwater, which helped establish him as a homegrown hitmaker in the music industry. The album contains twenty two songs including "Ijeoma", "Scatter My Dada", "Dance For Me" and "Ako Na Uche". After substantial success with the album, Wene Mighty began work on his next album Ahamefuna (Legacy) and by second quarter 2010, it was released into the local record stores in Nigeria. This album was produced entirely by Wene Mighty himself with no guest appearances or featured artists. It was preceded by the lead single "I Don't Give A Shot". Wene Mighty also snared a leading three nominations for the 2011 NEA Awards and won in the category of the "Indigenous Artist of the Year". Footprints was released in September 2012. The album features collaborations with Timaya, Shaggy, Otuu Sax, Sandaz Black and Wande Coal. Wene Mighty was honoured alongside fellow South South artists M-Trill, Timaya, Becky Enyioma and Sodi Cookey at the 4th annual Odudu Music Awards.
-
Duncan Daniels
Duncan Daniels is a singer, Music Producer and Songwriter, born in Boston, Massachusetts, raised in England and Nigeria. Over the years Duncan Daniels has perfected the art of bringing to life a diverse mix of Pop, Rock, and R&B . His music combines...
-
Double Jay (bobo Juice)
Joseph G Pepple popularly known as Double jay (Bobo Juice) is a native of bonny Local Government Area, born on the 2nd of june 1988 in Benin City, He attended Ibiminayo Nursery school, Government primary school, BNGS secondary school, He later moved to...
-
Dr Sid
Sidney Onoriode Esiri (born 1 May 1980 in Ikeja, Lagos state, Nigeria), known commonly as,Dr SID is a Nigerian singer-songwriter and dentist, who is originally from Delta state, but was raised in Lagos. His mother a successful...
-
Wande Coal
Wande Coal, (born on October 18, 1985) as Oluwatobi Wande Ojosipe in Lagos Island, Lagos state, Nigeria, to Chief Ibukun Olufunto and Mrs Omolara Oluwayemisi Ojosipe. The first of two children, Wande had his Primary school at staff Nursery and Primary...
-
Waconzy
Some call him ?Supa Dupa Nigg#?, while others call him ?Awah? but this good looking young man prefers to be seen as your best friend. No doubt this Nigerian born, Port Harcourt breed musician has been able to carve a niche for himself in the international...
Biography