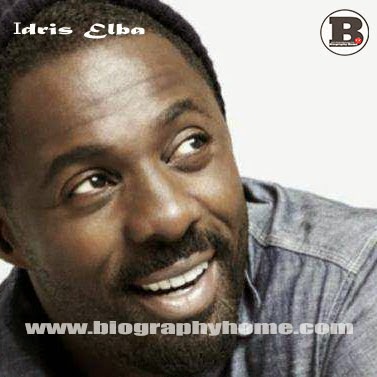 Idris Elba born 6 September 1972) is a British actor, producer, singer, rapper, and DJ.He is best known for his portrayal of drug lord and aspiring businessman Russell "Stringer" Bell in the HBO series The Wire, Detective John Luther in the BBC One series Luther, and Nelson Mandela in the biographical film Mandela: Long Walk to Freedom.
Elba has been nominated for three Golden Globe Awards for Best Actor in a Miniseries or Television Film, winning one for Best Actor, as well as earning three Primetime Emmy Award nominations.
Elba has appeared in films such as American Gangster (2007), Takers (2010), Thor (2011), Prometheus (2012), Pacific Rim (2013), and Thor: The Dark World (2013).] In addition to his acting work, he is a DJ under the moniker DJ Big Driis (or Big Driis the Londoner) and a hip-hop soul musician.
Elba was born in Hackney, London. His father, Winston, was a Sierra Leonean who worked at a Ford motor factory, and his mother, Eve, was a Ghanaian who had a clerical job. Elba's parents married in Sierra Leone and later moved to London. Elba himself was raised in East Ham, and shortened his first name at school in Canning Town, where he first became involved in acting. He began helping an uncle with his wedding DJ business in 1986; within a year, he had started his own DJ company with some of his friends.
Elba left school in 1988 and won a place in the National Youth Music Theatre, thanks to a £1,500 Prince's Trust grant, but he ended up having to work in various jobs such as tyre-fitting and cold-call advertising sales to earn an income between roles in Crimewatch murder reconstructions. He was working in nightclubs under the DJ nickname Big Driis at the age of 19, but began auditioning for television parts in his early twenties. After a stint in the National Youth Music Theatre, he worked the night shift at Ford Dagenham.
In 1995, Elba landed his first role on a series called Bramwell, a medical drama set in 1890s England. He played the lead character in an episode of the first season, an African petty thief named Charlie Carter, who lost his white wife to childbirth and had to figure out how to support his newborn daughter. His first credited role arrived in 1995, with a supporting role as a gigolo on the "Sex" episode of Absolutely Fabulous. Many supporting roles on British television followed, including series such as The Bill and The Ruth Rendell Mysteries. He joined the cast of the soap opera Family Affairs, and went on to appear in the television serial Ultraviolet and later in Dangerfield. He decided to move to New York City soon after. He returned to England occasionally for a television role, such as a part in one of the Inspector Lynley Mysteries. In 2001, Elba played Achilles in a stage production of Troilus and Cressida in New York City.
After a supporting turn on a 2001 episode of Law & Order, Elba landed a starring role on a 2002 HBO drama, The Wire. From 2002 to 2004, Elba portrayed Russell "Stringer" Bellin the HBO drama series, perhaps his best known role in the US. In 2005, he portrayed Captain Augustin Muganza in Sometimes in April, an HBO film about the Rwandan Genocide. Elba appeared on the 2007 BET special Black Men: The Truth. Elba appeared as Charlie Gotso in The No. 1 Ladies' Detective Agency, filmed in Botswana. The series premiered on 23 March 2008, Easter Sunday, on BBC One, receiving a high 6.3 million viewers and 27% of the audience share.
In January 2009, it was reported per Variety that Elba would portray Charles Miner, a new rival to Dunder Mifflin regional manager Michael Scott (Steve Carell) for NBC's The Office. Elba appeared in a six episode story arc later in the 2009 season as well as the season finale. In September 2009, Elba signed a deal to star as the lead role in the 6-part BBC television show Luther, which aired in May 2010. In October 2009, it NBC announced Elba as executive producer of an as yet untitled legal drama. He appeared on Showtime's The Big C in 2010. At the 69th Golden Globe Awards telecast on 15 January 2012, Elba won the Award for Best Actor in a Series, Mini-Series, or Motion Picture Made for Television for his role on the BBC crime thriller series Luther.
In 2007, Elba signed on as the lead of the 2007 film Tyler Perry's Daddy's Little Girls, playing Monty, a blue-collar mechanic who falls in love with an attorney helping him gain custody of his kids, and finds the relationship and his custody hopes threatened by the return of his ex-wife. He appeared in 28 Weeks Later (2007) and This Christmas (2007), which brought in nearly $50 million at the box office in 2007. In 2008, he starred in the horror film Prom Night and RocknRolla. In 2009, he starred in horror film The Unborn and Obsessed. The latter was a box office success, taking $29 million in its opening weekend.
Elba's next film was Legacy (2010), in which he portrayed a black ops soldier who returned to Brooklyn after a failed mission in Eastern Europe, where he undertook a journey looking for retribution. He starred in Dark Castle's adaptation of DC/Vertigo's The Losers, under the direction of Sylvain White, in the role of Roque, the second-in-command of a black-ops team out for revenge against a government that did them wrong. Filming took place in Puerto Rico and the movie was released in April 2010. Elba appeared in the 2010 thriller Takers, also starring Hayden Christensen, Chris Brown, T.I., and Paul Walker. He played Heimdall in Kenneth Branagh's 2011 Thor film (based upon the Marvel Comics superhero of the same name).
In August 2010, Elba signed up to portray the title character in a reboot of James Patterson's Alex Cross film franchise. However in February 2011 he was replaced by Tyler Perry. Elba appeared in the 2012 sequel, Ghost Rider: Spirit of Vengeance, playing an alcoholic warrior monk tasked with finding Ghost Rider. In February 2012, Elba confirmed that he would portray Nelson Mandela in the film based on the autobiography, Long Walk to Freedom.In June 2012, he portrayed Captain Janek in Prometheus. Elba joined the 2013 film Pacific Rim in the role of Stacker Pentecost.
In January 2014, Elba confirmed that he would be starring in a film adaptation of Luther,
In 2001, Elba appeared in music videos for Fat Joe, Angie Stone and English rapper Giggs. In 2006, he recorded the four-song EP Big Man for Hevlar Records. He co-produced and performed on the intro to Jay-Z's 2007 album American Gangster. He DJ'd at the 2007 NBA All Star parties at the The Venetian and Ice House Lounge in Las Vegas.
In July 2009, Elba was the DJ for BET's new series Rising Icons. Elba announced the release of his first single "Please Be True." In the August 2009 issue of Essencemagazine, he announced the name of his six-song EP as Kings Among Kings. He released his EP High Class Problems Vol. 1 in the United Kingdom in February 2010.
In 2011, he performed on the intro to Pharoahe Monch's album W.A.R. (We Are Renegades). In 2012, he co-directed and performed in the Mumford and Sons music video for "Lover of the Light"
The Prince's Trust, which Elba credits with helping to start his career, appointed him its Anti-Crime Ambassador in April 2009. In July 2010, he announced his support for Oona King in her campaign to become the Labour Party candidate for Mayor of London in 2012.
When asked if he is a religious person, Elba replies that he is more spiritual than religious. He has been a fan of Arsenal FC since he was a teenager
Elba was selected as one of People's annual 100 Most Beautiful People in the World in May 2007.
Idris Elba was named Essence's annual 2013 Sexiest Man of the Year.
He was also ranked #2 in People's annual Sexiest Man Alive in 2013
Ashley Madekwe (born 6 December 1983) is an English actress, best known for her role as social climber Ashley Davenport on the ABC drama series Revenge. As of 2014, she stars as Tituba in the WGN America series Salem. Madekwe was born in East London,...
Megalyn Echikunwoke (born May 28, 1983) is an American actress, but the daughter of a Nigerian-Igbo father and a German/Scots-Irish American mother She is perhaps best known for her roles as Tara Price in CSI: Miami and Isabelle Tyler on The 4400,...
Hakeem Kae-Kazim (born 1 October 1962), sometimes credited as "Hakim Kae Kazim", is a British Nigerian actor who is best known for his portrayal of Georges Rutaganda in the 2004 motion picture Hotel Rwanda. He...
Chiwetelu Umeadi "Chiwetel" Ejiofor, born 10 July 1977) is a British actor of film, television, and theatre. After enrolling at the National Youth Theatre in 1995, and then subsequently gaining a scholarship to the London Academy of Music and Dramatic...
Statham at the ShoWest, Lionsgate Luncheon in March 2007 Jason Statham is an English actor, producer, martial artist, and former diver. He is known for his roles in the Guy Ritchie crime films Lock, Stock and Two Smoking Barrels (1998), Snatch (2000),...