Biography
JAMIE CULLUM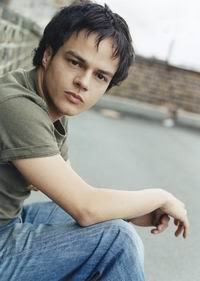 Long before Robbie was even in Take That, years before the Pop Idols had even heard of Cole Porter, Jamie Cullum was experimenting with not only the music of his youth (from grunge to heavy metal) but also the tunes sung by cool people in suits he found liberally populating his parents record collection. Taking the lead from his older brother Ben an 8 year Jamie took up guitar, piano and eventually singing. It wasn?t untill deep into his A Level studies where Jamie seemed to be moving swiftly towards an academic career, that he became frustrated with the inability to concentrate on music. He decided to take a year off to continue teaching himself music and develop his increasing interest in Jazz Piano which his older brother was fuelling with an introduction to records by Oscar Peterson and Dave Brubeck. A long stint of travelling and an extended stay in Paris where Jamie not only saw a massive amount of live music but also started to play piano in cafes and bars only strengthened this desire. Returning to England Jamie started playing piano in hotels and weekly at a local Jazz pub whose regular appearances encouraged him to learn more tunes. It was only one week when he ran out of tunes at the local pub that he decided to sing and play the tune Do You Know What it Means to miss New Orleans where he realised that he might have a professional career. This first piano/vocals moment lead to countless meetings with influential local musicians and Jamie started to appear prolifically on a growing local Jazz scene learning his craft with some of the most experienced musicians in Britain. Despite these early successes including many with cutting edge local pop and hip-hop bands Jamie still decided to go to University to study, initially English Lit at Reading. Once again fate seemed to steer Jamie towards something more creative as he was offered a place on the prestigious Film and Drama course. A crossover seemed inevitable, and soon Jamie was composing and performing music for films and plays, also acting and producing his own short films and plays. Throughout his degree Jamie still found time to develop his musical career which saw moves into the Oxford jazz scene and the beginnings of appearances in London.At only 19 Jamie decided it was time to produce his own CD never for one minute considering outside involovement - he decided to fund and produce it himself using his current Trio. The resulting CD "Jamie Cullum Trio - Heard it all Before" became something of a local phenomenon and sold over 700 copies just at Jamie?s gigs alone. It was normal for him to regularly sell 50 + at pub concerts. Jamie also began a relationship with the Berkshire Youth Jazz Orchestra now known as The Pendulum Big Band and appeared with the band at The Brecon Jazz Festival and at concert halls throughout England. It was through this association that Jamie met world class bass player Geoff Gascoyne. After hearing him sing, Geoff asked Jamie to appear on his album Songs of the Summer with top class British Musicians Ben Castle, Gareth Williams, Anthony Kerr and Sebastiaan de Krom. Jamie Graduated from University in the summer of 2001 and spent the following three months travelling and playing in Europe. Returning to England in September, he moved into a flat in London and set up a new trio featuring Geoff Gascoyne and Sebastiaan de Krom. Using funds raised from his last CD Jamie decided to record another album with his new trio. Encouraged by Geoff, Jamie started to write horn arrangements by ear and the album, which would become Pointless Nostalgic was expanded with tracks featuring a seven piece band using the cream of Britain?s brass talent. With the album in the bag by Christmas 2001 Jamie decided to concentrate on his other musical projects whilst saving money to afford to mix and master the album. It was around this time that Jamie received an email from Candid artist Clare Teal who had bought a copy of Jamie?s first CD and liking what she heard arranged a meeting in her home town of Bath. Clare heard the master takes from the new album and inspired by what she heard, made it a personal mission of hers to have Alan Bates of Candid Records have a serious listen to what she believed to be a major undiscovered talent.Clare?s persistence soon paid off and after a few listens to the new record and a trip to see Jamie at the Salena Jones Jazz and Music Rooms, legendary producer Alan Bates deicided to snap him up within the week. With increased funding Jamie recorded more material for the album including the originals I Want to be a Popstar and Pointless Nostalgic. Publicity from the Candid Deal lead to Jamie being invited to perform at 606 Club, Ronnie Scotts with Geoff Gascoyne, Pizza Express Jazz Club and other leading venues. With word out on such a new, original talent Radio 2 and BBC London soon got involved regularly playing tracks from the unreleased album and featuring interviews based on their own belief that here was a star in the making.Michael Parkinson, hearing Pointless Nostalgic began to champion Jamie on his BBC Radio 2 show, regulalrly playing tracks from the album. Then the big labels started to take an interest, with both Universal and Sony in the picture at one point. Universal won out eventually, signing Jamie for a record breaking one million pounds. Not a huge amount in pop terms, but phenomenal for a jazz artist. This figure is the amount of money that Universal will spend helping Jamie make albums over several years although if you believed everything you read at the time then it seemed that Jamie had suddenly gone overnight from playing at smokey pubs, weddings and anywhere else he could to having a million pounds in the bank!At the same time as this historic deal was made Parkinson helped out some more, inviting Jamie to perform on his TV chat show. After this was aired Prince Charles, having seen the show invited Jamie to play at The Queen's birthday party at St. James's Palace. Just picture it. There was Jamie, alongside such famous company as Ronnie Corbett, Penelope Keith, Alan Rickman and Maureen Lipman doing his thing for "Her Majesty's Pleasure"!Here then, we have an artist, young perhaps, but already with a wealth of experience that makes him a talent worth listening to. A beautiful and exciting exponent of the standard repertoire, a growing, catchy and earthy selection of originals with many more suprises thrown in. To complete this already potent cocktail though we have an unnerving measure of energy which pours out of every song at his stunning live concerts and on his albums. An energy that so intoxicates his audiences it has lead a huge number of people to say from critics to audiences to the BBC JAZZ awards that their tip for the top in the months and years to come is undoubtedly Jamie Cullum.
-
Biography Of Adele
BiographyAdele or Adele Laurie Blue Adkins she was born May 5, 1988, in Tottenham, London, she is an English singer and songwriter. Adele began revelation at age quadruplet and asserts that Adele became preoccupied with voices. At the age of 11,...
-
Biography Band Radiohead
Radiohead is a British alternative rock band from Abingdon, Oxfordshire, was established in 1985. The band consists of Thom Yorke (vocals, rhythm guitar, piano, rap), Jonny Greenwood (lead guitar, keyboards, other instruments), Ed O'Brien (guitar,...
-
Taio Cruz
Jacob Taio Cruz (born 23 April 1985), known professionally as Taio Cruz, he is a British singer-songwriter, record producer, occasional rapper, and entrepreneur. In 2008, he released his debut album Departure, which he wrote, arranged and produced himself....
-
Mafikizolo
Mafikizolo is a in South African musical act that started in the 1990s, The members of this group are Theo Kgosinkwe, Nhlanhla Nciza, and Tebogo Madingoane. The genre of music this group makes is called kwaito, which is an African genre. Their music...
-
Darey
Darey also known as Dare Art Alade is a Nigerian award-winning musician and singer-songwriter. He is the son of the renowned Nigerian entertainer, Art Alade. Darey Art Alade was born to legendary Nigerian Jazz pioneer Art Alade and Olapeju Alade. Dare,...
Biography