Biography
Jennifer Aniston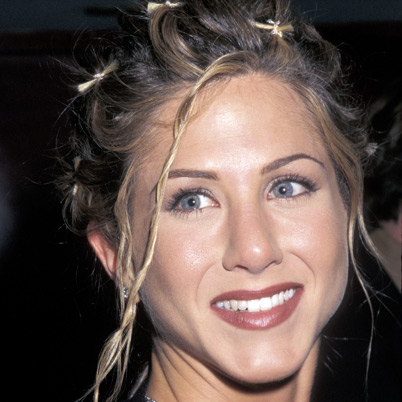 Jennifer Aniston was born in Sherman Oaks, California on February 11, 1969. Her parents were both actors and encouraged her high school interest in drama. She had a few minor roles before landing one on the NBC sitcom
Friends
as Rachel Green. The hugely popular series made her a star. Since its conclsion in 2004, she has been in several films, including
The Break-Up
with Vince Vaughn.
Early Life
Jennifer Aniston was born on February 11, 1969 in Sherman Oaks, California. The daughter of soap opera star John Aniston and actress Nancy Dow, Aniston began appearing in stage productions in the late 1980s. She attended Fiorello H. LaGuardia High School of the Performing Arts, where she was active in drama.
Acting Career
After several minor film and television roles, Aniston hit Hollywood gold by playing Rachel Green on the hit NBC sitcom
Friends
. She stayed with
Friends
for 10 years, banking $1 million per episode for the last three seasons, until the show ended in 2004. She won both a Golden Globe and an Emmy Award during her tenure on the show.
Aniston has also nurtured a big-screen career, often alternating between small, independent films like
Office Space
and 2002's
The Good Girl
and big-budget productions like the Jim Carrey vehicle
Bruce Almighty
. Recent films include 2004's
Along Came Polly
opposite Ben Stiller,
Derailed
and
Rumor Has It
. In 2006, she continued her mix of filmmaking styles with the ensemble production
Friends with Money
, which opened at Cannes, and the blockbuster romantic dramedy
The Break-Up
.
Aniston starred in
Marley & Me
alongside Owen Wilson in 2008. It set a record for the largest Christmas Day box office ever, with more than $14 million in ticket sales and a No. 1 ranking at the box office. Her next film,
He's Just Not That into You
, premiered in February 2009. The movie made $27.5 million, again ranking No. 1 at the box office in its opening weekend. While the film received mixed reviews, Aniston's performance was praised by critics.
Personal Life
Aniston married actor Brad Pitt in 2000; the couple divorced in 2005 following media speculation that Pitt had an affair with co-star Angelina Jolie. Aniston has since been linked with
The Break-Up
co-star Vince Vaughn and musician John Mayer.
In August 2012, Aniston announced her engagement to American actor and director Justin Theroux, who is best known for his roles in several comedy films, including 2005's
Strangers with Candy
, 2011's
Your Highness
and 2012's
Wanderlust
, which stars Jennifer Aniston. Aniston and Theroux met while filming
Wanderlust
.
-
Brad Pitt
Actor and producer Brad Pitt was born on December 18, 1963, in Shawnee, Oklahoma. Pitt's first jobs came in television in the late 1980s. Pitt made his big screen debut in 1989's horror film Cutting Class. Pitt's next few films failed...
-
Angelina Jolie
Born in Los Angeles, California, on June 4, 1975, Angelina Jolie starred in the HBO biopic Gia before earning an Academy Award for best supporting actress for Girl, Interrupted. Jolie has become one of Hollywood's top marquee names, having...
-
>> Biography Of Angelina Jolie
Angelina Jolie ( born Angelina Jolie Voight; June 4, 1975 ) is an American actress, filmmaker, and humanitarian. She has received an Academy Award, two Screen Actors Guild Awards, and three Golden Globe Awards, and has been cited as Hollywood's highest-paid...
-
>> Biography Of Johnny Depp
John Christopher "Johnny" Depp II (born June 9, 1963) is an American actor, producer, and musician. He has won the Golden Globe Award and Screen Actors Guild award for Best Actor. He rose to prominence on the 1980s television series 21 Jump Street, becoming...
-
Brad Pitt Biography
Brad Pitt Biography Brad Pitt Biography: Full Name: William Bradley Pitt Pet Name: Brad Pitt Date of Birth: December 18, 1963 Born Place: Shawnee, Oklahoma, U.S.A Profession: Actor, Film Producer Years Active: 1987–Present Spouses: Jennifer Aniston...
Biography