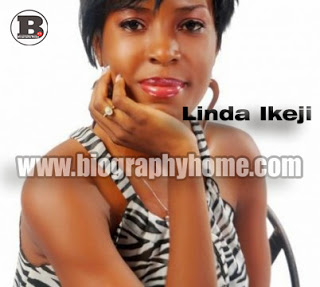 Linda Ikeji was born September 19, 1980 . A native of Nkwerre LGA ,Imo State, Nigeria .She was born in to a struggling family, the second of seven children. She grew up in a christain catholic home .
At a tender age of 10 years , Linda started writing as a hobby .
The fiction she penned down were praised by her friends and family and over time she cultivated a passion for news. Unlike many teenagers her age, Linda loved watching newscasters and interviews and by the time the opportunity presented to attend university in Lagos, her course choice was decided: Mass Communication.
She was admitted to study English Language in the university to her disappointment, but she decided to make the best of it. To support herself and her family through school, Linda began working at the age of 17, doing everything from being a waitress and ushering to modelling and bar-tending, none of which paid a lot in the late 90?s. She started modeling in 1998 and quit in 2005 .fashion columnist for a struggling celebrity magazine. After two years of toiling in the news room, she quit.
She began her advent into entertainment as a striving model while in UNILAG. She modeled for several brands, including the ?Rose of Sharon? label owned by former President of the Fashion Designers Association of Nigeria (FADAN) and Nigerian billionaire and oil tycoon, Folorunsho Alakija. She took to modeling at only 17 featuring in some of the most glamorous fashion shows in the country. Talk about St Moritz Style Selection, she was there. She has also been to ECOFEST and done several out door advertisements.
In 2004 , after she completed her university education, she worked hard to break into the journalism trade, launching her media company, Black dove Communications, a modelling agency and events management outfit. The name Black dove was inspired by silverbird..a name and a bird. it so happens that her favourite colour is black and favourite bird is the dove.
She stayed within her comfort zone which was modeling so instead of being in front of the camera , went behind the camera by running an agency, recruiting models, training models, getting jobs for models. I still have the modeling agency but I am not running it anymore . She also started what she describes in her first ever blog post as her ?true passion?, her magazine called, FM & B. The first issue was released in 2006 and after discovering how capital-intensive and time-consuming magazine publishing was, only two more editions made it to print.
The blogging bug bit her in 2006. Fortunately, in that same year, Bella Naija, another popular Nigerian blog, carried a story about Linda herself and for the first time, Linda began to see a new possibility to take her writing to the world. Blogging had all the charm: it was free except for the cost of an internet connection, easy to do and gave you access to millions of readers instantly. From that first Bella Naija blog post, she was sold.
Linda Ikeji started blogging fully in 2007 to share things that she was interested in with her readers. Five years later, lindaikeji"s blog has grown to be one of the most visited sites in the country. As a regular source for news, entertainment, celebrity gist, gossip and many more, her blog continues to attract thousands of visitors.
Linda Ikeji has earned herself the title ?Queen of Blogging? . Linda was persistent , focused on what she did even though there was no financial return but five years later it has yielded great profit , a talk of all. She found a new path , Blogging . But she persisted until 2010, when some of the stories posted on her blog began to ruffle feathers. At a point, Linda averaged about 1 million unique visitors each month to her blog. And with that came the much-needed recognition and substantial earnings. In August 2012, Forbes Africa described her as a success and a case study for the business of blogging.
Her blog gets over 50,000 visits daily and is a hot spot for online advertisers and people wishing to attract web traffic to their websites or blogs. Comments on Linda?s blog can be revealing, interesting and more controversial than the post itself.
She?s also a motivational writer. Linda has written a couple of motivational books. ?I don?t like speaking, I only enjoy writing which has positively affected my blog. I do my motivational talks through my blog.?
Linda?s blog reportedly rakes in an average of N3m a month from adverts from various brands and online ad networks, which makes her the highest earning blogger in Nigeria. Blogging has brought her the fame , power and comfort ability she needed.
Her blog serves as a source of news, photos and information for most entertainment bloggers. Most people have criticized linda saying her blog promote rumors but she decline such. Linda provides real entertainment on her blog and she will always make sure you come back for more.
The passion and the love she has for blogging has kept her going while making her earnings.
Actually there would always be criticism with success. she has once been blasted by popular celebrities for prying into their private life.
In summary ,Linda Ikeji is open minded ,down to earth , persistent, hardworking and a role model to many youths today. Her Grass To Grace story is that of inspiration to Many both in Nigeria and Globally. Thousand hoping to be like her on their own terms.
Vera Akporeha is a Creative Director and CEO of VeraNora Couture (VNC), an Urban African Fashion Label based in Warri, Delta State. She started VeraNora in 2009, inspired by her mother, Nora, who is a retiree, at the age of 18 while still in the University...
Linda AkhigbeLinda Akhigbe is a Reporter, Presenter and Producer at Channels Television. she is an indigene of Edo State, Nigeria. She studied Mass Communication from Federal Polytechnic Auchi, in Edo state.Linda Akhigbe began her career in broadcasting...
Photo Gallery Linda Ikeji BackgroundLinda Ikeji, a native of Nkwerre in Imo State of Nigeria and the second, out of seven children begat by her parents, was born on September 19, 1980.Education Nigerian biography have not gathered any information...
Picture from netsocialblog.com Mazino Oyolo Kigho is the founder of MazinoBlog.Com. He writes article on how tos, entrepreneurship and career aimed at helping people to build strong online presence and increase their knowledge on...
Don CaprioDon Caprio is a professional blogger and a web designer. Don Caprio started blogging in the year 2009, and was motivated because he realized that one can actually publish an article online from the comfort of his rooms? corner and earn some...