Biography
Pam Ayres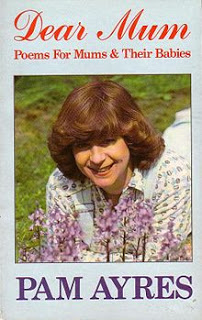 Pam Ayres MBE (born 14 March 1947) is a British writer of humorous poetry.
Pam Ayres was born at Stanford in the Vale in the English county of Berkshire (now Oxfordshire). After leaving Farringdon Secondary School at the age of 15, she joined the Civil Service as a clerical assistant. She soon left there to sign up to the Women's Royal Air Force, and it was there that she decided she wanted to be an entertainer. She began reading her verses at the local folk club in Oxfordshire, and this led to an invitation to read on the local BBC radio station in 1974. Her reading was re-broadcast nationally, and then broadcast again as one of the BBC's Pick of the Year.
In 1975 Ayres appeared on the television talent show Opportunity Knocks. This led to a wide variety of guest appearances on TV and radio shows. Since then she has published six books of poems, toured in a one woman stage show, briefly hosted her own TV show and performed her stage show for the Queen. In September 2006, a BBC website stated that Bob Dylan inspired Pam Ayres to write poetry,[1] although in an interview (aired on Radio New Zealand's Nine To Noon programme, 24 October 2006) Pam stated that the Lonnie Donegan records her brother played were her inspiration.
Her poetry has a simple style and deals with everyday subject matter. Her poem I Wish I'd Looked After Me Teeth, was voted into the Top 10 of a BBC poll to find the Nation's 100 Favourite Comic Poems. In the UK Arts Council's report on poetry Ayres was identified as the fifth best-selling poet in Britain during 1998 and 1999. However in 2000 her TV show was ranked at number 64 in Channel 4's 100 Greatest Moments from TV Hell.
Ayres is married to theatre producer Dudley Russell, and they have two sons, William and James. They live in the Cotswolds, and keep some rare breeds of cattle, as well as some sheep, pigs, chickens, and guinea fowl. Pam is a keen gardener and beekeeper.[2]
Cover of Pam Ayres' latest book, Surgically Enhanced (September 2006).In June 2004 she was awarded the MBE for services to literature and entertainment.
Pam continues to actively perform her work, the humorous quality of which is enhanced by her idiosyncratic delivery. Starting in September 2006 to coincide with the release of her latest book and audio CD, Ayres gave dozens of performances in various locations in the United Kingdom and Australia, with additional dates scheduled for the UK and New Zealand in 2007.
From 1996, Ayres has appeared regularly on BBC Radio. From 1996 until 1999 Pam presented a two-hour music and chat show every Sunday afternoon on BBC Radio 2; this was followed by two series of Pam Ayres? Open Road, in which Pam visited various parts of the United Kingdom, interviewing people with interesting stories to tell about their lives and local areas. More recently Pam has become a regular contributor to BBC Radio 4, appearing in programmes such as Just a Minute, Say The Word, That Reminds Me, and two series of her own show, Ayres On The Air, a radio show of her poetry and sketches.[3]
In mid-2007, Ayres is scheduled to start work on a new radio sitcom for BBC Radio 4, in which she will co-star with actor Geoffrey Whitehead. Following this (as yet untitled) sitcom, Pam will start writing and recording the third series of her BBC Radio 4 programme Ayres On The Air, which is due on air in the United Kingdom in early 2008.[4]
[edit] Select bibliography
Pam Ayres, Surgically Enhanced, (Hodder & Stoughton, Sep 2006). ISBN 0-340-92278-8.
Pam Ayres, Pam Ayres: Ancient and Modern (Audio CD), (Hodder & Stoughton, Nov 2006). ISBN 1-844-56318-9.
Pam Ayres, With These Hands: A Collection , (Orion, Feb 1998). ISBN 0-752-81553-9.
Pam Ayres, Pam Ayres: The Works, (BBC Books, Sep 1992). ISBN 0-563-36751-2.
Pam Ayres, Dear Mum: Poems for Mums and Their Babies, (Severn House Publishers, 1985). ISBN 0-727-82066-4.
Pam Ayres, Some More of Me Poetry, (1st ed., 1976). ISBN 0-950-47741-9.
Pam Ayres, Some of Me Poetry. ISBN 0-950-47740-0.
-
Philip Larkin
Philip Arthur Larkin, CH, CBE, FRSL, (9 August 1922 ? 2 December 1985) was an English poet, novelist and jazz critic. He spent his working life as a university librarian and was offered the Poet Laureateship following the death of John Betjeman, but declined...
-
Stephen Fry
Stephen John Fry (born 24 August 1957) is an English comedian, writer, actor, humourist, novelist, columnist, filmmaker and television personality. As one half of the Fry and Laurie double act he has appeared in A Bit of Fry and Laurie and Jeeves and...
-
Carol Ann Duffy
Carol Ann Duffy (born December 23, 1955) is a British poet, playwright and freelance writer born in Glasgow, Scotland. She grew up in Staffordshire and graduated in philosophy from Liverpool University in 1977. Carol Ann Duffy was awarded an OBE in 1995,...
-
Abrantee Boateng
Real Name Abrantee Boateng (born 11 March 1981) is a radio presenter, club DJ and event promoter. He is known professionally as DJ Abrantee and is one of the voices of urban radio station Capital Xtra in the United Kingdom.Born in Croydon to Akan parents,...
-
Helen Paul Bamisile
Helen Paul Bamisile is a comedienne, singer and actress from Nigeria.She is best known as a stand-up comedienne and popularly known as Tatafo. Her style is quirky and spontaneous, and her petite stature and voice range make her childlike. Early yearsHelen...
Biography