Biography
Rave The Pop Sensation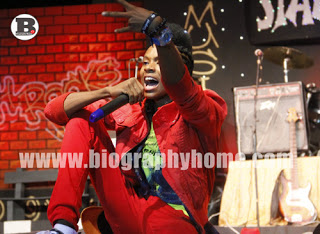 Rave real name Wilfred Utere from Akwa Ibom STATE aged 19, is an amazing performer , when he is on stage he leaves the society with wonder and amazement, for the first time in the history of portharcourt entertainment industry, has emerged an act that is leaving watchers and pundits to the incredible entertaining capacity and
content of fast rising pop sensation RAVE.
RAVE ''Wilfred Utere'' is the third son in a family of six , Rave is following the footprints of his elder brothers LERIQ presently a producer in the same Label with Burna Boy, and also Eddie Izycs a jazz musician/a video director . Rave started as a dancer graduating into a very intelligent choreographer, staring in a variety of music videos with outstanding performances in several musical concerts.
SIBLINGS (LERIQ, EDDIE, HENRY, RAYMOND & RONALD)
Rave has left no one in doubt that he is a young man to watch out for ith inspirations from his idol Micheal Jackson, which has propelled him to take the bull by the horns and kick start a new career as a full fledged entertainer, bringing all his creative skills to bear on stage.
Watching Rave perform on stage you are caught up with the passion he exhibits as he delivers his act with the right mixture of songs, dance and mind blowing illusions, which has made his fans to look forward to his next performance, knowing they will always go away fully thrilled.
The brand Rave is gradually having a presence online were most of his performance video clips are enjoying massive viewership, it is our strong believe that Rave is here to contribute a significant content into the entertainment industry that will be priviledged to work with him as he makes progress to STARDOM.
-
Kareena Kapoor
Flag bearer of the most reputed and ancient families in Bollywood, Kareena Kapoor made her mark in the film industry, not through her enviable lineage, but because of oodles of talent that she posses and her hard work. Prithviraj Kapoor, a pioneer of...
-
Bobby Rak
He is the CEO of RAK ENTERTAINMENT, an entertainment outfit based in Port Harcourt. RAK ENTERTAINMENT started out in 2005 as RAK INC. and they did more of short films and fight/dance performances on stage. It evolved into RAK ENTERTAINMENT an outfit that...
-
Burna Boy
Burna Boy, Real Name Damini Ogulu, hails from Mbiama in Ahoda West Local Government Area in Rivers State, he was born on the 2nd of july 1991, had his primary education at montessori international school before moving to lagos, he also attended Corona,...
-
Biography Of Burna Boy, Musician, Rivers State Celebrity
Burna boyDamini Ogulu popularly known as Burna Boy was born on July 2, 1991. He is an indigene of Mbiama in Ahoda West Local Government Area of Rivers State. He is a Nigerian Musician, Reggae dance hall singer and songwriter. Burna Boy...
-
John Lennon Biography: The Music, The Magic & The Murder
John Lennon Biography: The Music, The Magic & The Murder Review See more picture @ amazon.com RAVE REVIEWS "I've always been a huge John Lennon fan, and I love his music. This book has given me a real insight into what made him the success...
Biography