NAME St. Augustine of Hippo

WHAT FAMOUS FOR Christian Theologian

BIRTH B 354, Tagaste, now Souk-Ahras in Algeria. (A little town in the hill country of Numidia in modern day Carthage).

FAMILY BACKGROUND Augustine's father was Patricius, a coarse, hot tempered character who was unfaithful to his wife. A man of modest means, he owned a few acres of land and was baptised on his deathbed in AD371.
Augustine's mother was Monica (actually Saint Monica). In her younger days Monica was no saint, she was often drunk but a reprimand from a servant paved the way for her conversion to Christianity and the adoption of a more pious lifestyle. Her feast day is May 4th.

CHILDHOOD Augustine admitted in his autobiography Confessions, that as a boy he "told lies to my tutors, my masters and my parents all for the love of games and the craving for stage shows." Young Augustine also stole pears from a neighbour?s tree, the sin troubled him for the rest of his life.

EDUCATION Augustine started off at school at Tagaste before going to Madaura between 365-369. There he excelled and enjoyed all literary education except Greek. However he was not overly fond of school.
370-374 Augustine studied rhetoric at Carthage. A neighbour paid for his fees, however he got into a bad crowd. Its not known if this involved any stealing of pears.

CAREER RECORD Here is Augustine's CV
373 -374, Augustine taught grammar at Tagaste.
375-383 Taught rhetoric at Carthage, then handed in his notice as he had heard that the students in Rome were better behaved than their loutish counterparts in Paris or Carthage. The students in Carthage were prone to cheating the teachers of their fees.
383 Taught rhetoric in Rome.
384-386, A professor of rhetoric for the imperial court at Milan
386 Converted to Christianity and renounces his career as a "gossip merchant".
386-389 Recovers from ill-health and returns to North Africa.
389-391 Set up Monastic community in Tagaste
391 Ordained Priest whilst visiting Hippo. To prevent any misunderstanding I'd better make clear that my references to Hippo in this Trivial Biography relate to the ancient name of the modern city of Annaba, Algeria, rather than a large African mammal which live mainly in and near water
395 Appointed Coadjutant Bishop to Valerius
397-430 Bishop of Hippo, where his orthodoxy prevented Catholicism being unduly influenced by alternative teaching. Augustine spent most of his time preaching and writing including his august tomes 397-401 Confessions and 413-426 City Of God.

APPEARANCE The man from Hippo was slim, clean shaven, shaven haired, sharp features. If you go by his paintings he was very fair for a North African.
Pope John Paul II was once so taken by Gerald Depardieu?s resemblance to Augustine that he asked the French actor to impersonate the saint on a world tour.

FASHION As Bishop Augustine he merely dressed in a dull robe.

CHARACTER Sensual in his younger days, sensitive, humble, a spellbinding, literate speaker. A master of rhetoric, Augustine spoke in Latin in the Berber dialect of his mother.

SENSE OF HUMOUR When asked what God was doing before he created Heaven and Earth, Augustine retorted "He was creating Hell for people who ask questions like that." He doesn't sound like the ideal chat show guest.
Augustine is partly to blame for the fallacy that Christians have a problem with fun. He confidently asserted that there was "no frivolous jollity" in Paradise.

RELATIONSHIPS AND FAMILY Augustine never married but he had several lovers prior to his conversion to christianity. He later confessed that as a youth, he had the "most wicked sins of evil lusts." Augustinebecame a single father at the age of 18, (a Son called Adeodatus meaning "a gift of God") when studying in Carthage, and he lived with his lover (her name in not known, but Augustine referred to her as "The One".) for the next 14 years, until his mother found him an heiress to marry in Milan. Augustine said when he had to give up his lover to make a society marriage in Milan, "his heart ran blood with grief" as she went off to Africa, perhaps to a convent. However, as he had to wait two years until his fiancee came of age (she was only 11!) he took on another mistress. The flighty so and so then changed his mind about the young heiress and also left his second mistress. It was then that Augustine converted to Christianity and was during this period that he uttered his famous prayer, "give me chastity but not yet."
After his conversion Augustine had a forceful distrust of the flesh and was influential in persuading Christians that sex is sinful. He commented shortly after his conversion: "I have decided that there is nothing I should avoid so much as marriage. I know nothing which brings the manly mind down many heights more than a woman?s caresses and that joining of bodies without which one cannot have a wife." (1).
MONEY AND FAME As the Bishop of Hippo Augustine led a community lifestyle & did not own any possessions.
INTERESTS FOOD AND DRINK Augustine once denounced the vegetarianism and teetotalism of the Christian Manichaean sect: "who would think they sinned if they took a little bacon and cabbage with a few mouthfuls of pure wine, but will be served at three in the afternoon with every kind of vegetable; the most exquisite of mushrooms and truffles flavoured with a wealth of spices." Contrarily in a letter to his sister?s nunnery he recommend abstinence from meat and drink.
MUSIC AND ARTS Post-conversion, Augustine was somewhat black and white in his artistic tastes. He was more partial to singing, "To sing is to pray twice," than poetry, "Poetry is devil's wine", or the theatre, "The theatres, those cages of uncleanness and public schools of debauchery." However the Hippo bish was still cautious about music, "When I happen to be moved more by the singing than what is sang, I confess to have sinned grievously & then I wish I had not heard the singing."
Tradition has it that whilst Augustine was being baptised by Saint Ambrose, the two of them improvised the "Te Deum Laudamus" (We Praise Thee O Lord) in alternate verses.

LITERATURE Augustine loved books from a young age. A prolific, persuasive and stylish writer, whose style was greatly influenced by the Roman writer Cicero, he carried on writing even when old enough to qualify for his chariot pass. Augustine wrote about 230 books and treatises and in addition around 350 of his sermons survive today. The Church was greatly indebted to his defence of the Gospel.
His two masterpieces are:
397-401
Confessions
Augustine's spiritual autobiography, a prose poem addressed to God spread over 13 books. It told the honest, objective story of his childhood and education, his worldly ways, his search for truth, his heretical views at this stage and his conversion to Christianity. Augustine wrote a follow up
Retractions
about his later life, shortly before his death. In his book he recounts the sins of his youth and how even his prayers of repentance were tainted with insincerity-"Give me chastity, but not yet."
413-426
City of God
Augustine's epic tome, split over 22 books, it took him 13 years to complete. Basically it was an answer to the question of why did God allow Rome to fall to the barbarians so soon after enveloping Christianity. Rome's fall was the biggest blow for civilisation until Mrs Cowell gave birth to a baby boy whom she named Simon. Augustine argued that there were two cities, one earthly, Rome, which was bound to pass away in time and the other the City of God, heavenly, founded on goodness and justice which will survive the onslaught of the enemy, and will last eternally. Augustine encouraged the church to have its own empire with the Pope as king. Influenced by this, later the Pope took the emperor?s title "Pontiff" and wore the emperor's imperial robes.
423 A letter that Augustine wrote to a community of women became the main basis for the Augustinian religious communities.
NATURE Here's a surprise- Augustine believed in evolution. Well, he thought that some species of plants and animals had developed from earlier creations.
SCIENCE AND MATHS Augustine once wrote: "The good Christian should beware of mathematicians and all those who make prophecies. The danger already exists that mathematicians have made a covenant with the devil to sparken the spirit and to confine man in the bonds of hell." Sounds like to me that Augustine had a disagreeable maths teacher at school. Despite his anti-mathmatical opinions, he used a great deal of numerology in his commentaries.
In Book 11 of
Confessions
Augustine recorded a startling, brilliant discovery. He came to see that God had not only created both time and space but had created them simultaneously and interdependently. This insight, which Augustine derived from meditation on the Bible, anticipated Einstein's theory of relativity by 1500 years. (2) So it could be argued that Augustine pioneered both Darwin and Einstein's theories- OK maybe I'm going that's going too far.
PHILOSOPHY & THEOLOGY In 386, Augustine converted to Christianity. Though he?d learnt the Christian faith from his mother, Monica, doubts had began to creep in as a result of his rhetoric studies and at the age of 19 a treatise by Cicero made him realize he should make truth his life search. For the following ten years he was attached to the heretical Manicheanism beliefs and during this time his concerned mother sent a certain bishop to debate with him. The prelate found Augustine to be too clever a disputant and the bishop counselled Monica to "content yourself with praying for him." She went to her charge weeping and he sent her away saying, "Go, continue as you have done till now; it is impossible that the son of so many tears should perish."
Later Augustine found himself in Milan, where Bishop Ambrose's sermons began to speak to his heart but he was still too entwined in the world to convert. After reading an account of the lives of Anthony and other Egyptian hermits, Augustine was thrown into deep inner turmoil but he was still unable to break free. However whilst walking through his garden, he heard a child saying in a sing-song voice "Take it and read it." Under a fig tree, Augustine read Romans 13 v13-14 and in tears he finally found the Savior that his mother had told him about. "As if the light of peace was poured in my heart and all the shades of doubt faded away", he later wrote in his spiritual autobiography
Confessions
.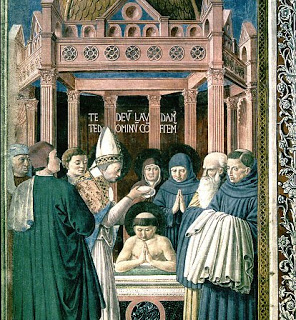 The following year Bishop Ambrose baptized Augustine in the Milan Easter vigil service on the night of Holy Saturday. In
Confessions
, Augustine described later the ceremony ?I wept at the beauty of the hymns and canticles and was powerfully moved at the sweet sound of your churches singing?My feeling of devotion overflowed and the tears ran from my eyes and I was happy in them.?
Augustine returned to North Africa, where he converted his family home into a monastery for himself and a group of friends. During a visit to the Mediterranean port of Hippo, 60 miles away, in 391, Augustine attended Mass where the local Bishop Valerius was preaching. The aged bishop, who was looking for an assistant, preached the need for another ordained man in the town. The church members decided they wanted Augustine for this post and Valerius agreed, however Augustine felt inadequate and declined. The congregation had none of protestations and he was jostled to the front of the church where he was ordained on the spot. He became a renowned preacher, his training in rhetoric came in handy and was noted for combating the Manichaean religion, to which he had previously adhered.
In 396 Augustine was appointed bishop of Hippo, in which position he remained until his death in 430. As the Hippo bishop, his orthodoxy prevented Catholicism being unduly influenced by alternative teaching. The great theologian developed many Catholic doctrines helping make infant baptism, belief in purgatory and the teaching that there is no salvation outside the Catholic Church normal practice. In addition he encouraged ascetic monasticism and the use of relics. His teachings that no one can really love God or believe in him properly until the grace of God comes to them influenced Luther and Calvin.
SCANDAL In his early life Augustine devoted himself to idle pursuits, lust and adolescent mischief. "I became to myself a wasteland," he later recalled. Let us not forget that on one particularly scandalous occasion, Augustine stole some pears from a neighbour's tree.
Many Christians considered Augustine's doctrines of predestination and salvation through God's grace to be a disturbing innovation.
In the early Middle Ages it was believed (from Augustine?s teaching) that children were damned to hell unless they were baptised. This caused a great deal of grief to parents who?d lost their children.
Tragically many in the church misunderstood Augustine's book
City of God
as their interpretation of his tome is that the church should have its own empire ruled by bishops.
Augustine used Luke 14v23 to justify the use of force in the suppression of rivals. This was later to influence the Inquisition.
MILITARY RECORD In AD 410 Rome was sacked by Barbarians. The people questioned why Rome, two decades after Theosidius had formally ended the public worship of pagan Gods, had fallen. Augustine wrote
City of God
to answer this tricky question.
HOMES 370 Moved to Carthage at the age of 17.
383-387 Lived in Rome then Milan with his Mother, girlfriend and Son. In the winter of 386-87 he stayed in a country villa in Classicalism nursing ill-health. It had been loaned by a friend.
389-91 Augustine settled in Tagaste with a few friends in a community thus introducing monasticism to Central North Africa.
391- 430 As Bishop he lived in a community with his cathedral community in Hippo, a small but not necessarily muddy seaport, now known as Annaba, sixty miles from his birthplace in Algeria.
TRAVEL Augustine hated travelling especially sea travelling.
HEALTH AND PHYSICAL FITNESS Often sick, in the summer of 386 Augustine was forced to give up his academic position in Milan due to ill-health.
In his early writings Augustine argued that healing was meant for Jesus and the New Testament Christians only and that believers should not look for a continuation of the practice. Later, in his book
Retractions
he appeared to have changed his mind because of his experiences as Bishop of Hippo. He wrote: ?I realized how many miracles were occurring in our own day and which were so like the miracles of old?how wrong it would be to allow the memory of these marvels of Divine power to perish from among our people.?
DEATH Died 430, aged 76 in Hippo, while the Vandals were besieging his Episcopal city As he lay dying, Augustine had the penitential psalms copied on parchment and fixed to the wall of his room so he could read them from bed.
APPEARANCES IN MEDIA 1.
Augustine of Hippo
A 1972 Italian film, which is meant to be quite good in an arty sort of way, it was directed by Roberto Rossellini.
2. Bob Dylan's "I Dreamed I Saw St. Augustine" is a track from his 1968
John Wesley Harding album
.
3. Sting's "Saint Augustine in Hell" is featured on his 1993
Ten Summoners Tales
album.
4. Botticelli's famous fresco
Saint Augustine
(1480) at the Church of the Ognissanti, Florence.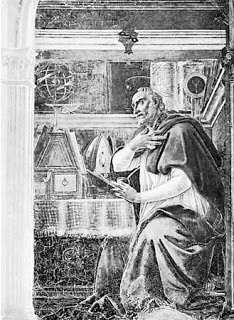 (See Below).
5. El Greco's masterpiece,
The Burial of Count Orgaz
(1586) features Augustine, along with Saint Stephen looking down on Count Orgaz as his soul rises to Heaven. This painting can be found today in the Church of Santo Tome, Toledo, Spain.
ACHIEVEMENTS 1. Saint Augustine is recognised as the founder of the Puritan philosophy, 1000 years before it became en vogue. He laid out the lines between predestination and free will, grace and works.
2. The Hippo bish is the patron Saint of Brewers, (no I'm not sure why). His feast day is 28th August.
3. Saint Augustine developed many Catholic doctrines- he helped make infant baptism normal practice. In addition he encouraged ascetic monasticism, the use of relics, belief in purgatory and the teaching that there is no salvation outside the Catholic Church.
4. He encouraged religious communities and inspired the Augustinians, who follow the rule of St. Augustine. Today there still exist about 100 Augustine communities. The Knights of Saint John of Jerusalem, who looked after sick and injured pilgrims and crusaders were Augustinians .
5. Saint Augustine was one of the four original Doctors of the Church.
6. St. Augustine a 16th century settlement in Florida, is the oldest town in the USA.
7. More of Saint Augustine's words survive than those of any other writer of antiquity.
8.
The City of God
encouraged the church to have it?s own empire with the Pope as king.
Sources
(1). Christian Hist 2000 vol 19 issue 3 pg 36
(2) http://www.ctlibrary.com/ch/2007/issue94/1.6.html
And in various places (but not that many!) http://en.wikipedia.org/wiki/Augustine_of_Hippo