Biography
Algernon Charles Swinburne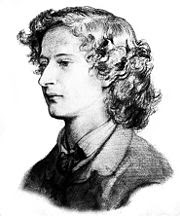 Algernon Charles Swinburne (April 5, 1837 ? April 10, 1909) was a Victorian era English poet. His poetry was highly controversial in its day, much of it containing recurring themes of sadomasochism, death-wish, lesbianism and irreligion.
Biography
Swinburne was born at 7 Chester Street, Grosvenor Place, London, on the 5th April 1837. He was the eldest of six children born to Captain (later Admiral) Charles Henry Swinburne and Lady Jane Hamilton. He grew up near East Dene on the Isle of Wight and attended Eton college 1849-53, where he first started writing poetry, and then Balliol College, Oxford 1856-60 with a brief hiatus when he was rusticated from the university in 1859, returning in May 1860. At university he associated with the Pre-Raphaelites and counted among his best friends Dante Gabriel Rossetti. After university he lived in London and started an active writing career.
His poetic works includes: Atalanta in Calydon (1865), Poems and Ballads I (1866), Songs before Sunrise (1871), Poems and Ballads II, (1878) Tristram of Lyonesse (1882), Poems and Ballads III (1889), and the novel Lesbia Brandon (published posthumously).
Poems and Ballads I caused a sensation when it was first published, especially the poems written in homage of Sappho of Lesbos such as "Anactoria" and "Sapphics". Other poems in this volume such as "The Leper," "Laus Veneris," and "St Dorothy" evoke a Victorian fascination with the Middle Ages, and are explicitly medieval in style, tone and construction. Also featured in this volume are "Hymn to Proserpine", "The Triumph of Time" and "Dolores (Notre-Dame des Sept Douleurs)".
Swinburne was an alcoholic and algolagniac, and a highly excitable character. His health suffered as a result, and in 1879 at the age of 42 he had a mental and physical breakdown and was taken into care by his friend Theodore Watts, who looked after him for the rest of his life at No. 2 The Pines, Putney. Thereafter he lost his youthful rebelliousness and developed into a figure of social respectability. He died on the 10th April 1909 at the age of 72 and was buried at Bonchurch on the Isle of Wight.
[edit] Criticism
Swinburne is considered a decadent poet, although he perhaps professed to more vice than he actually indulged in, a fact which Oscar Wilde famously and acerbically commented upon, stating that Swinburne was "a braggart in matters of vice, who had done everything he could to convince his fellow citizens of his homosexuality and bestiality without being in the slightest degree a homosexual or a bestializer."[1]
His mastery of vocabulary, rhyme and metre arguably put him among the most talented English language poets in history, although he has also been criticized for his florid style and word choices that only fit the rhyme scheme rather than contributing to the meaning of the piece. He is the virtual star of the third volume of George Saintsbury's famous History of English Prosody, and A. E. Housman, a more measured and even somewhat hostile critic, devoted paragraphs of praise to his rhyming ability.
Painting by William Bell ScottSwinburne's work was once quite popular among undergraduates at Oxford and Cambridge, though today it has largely gone out of fashion. This largely mirrors the popular and academic consensus regarding his work as well, although his Poems and Ballads, First Series and his Atalanta in Calydon have never been out of critical favor.
It was Swinburne's misfortune that the two works, published when he was nearly 30, soon established him as England's premier poet, the successor to Alfred, Lord Tennyson and Robert Browning. This was a position he held in the popular mind until his death, but sophisticated critics like A. E. Housman felt, rightly or wrongly, that the job of being one of England's very greatest poets was beyond him. Swinburne may have felt this way himself. He was a highly intelligent man and in later life a much-respected critic, and he himself believed that the older a man was, the more cynical and less trustworthy he became. This of course created problems for him as he aged.
After the first Poems and Ballads, Swinburne's later poetry is devoted more to philosophy and politics (notably, in favour of the unification of Italy, particularly in the volume Songs before Sunrise). He does not stop writing love poetry entirely, but the content is much less shocking. His versification, and especially his rhyming technique, remain in top form to the end.
T. S. Eliot, reading Swinburne's essays on the Shakespearean and Jonsonian dramatists in The Contemporaries of Shakespeare and The Age of Shakespeare and Swinburne's books on Shakespeare and Jonson, found that as a poet writing notes on poets, he had mastered his material and was "a more reliable guide to them than Hazlitt, Coleridge, or Lamb," Swinburne's three Romantic predecessors, though he characterized Swinburne's prose as "the tumultuous outcry of adjectives, the headstrong rush of undisciplined sentences, are the index to the impatience and perhaps laziness of a disorderly mind."
[edit] Further reading
Wikiquote has a collection of quotations related to:
Algernon Charles SwinburneWikisource has original works written by or about:
Algernon Charles SwinburneA modern study of his religious attitudes:
Margot Kathleen Louis, Swinburne and His Gods: the Roots and Growth of an Agnostic Poetry ISBN 0-7735-0715-9
Jerome McGann, Swinburne: An Experiment in Criticism (1972) initiated modern Swinburne criticism.
[edit] Trivia
Trivia sections are discouraged under Wikipedia guidelines.
The article could be improved by integrating relevant items and removing inappropriate ones.
Ernest Wheldrake was a fictional character invented by Swinburne, who reviewed imaginary works by him. This was as a satire on the spasmodic poets. Wheldrake is also a character used by Michael Moorcock in his fiction.
"A Cameo," a sonnet by Swinburne, is quoted by Gouvernail in the grand dinner scene of Kate Chopin's novella The Awakening. "There was a graven image of Desire/Painted with red blood on a ground of gold."
Swinburne's poem, "The Oblation" is quoted by the character Buck Mulligan in James Joyce's Ulysses. Buck Mulligan jestingly quotes it to the milk woman as he pays her. "Ask nothing more of me, sweet./All I can give you I give."
The Polish blackened death metal band Behemoth, on their 2004 album Demigod, cite Swinburne's poem "Atalanta in Calydon" as the source for the lyrics to the track "Before the Æons Came". The poem is known for its dystheistic outlook, appropriate to the musical style.
A portion of one of his poems was found etched into the wall by a patient of The Philadelphia State Hospital at Byberry, an infamous mental institution.
His life was used as an "exam question" for the discussion of the influence of Despair in Neil Gaiman's Endless Nights.
[edit] References
T. S. Eliot, "Swinburne as Critic" in Eliot's essay "Imperfect Critics", collected in The Sacred Wood: Essays on Poetry and Criticism, 1922.
-
Francis Thompson
Francis Thompson (December 18, 1859 ? November 13, 1907) was an English poet and ascetic. After attending college, he moved to London to become a writer, but in menial work, became addicted to opium, and was a street vagrant for years. A married couple...
-
Charles Lamb
Charles Lamb (London, 10 February 1775 ? Edmonton, 27 December 1834) was an English essayist with Welsh heritage, best known for his Essays of Elia and for the children's book Tales from Shakespeare, which he produced along with his sister, Mary...
-
A. E. Housman
Alfred Edward Housman (IPA: [?ælf??d ?edw?d ?ha?sm?n]; March 26, 1859 ? April 30, 1936), usually known as A.E. Housman, was an English poet and classical scholar, now best known for his cycle of poems A Shropshire Lad. Life Housman was born in Fockbury,...
-
Konstantin Batyushkov
Konstantin Nikolayevich Batyushkov ?????????? ?????????? ???????? (1787, Vologda - July 7, 1855, Vologda) was an important precursor of Alexander Pushkin in the Russian poetry. Batyushkov was brought up in the house of his uncle Mikhail Muravyov, who...
-
Gajanan Madhav Muktibodh
Gajanan Madhav Muktibodh was one of the most prominent Hindi poets of the 20th century. He is widely considered one of the pioneers of modern poetry in India, and is best known for his three long poems--Brahma-rakshasa, Chaand Ka Munh Tedha Hai and Andhere...
Biography