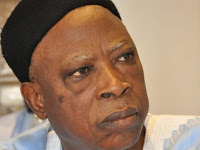 Abdullahi Adamu
Abdullahi Adamu, former Governor and senator of the Federal
Republic of Nigeria was born at Keffi, Nasarawa State, on July 23, 1946. He is an indigene of Nasarawa
State.
He attended Senior Primary Shool Keffi, then proceeded to Government Secondary School, Makurdi from 1960 to 1962, then he attended at Government Technical College, Bukuru from 1962 to 1965 and Kaduna Polytechnic from 1965 to 1968. He returned to Kaduna Polytechnic for a Higher National Diploma in June 1971.
In 1987, he enrolled in the part-time degree programme of the University of Jos, obtaining an LL.B (Hons) in 1992. He then went to the Nigerian Law School, Lagos where he obtained his BL and was called to the Bar as a solicitor and Advocate of Supreme Court of Nigeria in December 1993.
Abdullahi Adamu began work in 1967 with the Electricity Corporation of Nigeria. In 1971 he joined the Northern Nigeria Development Corporation (NNDC) Kaduna. In 1973 he became a joined AEK, a consultancy firm, where he was Project Manager for construction of Durbar Hotel and Murtala Mohammed Square, Kaduna. In October 1975, he was appointed the Executive Secretary of the Benue/Plateau Construction Company by the Benue/Plateau State government. From February 1980 to September 1983 he was Chairman of the Benue Cement Company, Gboko.
Adamu began his political career in 1977, and was elected to the Constituent Assembly, which drafted the constitution for Nigeria's short-lived Second Republic . He was a pioneer member of the National Party of Nigeria (NPN) then and was the first Secretary-General of the NPN in Plateau State from December 1978, and chairman of the NPN in Plateau State from 1982 to 1983.
when the Military was in power, he was appointed to the National Constitutional Conference by General Sani Abacha's administration in 1994. In March 1995, Adamu was appointed a minister of state of Works and Housing ministry, holding this position until November 1997. When the ban on political activity was lifted in 1997, he joined the United Nigeria Congress Party (UNCP). In 1998, Adamu became a founding member of People's Democratic Party (PDP).
In the 1999 elections, Abdullahi Adamu ran successfully for position of Governor of Nasarawa State under the platform of the People?s Democratic Party. He was re-elected in April 2003 for a second term in office.
It is worthy to note that, In September 2005 abdullahi Adamuhe launched the School Feeding Programme in the State of Nasarawa, which aims to provide a fortified nutritional supplement to primary school children.
After the end of his two-term of Governorship, Adamu became Secretary, Board of Trustees (BOT) of the Peoples Democratic Party (PDP). In November 2009, a group of prominent PDP members stated that they would support his candidacy in the 2011 elections for the Nasarawa West Senate constituency.
In the 2011 elections, Adamu was the PDP candidate for the Nasarawa West Senatorial seat. Despite his issues with EFCC then, his candidature was not affected as he won the senatorial seat.
Again in the 2015 elections, he was again reelected to represent Nasarawa West Senatorial district but this time around under the platform of the All Progressive Congress(APC).
Adamu Dau Usman Kamale, born in 1970, is a member of the Federal House of Representatives, representing Michika/Madagali Federal Constituency of Adamawa State under the platform of the Peoples Democratic Party. Adamu Kamale attended Government Secondary...
Muhammad Adamu Aliero was born on January 1, 1957. He is a native of Aliero in Aliero Local Government Area of Kebbi State. Adamu attended Islamic school where he had his earliest education experience. He had his elementary education at Aliero Town Planning...
Barnabas GemadeBarnabas Andyar Iyorhyer Gemade, senator of the Federal Republic of Nigeria, was born on September 4, 1948. He is an indigene of Benue State. He was formerly theNational Chairman of the People?s Demoncratic Party (PDP)....
Abubakar Atiku BaguduAbubakar Atiku Bagudu, the Governor of Kebbi State was born on 26th of December 1961. He is an indigene of Kebbi State. Atiku Bagudu is from an affluent background. His father was the director of Primary Education in Kebbi State....
George AkumeGeorge Akume, former Governor of Benue State and Senator of the F ederal Republic of Nigeria was born on December 27, 1953. George Akume studied Sociology at the University of Ibadan(U.I) where he graduated with a Bachelor's...