Biography
Biography of Joseph Esenwa, Controller News, Channels Television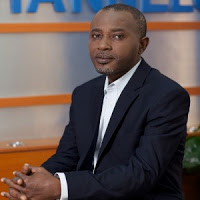 Joseph Esenwa
Joseph Esenwa is from Ezi, in Delta State, Nigeria.
He holds a Bachelor of Arts degree in Communication Arts which he obtained from the University of Uyo, Akwa Ibom State.
He is married to Francessca and they are blessed with three children, Francis, Olisa and
Cecil.
He began his career in the industry as a Producer and Presenter with Talk Back a 5-minute programme in 1997. He later became a story writer and went on to become a Reporter, after which he was seconded to the sports desk, where he eventually became the Sports Editor.
He was drafted to the news/ current affairs department as a News Editor and he was elevated to the position of Assistant Controller News (ACN), in 2006 and Controller News in 2012 (CN).
Prior to his engagement at Channels Television, Joseph worked in the advertising industry as a Copywriter/ Client Service Executive, having specialized in Public Relations and Advertising.
His hobbies include reading novels, football, pool, tennis, and volley ball.
-
Biography Of Ambrose Okoh, Controller News, Channels Television.
Ambrose OkohAmbrose Okoh has come a long way since joining Channels Television in November 1996. He has earned himself the sobriquet ?General?, in his capacity as Controller of News and has played a constructive role in the establishment of Channels Television...
-
Biography Of Sola Atere, Executive Director News, Nta.
Sola AtereSola Atere was born at Isua in Akoko South East Local Government Area of Ondo State. He is an Indigene of Ondo State. He Attended the University of Lagos, the University of Abuja and the Nigerian Institute of Journalism among others. He...
-
Biography Of Chamberlain Usoh; Journalist; Tv Presenter.
Chamberlain UsohChamberlain Usoh , the award winning TV Presenter and Journalist is a graduate of University of Lagos, Unilag where he studied Mass Communication. Chamberlain is a producer and news anchor at Channels Television and he is...
-
Biography Of Maupe Ogun, Tv Presenter.
Maupe OgunMaupe Ogun, the young amiable News Presenter and Reporter had her University Education at University of Lagos ,Unilag where she bagged a degree in English Language. She proceeded further to the University of Anglia, Norwich in the United Kingdom...
-
Biography Of Ijeoma Onyeator; Tv Presenter; Reporter
Ijeoma OnyeatorIjeoma Onyeator, an experienced TV Presenter and reporter, was born in Nairobi, Kenya.Ijeoma Onyeator graduated from the University of Lagos(Unilag) with a B.Sc.(Hons) degree in Mass Communication and went further to obtain a Master...
Biography