Biography
Biography of Mary Alale Yusuf, career, Producer, Channels Television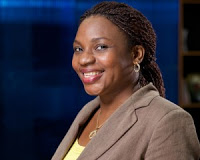 Mary Alale Yusuf
Mary Alale Yusuf is a Producer with Channels Television. The amiable lady joined Channels Television in 2010.
Mary Alale Yusuf had her University Education at the University of Benin, UNIBEN, where she obtained
a degree in Optometry.
She was a presenter of the M-Reporter for a time until it was temporarily rested.
She has been a producer for Sunrise Daily since she joined Channels Television.
Mary Alale Yusuf has as her hobbies reading of novels, swimming. And she also likes being abreast of happenings in the nation.
-
Biography Of Bola Frazer, Producer Channels Television.
Bola FrazerBolanle Frazer popularly known as Bola is a producer with Channels Television. She Obtained a University degree from Lagos State University Ojo where she studied Geography and Planning. She went ahead to get her masters degree in Diplomacy...
-
Biography Of Linda Akhigbe, Presenter, Reporter, And Producer, Channels Television.
Linda AkhigbeLinda Akhigbe is a Reporter, Presenter and Producer at Channels Television. she is an indigene of Edo State, Nigeria. She studied Mass Communication from Federal Polytechnic Auchi, in Edo state.Linda Akhigbe began her career in broadcasting...
-
Biography Of Ambrose Okoh, Controller News, Channels Television.
Ambrose OkohAmbrose Okoh has come a long way since joining Channels Television in November 1996. He has earned himself the sobriquet ?General?, in his capacity as Controller of News and has played a constructive role in the establishment of Channels Television...
-
Biography Of Chamberlain Usoh; Journalist; Tv Presenter.
Chamberlain UsohChamberlain Usoh , the award winning TV Presenter and Journalist is a graduate of University of Lagos, Unilag where he studied Mass Communication. Chamberlain is a producer and news anchor at Channels Television and he is...
-
Biography Of Maupe Ogun, Tv Presenter.
Maupe OgunMaupe Ogun, the young amiable News Presenter and Reporter had her University Education at University of Lagos ,Unilag where she bagged a degree in English Language. She proceeded further to the University of Anglia, Norwich in the United Kingdom...
Biography