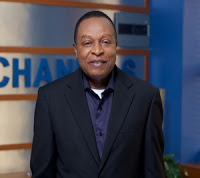 Steve Judo
Steve Judo, is the General Manager, Special Duties of ChannelsTelevision.
Steve Judo holds a Bachelor of Science degree in Social Psychology (1980), and Master of Science degree in Psychology (1983) from the University of Wisconsin,
U.S.A.
He is an alumnus of the Harvard Business School.
He had his early career with the Nigerian Management Environment; He joined the Nigerian Institute of Management (NIM), in 1987, as a Guest Lecturer and Consultant
. To further his career in Corporate Management, Steve volunteered his service as participative management facilitator in 1991 at the Nigerian Integrated Rural Accelerated Development organisation (NIRADO)- an affiliate of the Brussels-based Institute of Cultural Affairs International (ICAI).
Steve Judo also worked with the African Resources Management Consultancies and Agroec Consultants, a group of management and staff development consultants, during the period.
In 1992, he embarked on an entrepreneurial venture by establishing Judo Management Services, whose primary operational strategy, is tilted towards management development, human resources utilization and management support services.
It is worthy to note that Steve Judo had the unique privilege of consulting for Channels Incorporated in the area of staff recruitment, training and human resources development, he later joined other professionals to nurture the potentially vibrant organization; Channels Television in 1995.
He has also held strategic positions in Channels Television as pioneer staff, and served in such capacities as Head of Operations, Assistant General Manager, Deputy General Manager, before his appointment as General Manager, Special Duties.
In Channels Television, he has undergone several professional courses and participated in conferences in Nigeria, and internationally. They include;
? Panos Institute West Africa (PIWA) Dakar, Senegal on Television Pluralism (2007)
? British Council Inter-action event, Nairobi Kenya on ATV African Media Forum (2005)
? University of the Witwatersrand, Graduate school of Business Administration, Johannesburg, South-Africa-Executive Management Development Programme (2002)
? U.S information agency and Voice of America International Broadcasting Bureau on Radio and Television sales and Management workshop (1999)
? Independent Television Producers Association of Nigeria (ITPAN) Workshop on directing 1999
? National Broadcasting Commission Workshop on Deregulated Broadcasting (1997)
? U.S Information Service Workshop on independent Broadcasting in Nigeria (1996).
He is a member of Nigeria Guild of Editors, and has as his hobbies gardening, travelling, good music, as well as watching television.
Steve Judo is married and blessed with children.
Adeola OlumeyanAdeola Olumeyan is the Company?s Secretary and head of the Legal department at Channels Television. Adeola had her University Education at the Lagos State University where she graduated with a degree in Law. She was thereafter...
Olusola MomohOlusola Momoh is the Co-Founder and Vice-Chairman of Channels Television. She is married to John Momoh the Chairman and Chief Executive Officer(CEO) of Channels Television and they are blessed with three Children. She is responsible for the...
Kayode AkintemiKayode Akintemi is an award-winning broadcast journalist who has consistently merged his core skill set, broadcast journalism and information technology to enable him practice across platforms on-air and online. He studied Mass Communication...
John Olatchy MomohJohn Olatchy Momoh (OON) is the Chairman and CEO of Channels Television, a Television station he founded in 1992. He was born on July 1, 1957 in Lagos, Nigeria. He was born into a humble background as his father was a cook. The Television...
Chukwuma OnuekwusiChukwuma Onuekwusi, an experienced Journalist and broadcaster , has a diploma in Mass Communication (Radio/TV Broadcasting) from the University of Nigeria Nsukka(UNN) and he has also attended journalism courses in Nigeria and the...