Biography
Biography of Sule Lamido; Ex-Governor; Jigawa State Celebrity.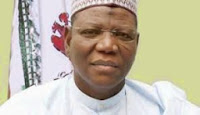 Sule Lamido
Alhaji Sule Lamido was born on August 30, 1948 at Bamiana Village in Jigawa State. He had his Primary Education at Birnin Kudu Primary School in 1955 and proceeded for his Secondary
Education at Barewa College, Zaria in 1962. Sule Lamido Subsequently did a course in Railway Engineering at the Permanent Way Training School, Zaria.
Alhaji Sule Lamido is married to Hajiya Maryam Sule Lamido.
After his graduation he worked in different companies like the Nigerian Tobacco Company, Bamaina Holding Company and others.
Alhaji Sule Lamido ventured into politics as far back as 1992 and in 1999, he was appointed as Foreign Affairs Minister by the then President, Olusegun Obasanjo.
In the year 2007, Alhaji Sule Lamido was elected the Governor of Jigawa State under the People?s Democratic Party (PDP). In 2011, he was re-elected for a second term in office.
-
Biography Of Ibrahim Lawal Damisa, Executive Director, Training And Capacity Building, Nta
Ibrahim Lawal Damisa Alhaji Ibrahim Lawal Damisa a consummate broadcast Journalist was born on the 2nd of February, 1956. He had his early education at the Kudu and Arewa Primary Schools in Kazaure as well as the l.E.A Primary School, Karkarna all...
-
Biography Of Mu'azu Babangida Aliyu; Ex-governor; Niger State Celebrity.
Alhaji Mu?azu Babangida AliyuAlhaji Mu?azu Babangida Aliyu, was born on November 12, 1955 in Minna, Niger State. Alhaji Mu?azu Babangida Aliyu?s first educational experience was at Central Primary School, Kuta, Minna and Sultan Primary School, Sokoto....
-
Biography Of Umaru Tanko Al-makura; Governor; Nasarawa State Celebrity.
Alhaji Umaru Tanko Al- MakuraAlhaji Umaru Tanko Al- Makura was born in 1952 in Lafia, Nasarawa State. He attended Ahmadu Bello University, where he studied Education. After his University Education and National Youth Service, Umaru Tanko Al- Makura floated...
-
Biography Of Mukhtar Ramalan Yero; Ex-governor; Politician; Kaduna State Celebrity.
Mukhtar Ramalan YeroAlhaji Mukhtar Ramalan Yero was born on May 21, 1968. Mukhtar Ramalan Yero attended LEA Primary School, Kaura between the years 1974 and 1980. After his primary education, he attended Government Secondary school, Ikara between the...
-
Biography Of Mohammed Abubakar Badaru
Mohammed Abubakar BadaruAlhaji Mohammed Abubakar Badaru- Governor of Jigawa State was Born in 1962 at Babura town in Jigawa State of Nigeria, Abubakar Badaru holds a B.Sc degree in Accounting from the famous Ahmadu Bello University (ABU) Zaria. He was...
Biography