Biography
Carlos Slim Helu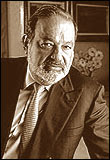 Carlos Slim Helu is a Mexican entrepreneur and businessman involved in a varied group of companies that include telecommunications, retail, banking and insurance, technology, and auto parts manufacturing businesses. He is the wealthiest Mexican man, the richest Latin American, and one of the top ten richest men in the world.Carlos Slim Helú was born on the 28th of January, 1940 in Mexico City. His father Yusef Salim Haddad and mother Linda Helu were of Lebanese decent. Carlos was the 5th of 6 children. He studied engineering at the Universidad Nacional Autonoma de Mexico.The financial success that Slim Helu has achieved has been from finding undervalued companies and making them profitable. Telefonos de Mexico (Telmex) was acquired during a privatization period in 1990 of the Mexican government. Carlos was criticized for raising phone call costs soon after purchasing the business, but he went on to improve phone services in Mexico with the company offering local and long distance calls, mobile phone services, Internet services, and a telephone directory. "It's not a question of arriving and putting in a whole new administration, but instead, arriving and "compacting" things as much as possible, reducing management layers. We want as few management layers as possible, so that executives are very close to the operations. We also don't believe in having big corporate infrastructures." Carlos Slim HeluCarlos Slim Helu has been referred to as the "Warren Buffett of Latin America", but he thinks of himself as an operator of companies, rather than just an investor (like Buffett). Even though he has admitted to having very poor computer skills, he sees the Internet and technology as a major growth area in his group of businesses. He owns the largest Internet Service Provider (ISP) in Mexico and had one of the largest in the United States of America with his acquisition of Prodigy. Slim also owns the major computer retailer CompUSA, with more than 200 retail stores throughout the USA and Puerto Rico."Technology is going to transform people's lives and society everywhere in the world. My main task is to understand what's going on and try to see where we can fit in." Carlos Slim Helu In 2005 Forbes business magazine estimated Carlos Slim Helu's net worth to be $23.8 billion American dollars, making him the 4th richest person in the world.In 2006 Carlos Slim Helu was ranked as the third richest man in the world with an estimated $30 billion in assets.In 2007 the Mexican billionaire remained in third position but increased his wealth dramatically to an estimated $49 billion.Update : In June of 2007 it was reported that the wealth of Carlos Slim Helu increased to an estimated $67.8 billion, making him the richest man in the world. This puts Carlos Slim ahead of Warren Buffett and Bill Gates. Read more about Carlos Slim being the Richest Man in the World.
-
Jack Ma ( Chief Executive Officer Of Alibaba.com )
Jack MaChief Executive Officer of Alibaba.com Jack Ma Born in November, 1964, in Hangzhou, Zhejiang province, China. Education: Earned degree from Hangzhou Teachers Institute, 1988. Addresses: Office ?Alibaba.com, 39899 Balentine Dr.,...
-
Bill Gates
Bill Gates is one of the most influential people in the world. He is cofounder of one of the most recognized brands in the computer industry with nearly every desk top computer using at least one software program from Microsoft. According to the Forbes...
-
Slim Burna
Gabriel Soprinye Halliday Idaomienyenimim (born 11 April 1988), known by his stage name Slim Burna is a Nigerian musician, singer, rapper and record producer. Soprinye was born in Essex, and grew up in the capital city of Rivers State in Southern Nigeria,...
-
>> Biography Of Bill Gates
Bill Gates in July 2014 William Henry "Bill" Gates III (born October 28, 1955) is an American business magnate, philanthropist, investor, computer programmer, and inventor. Gates originally established his reputation as the co-founder of Microsoft, the...
-
El Sicario: The Autobiography Of A Mexican Assassin
El Sicario: The Autobiography of a Mexican Assassin Review ...
Biography