Biography
Elizabeth Barrett Browning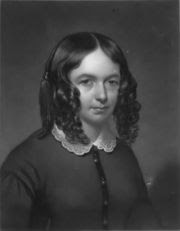 Biography
Sarah Barrett Moulton: ?Pinkie? by Thomas Lawrence. Oil on canvas, 57½" x 39¼" (146 x 100 cm).Elizabeth spent her youth at Hope End near Great Malvern, England. The Barrett family had amassed a considerable fortune from the Jamaican sugar plantations inherited by her father, Edward Moulton Barrett, who was born there. The Barretts had been associated with Jamaica for generations. As a boy he emigrated to England with his brother and sister (she is the subject of the painting "Pinkie" in the Huntington Museum). He and his wife, Mary Graham-Clarke, were parents of twelve children (Elizabeth was the eldest). Elizabeth was educated at home and attended lessons with her brother's tutor and was thus well-educated for a girl of that time.
In her early teens, Elizabeth contracted a lung complaint, possibly tuberculosis, although the exact nature of her illness has been the subject of speculation. She was subsequently regarded as an invalid by her family. The first poem we have a record of is from the age of six or eight (the manuscript is in the Berg Collection of the New York Public Library; the date is in question because the 2 in the date 1812 is written over something else that is scratched out). A long Homeric poem titled "The Battle of Marathon" was published when she was fourteen, her father underwriting its cost. In 1826 she published her first collection of poems, "An Essay on Mind and Other Poems." Its publication drew the attention of a blind scholar of the Greek language, Hugh Stuart Boyd, and another Greek scholar, Uvedale Price, with both of whom she maintained a scholarly correspondence. At Boyd's suggestion, she translated Aeschylus's "Prometheus Bound" (published in 1833; retranslated in 1850).
The abolition of slavery, a cause which she supported (see her work The Runaway Slave at Pilgrim's Point (1849)), considerably reduced Mr. Barrett's means. He sold his estate and moved with his family first to Sidmouth and afterwards to London. After the move to London, she continued to write, contributing to various periodicals "The Romaunt of Margaret", "The Romaunt of the Page", "The Poet's Vow", and other pieces, and corresponded with literary figures of the time, including Mary Russell Mitford. In 1838 appeared The Seraphim and Other Poems.
The death of her brother, Edward, who drowned in a sailing accident at Torquay in 1840, had a serious effect on her already fragile health; and for several years she rarely left her bedroom. Eventually, however, she regained strength, and meanwhile her fame was growing. The publication in 1843 of "The Cry of the Children" gave it a great impulse, and about the same time she contributed some critical papers in prose to Richard Henry Horne's A New Spirit of the Age. In 1844 she published two volumes of Poems, which included "A Drama of Exile", "Vision of Poets", and "Lady Geraldine's Courtship".
In 1845 she met her future husband, Robert Browning, who had written to her after the publication of her Poems. Their courtship and marriage, owing to her delicate health and the extraordinary objections made by Mr. Barrett to the marriage of any of his children, were carried out secretly. After a private marriage at St Marylebone Parish Church, she accompanied her husband to the Italian Peninsula, which became her home almost continuously until her death.
The union proved a happy one. In her new circumstances Elizabeth's strength greatly increased, and she gave birth to a son, Robert Wiedemann Barrett Browning, called "Pen," at the age of 43. The Brownings settled in Florence, and there she wrote Casa Guidi Windows (1851) under the inspiration of the Tuscan struggle for liberty, with which she and her husband were in sympathy. In Florence she became close friend of British-born poets Isabella Blagden and Theodosia Trollope Garrow.
The verse-novel Aurora Leigh, her most ambitious, and perhaps the most popular of her longer poems, appeared in 1856. It is the story of a woman writer making her way in life, balancing work and love.
Among Browning's best known lyrics is Sonnets from the Portuguese (1850) - the 'Portuguese' being her husband's petname for dark-haired Elizabeth. The title also refers to the series of sonnets of the 16th-century Portuguese poet Luis de Camões; in all these poems she used rhyme schemes typical of the Portuguese sonnets. In 1860 she issued a small volume of political poems titled Poems before Congress. Her health underwent a change for the worse; she gradually lost strength, and died on June 29, 1861. She is buried in the English Cemetery, Florence.
Mrs. Browning was a woman of singular nobility and charm. Mary Russell Mitford described her as a young woman: "A slight, delicate figure, with a shower of dark curls falling on each side of a most expressive face; large, tender eyes, richly fringed by dark eyelashes, and a smile like a sunbeam." Anne Thackeray Ritchie described her as: "Very small and brown" with big, exotic eyes and an overgenerous mouth.
[edit] Literary significance
Barrett Browning is generally considered one of the great English poets. Her works address a wide range of issues and ideas; she was learned and thoughtful, influencing many of her contemporaries, including Robert Browning. Her own sufferings, combined with her moral and intellectual strength, made her the champion of the suffering and oppressed. Her gift was essentially lyrical, though much of her work was not so in form. Her weak points are the lack of compression, an occasional somewhat obtrusive mannerism, and experimentation both in metre and rhyme.
Her most famous work is Sonnets from the Portuguese, a collection of love sonnets. By far the most famous poem from this collection, with one of the most famous opening lines in the English language, is number 43:
Elizabeth Barrett BrowningHow do I love thee? Let me count the ways.
I love thee to the depth and breadth and height
My soul can reach, when feeling out of sight
For the ends of Being and ideal Grace.
I love thee to the level of everyday's
Most quiet need, by sun and candle-light.
I love thee freely, as men strive for Right;
I love thee purely, as they turn from Praise.
I love thee with the passion put to use
In my old griefs, and with my childhood's faith.
I love thee with a love I seemed to lose
With my lost saints!---I love thee with the breath,
Smiles, tears, of all my life!---and, if God choose,
I shall but love thee better after death.
But while her Petrarchan Sonnets from the Portuguese are exquisite, she was also a prophetic, indeed epic, poet, writing Casa Guidi Windows in support of Italy's Risorgimento, a reflection of Byron's advocacy of Greece's liberation from Turkey. Her verse-novel, Aurora Leigh, in nine books is set in Florence, England and Paris, using in it her knowledge from childhood of the Bible in Hebrew, Homer, Aeschylus, Sophocles, Apuleius, Dante, Langland, Madame de Stael, and George Sand.
The government of Italy and the Commune of Florence celebrated her poetry with commemorative plaques on Casa Guidi, where the Brownings had lived during their 15 year marriage. Lord Leighton designed her tomb in the English Cemetery, its sculpting in Carrara marble being carried out, not faithfully, by Francesco Giovannozzo. In 2006 the Comune of Florence laid a laurel wreath on this tomb to mark 200 years since her birth.
[edit] In Popular Culture
Elizabeth Barrett Browning's father is mentioned in Sleeping Murder by Agatha Christie as "Mr. Barrett of Wimpole Street".
Elizabeth Barrett Browning was mentioned in an episode of Life with Derek when Casey and Kendra were working on a poetry project together.
Elizabeth Barrett Browning was also the name of Diane's cat who passed away in an episode of Cheers
[edit] See also
Avery, Simon, and Rebecca Stott. "Elizabeth Barrett Browning." (Longmans, 2005) (Critical study of the poet's life and works.)
Barrett, R.A. "The Barretts of Jamaica: The Family of Elizabeth Barrett Browning." (Wedgestone, 2000). (Account of the lives of the descendants of Hercie Barrett, from 1655; with extensive genealogy.)
Donaldson, Sandra. "Critical Essays on Elizabeth Barrett Browning." (G.K. Hall, 1999)
_____. "Elizabeth Barrett Browning: An Annotated Bibliography of the Commentary and Criticism from 1826 to 1990." (G.K. Hall, 1993).
Karlin, Daniel. The courtship of Robert Browning and Elizabeth Barrett. (Oxford, 1985) (Critical biography focused on the courtship correspondence.)
Kelley, Philip et al. (Eds.) The Brownings' correspondence. 15 vols. to date. (Wedgestone, 1984-) (Complete letters of Elizabeth Barrett Browning and Robert Browning, so far to 1849.)
Garrett, Martin (Ed.) Elizabeth Barrett Browning and Robert Browning: Interviews and Recollections (Basingstoke and London, 2000). (Accounts of both poets by themselves and others.)
Woolf, Virginia. Flush: A Biography (Biographical novella written from the perspective of Elizabeth Barrett Browning's dog, principally of curiosity value.)
-
List Of English Writers
Douglas AdamsKingsley AmisMatthew ArnoldW. H. AudenJane AustenPam AyresMax BeerbohmHilaire BellocAlan BennettWilliam Blake J. M. BarrieArnold BennettEnid BlytonRobert BoltJohn BetjemanAnne BrontëCharlotte BrontëRupert BrookeElizabeth Barrett BrowningRobert...
-
Christina Rossetti
Christina Georgina Rossetti (December 5, 1830 ? December 29, 1894) was an English poet. Her siblings were the artist Dante Gabriel Rossetti, William Michael Rossetti, and Maria Francesca Rossetti. Their father, Gabriele Rossetti, was an Italian poet...
-
Robert Browning
Youth Robert Browning was born in Camberwell,[1] a suburb of London, England, on May 7, 1812, the first son of Robert and Sarah Anna Wiedemann Browning. His father was a man of both fine intellect and character, who worked as a well-paid clerk for the...
-
Anna Akhmatova
Early lifeAkhmatova was born at Bolshoy Fontan in Odessa. Her childhood does not appear to have been happy; her parents separated in 1905. She was educated in Kiev, Tsarskoe Selo, and the Smolny Institute of St Petersburg. Anna started writing poetry...
-
Robert Browning
NAME Robert Browning WHAT FAMOUS FOR English poet BIRTH b 7 May 1812 Southampton Way, Camberwell, London, England FAMILY BACKGROUND Robert's father Robert Browning, a man of fine intellect and character, was a well-off clerk for the Bank of England,...
Biography