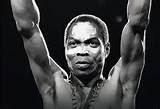 Fela was born as Olufela Olusegun Oludotun Ransome-Kuti, also known as Fela Anikulapo Kuti, on October 15, 1938 in Abeokuta, Ogun State, Nigeria in a family of upper middle class. His mother, Funmilayo Ransome-Kuti was a feminist and a strong
activist in the anti-colonial movement of those days. His father, Reverend Israel Ransome-Kuti Oludotun, a Protestant pastor and director of a school, was the first president of the Nigeria Union of Teachers. His brothers, Beko Ransome-Kuti and Olikoye Ransome-Kuti were very popular medical doctors in Nigeria. He was the first cousin of Wole Soyinka.
Fela schooled in Abeokuta Grammar School in Abeokuta, later sent to London in 1958 to study medicine but decided to study music instead at the Trinity College of Music. Trumpet was his favorite instrument. While in London, Fela formed the band Koola Lobitos, playing a mix of jazz and highlife. In 1960, he married his first wife, Remilekun (Remi) Taylor, through whom he had three children (Femi, Yeni, and Sola). In 1963, Fela moved back to Nigeria, re-formed Koola Lobitos and trained as a producer for Radio Broadcasting Authority of Nigeria. Playing for some time with Victor Olaiya and his All-Star.
In 1967, Fela went to Ghana to think in a new musical direction. That was when Kuti called his music Afrobeat first. In 1969, the band took Fela to the United States where he spent 10 months in Los Angeles. While there, Fela discovered the black power movement through Sandra Smith (now Sandra Izsadore), and partisan of the Black Panther Party. The experiment, which strongly influence his music and political views. Shortly thereafter Fela and his band traveled to the United States without obtaining work permits.
After Fela and his band returned to Nigeria, the group's name was changed as lyrical themes changed from love to social issues. He then formed the Republic of Kalakuta, municipal, studio.
Fela?s music was popular in Nigerian and African in general. In fact, he made the decision to sing in Pidgin English so that his music can be enjoyed by people all over Africa, where local languages ??are very diverse and numerous.
In 1977, Fela released album Zombie, a scathing attack on Nigerian soldiers using the zombie metaphor to describe the methods of the Nigerian military. The album was a great success but attracted the wrath of the government, setting off a vicious attack against the Kalakuta Republic which thousand soldiers attacked, and people were severely beaten, and his elderly mother was thrown from a window, causing fatal injuries. They burnt Republic of Kalakuta, and destroyed the studio, instruments, and master tapes of Fela. Fela claimed that he would have been killed had it not been for the intervention of an individual as he was been beaten. Fela?s response to the attack was the submission of the coffin of his mother to the Dodan barracks in Lagos, the public accommodation of Olusegun Obasanjo. He then wrote two songs, "Coffin for Head of State" and "Unknown Soldier", referring to the official inquiry that claimed the municipality had been destroyed by the Unknown Soldier.
Fela later formed his own political party, which he described as the movement of people (MOP), in order to "clean up the community. In 1979, he put himself forward for President in Nigeria's first elections for more than a decade, but his candidacy was not accepted. At this time, Fela created a new band called Egypt '80 even as he tour the country.
In 1984, Fela was jailed, an incident that was condemned by Amnesty International which designated him a prisoner of conscience. After 20 months in custody, Fela was released from prison by Ibrahim Babangida.
On August 3, 1997, Olikoye Ransome-Kuti, already a prominent AIDS activist and former Minister of Health, stunned the nation by announcing his younger brother's death. More than a million people attended the funeral of Fela in the old Shrine compound site.
He was born on the 10th of Dec. to Oluwakemi Osodi (who was a manager in the ?Fuji music? industry at the time) He?s known for his melodic voice, engaging lyrics and exciting genre of alternative music. Dammy Krane's presence demands attention. This...
Femi Kuti was born in London in 1962. He quit school in 1978 to play saxophone in his father's band Egypt 80. In 1986, while Fela enjoyed huge popularity which attracted government disapproval, Femi Kuti took up the pioneer's afrobeat mantle and...
Born Bukola Elemide, A?a was born in Paris, France to Nigerian parents. She was two years old when her family returned to live in Nigeria. A?a grew up in Lagos, in the south-western part of Nigeria. She states that the city is "buzzing with energy but...
Having children through girlfriends/boy friends and/or outside wedlock has become a common practice among Nigeriancelebrities. On daily basis, more and more Nigerian celebrities aspire to become parents without actually getting married...
Funmilayo Ransome-Kuti, also known as Francis Abigail Olufunmilayo Thomas was born on October 25, 1900, in Abeokuta, Ogun State of Nigeria. Her father was a son of a Nigerian slave who returned from Sierra Leone, and traced his ancestral history back...