Biography
Maleek Berry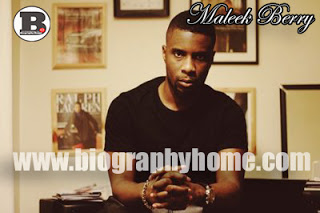 Maleek Berry is one of the UK?s rising producers. Born in the heart of South London, Berry ? real name Maleek Shoyebi ? grew up listening to some of the biggest names in R&B from Tevin Campbell, Boyz II Men, Jodeci and of course the one and only King of Pop, Michael Jackson.
It was at this time, at just the tender age of 14 that he saw young stars break into the American music industry.
Although worlds apart from the shores of London this did not deter him but rather spark his ever growing love of the music industry.
Like most, Berry started off his career in the church, forming a group with two close friends. Managing to get his hands on a little pre-production setup ? Fruity Loops ? the group began writing, producing and performing their own songs at the ages of 14 and 15, only to disband at 16. However, the experience didn?t leave Berry disillusioned, as he was the brains behind a lot of the group?s records and they all remain very close till this day.
Fast Forward to 2009, Berry spent years working on his craft in between formal education ? attaining a Bachelors degree in Computer Science ? learning to play the piano by ear, which has played a major part in the maturity of his sound. Even with this big achievement he knew deep down what his true calling was ? music.
Upon meeting IKES, a rapper hailing from North London the two just clicked and began working on records together and would soon become Berry?s long term partner in his musical career. Since then he?s gone on to produce records for some of the hottest UK acts such as S.A.S, Bigz, Scorcher, Jermaine Riley (Formally of FDM) and the list continues to grow as we speak.
Being the creative soul that he is, Maleek Berry wasn?t satisfied with only working on his home turf, but wanted to spread his wings to the Motherland.
In the summer of 2011 he flew out to Nigeria for a family holiday, but managed to take advantage of this trip and make great connections that would later change his status to an international producer. Through good friend and artist Davido, Berry was able to spark relationships with artists such as Wizkid (Recently signed to AKON?s Konvict Music), Sauce Kid, Wande Coal ? of which he is currently working on records for.
He also went on the produce the hit ?Carolina? (one of the biggest singles in Nigeria) by Sauce Kid featuring Davido, which ushered Sauce Kid back into the Nigerian music scene after a brief hiatus.

Even with all his achievements to date, who knows what the future holds for this young producer. In his own words he plans to, ?Create timeless music that will hopefully last longer than his generation
-
Houston Grey
Houston Grey is son and heir to the music gladiator Tony Grey aka ?The Ozimba of Africa?. With a striking resemblance with his father, Houston has a strong drive and passion for music like his dad. Houston started singing from the age of twelve with the...
-
Dammy Krane
He was born on the 10th of Dec. to Oluwakemi Osodi (who was a manager in the ?Fuji music? industry at the time) He?s known for his melodic voice, engaging lyrics and exciting genre of alternative music. Dammy Krane's presence demands attention. This...
-
Don Jazzy
Michael Collins Ajereh (born November 26, 1982), better known as Don Jazzy, is a nigerian Multi award-winning record producer, singer-song writter, musician and CEO of Mo Hits founded in 2004. Born in umuahia in abia state, his first signing was D banj...
-
Davido
David Adeleke aka Davido has gone from nobody to somebody in the Nigerian music industry in under a year. Back When he was broke all the girls used to wash On the beat... On the beat is Davido! More than opening lines to his smash hit debut currently...
-
Biography Of Davido; Musician.
David Adedeji Adeleke a.k.a Davido, a front-line Nigerian musician, recording artist, performer and record producer, was born in Atlanta, Georgia, United States of America on November 21, 1992. Davido?s parents Mr. and Mrs. Adeleke lived in...
Biography