Biography
Max Beerbohm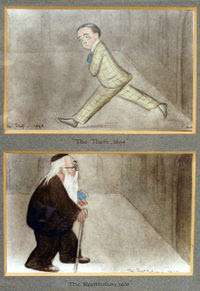 Life
He was born in London, England, the younger half-brother of actor and producer Sir Herbert Beerbohm Tree. He was educated at Charterhouse School and Merton College, Oxford, where he was Secretary of the Myrmidon Club. At Oxford he became part of the Oscar Wilde set, although George Bernard Shaw declared that Beerbohm was incomparable to anyone else. At this early age, he was also in much demand as a guest at the great dinner parties of Mayfair, where he was considered by many to be the greatest wit in town, and spent much of his time burning up the Oxford-London railway. His early brilliance faded all too soon, and by thirty-five he was viewed as a prematurely dull, heavy, middle-aged man.
It was at school that he began writing. His "Defence of Cosmetics" appeared in the first edition of the The Yellow Book, Aubrey Beardsley being art editor at the time. Beerbohm toured the United States while a young man as a press agent for his brother's theatrical company.
His first book, The Works of Max Beerbohm, was published in 1896. Having been interviewed by George Bernard Shaw himself, in 1898 he followed Shaw as drama critic for the Saturday Review,[1] on whose staff he remained until 1910. From 1935 onwards, he was an occasional if popular radio broadcaster, talking on cars and carriages and music halls for the BBC. His wit is shown often enough in his caricatures but his letters contain a carefully blended humour?a gentle admonishing of the excesses of the day?whilst remaining firmly tongue in cheek. His lifelong friend Reginald Turner, who was also an aesthete and a somewhat witty companion, saved many of Max's letters.
Beerbohm's best known works are A Christmas Garland (1912), a parody of literary styles, and Seven Men (1919), which includes "Enoch Soames", the tale of a poet who makes a deal with the Devil to find out how posterity will remember him, is also well known. In 1911 he wrote Zuleika Dobson, his only novel. Other works include The Happy Hypocrite (1897).
Beerbohm married the actress Florence Kahn in 1910. He was knighted in 1939. He died in Rapallo, Italy aged 83, shortly after marrying his former secretary, Elisabeth Jungmann. His ashes were interred in the crypt of St. Paul's Cathedral, London.
[edit] Books of Max Beerbohm's works
Two of Beerbohm's self-portraits. "The Theft" depicts him stealing a book from the library in 1894. "The Restitution" shows him returning that book in 1920.
[edit] Written works
The Works of Max Beerbohm, with a Bibliography by John Lane (1896)
More (1899)
Yet Again (1909)
Zuleika Dobson; or, An Oxford Love Story (1911)
A Christmas Garland, Woven by Max Beerbohm (1912)
Seven Men (1919)
Herbert Beerbohm Tree: Some Memories of Him and of His Art (1920, ed. by Max Beerbohm)
And Even Now (1920)
A Peep into the Past (1923)
Around Theatres (1924)
A Variety of Things (1928)
The Dreadful Dragon of Hay Hill (1928)
Lytton Strachey (1943) Rede Lecture
Mainly on the Air (1946; enlarged edition 1957)
The Incomparable Max: A Collection of Writings of Sir Max Beerbohm" (1962)
Max in Verse: Rhymes and Parodies (1963, ed. by J. G. Riewald)
Letters to Reggie Turner (1964, ed. by Rupert Hart-Davis)
More Theatres, 1898?1903 (1969, ed. by Rupert Hart-Davis)
Max and Will: Max Beerbohm and William Rothenstein: Their Friendship and Letters (1975, ed. by Mary M. Lago and Karl Beckson)
Letters of Max Beerbohm: 1892?1956 (1988, ed. by Rupert Hart-Davis)
Last Theatres (1970, ed. by Rupert Hart-Davis)
A Peep into the Past and Other Prose Pieces (1972)
Max Beerbohm and "The Mirror of the Past" (1982, ed. Lawrence Danson)
[edit] Collections of caricatures
Caricatures of Twenty-Five Gentlemen (1896)
The Poets' Corner (1904)
A Book of Caricatures (1907)
Cartoons: The Second Childhood of John Bull (1911)
Fifty Caricatures (1913)
A Survey (1921)
Rossetti and His Circle (1922)
Things New and Old (1923)
Observations (1925)
Heroes and Heroines of Bitter Sweet (1931) five drawings in a portfolio
Max's Nineties: Drawings 1892?1899 (1958, ed. Rupert Hart-Davies and Allan Wade)
Beerbohm's Literary Caricatures: From Homer to Huxley (1977, ed. J. G. Riewald)
Max Beerbohm Caricatures (1997, ed. N. John Hall)
Enoch Soames: A Critical Heritage (1997)
[edit] Secondary literature
Behrman, S. N., Portrait of Max. (1960)
Cecil, David. Max: A Biography of Max Beerbohm. (1964, reprint 1985)
Danson, Lawrence. Max Beerbohm and the Act of Writing. (1989)
Felstiner, John. The Lies of Art: Max Beerbohm's Parody and Caricature. (1972)
Gallatin, A. H. Bibliography of the Works of Max Beerbohm. (1952)
Gallatin, A. H. Max Beerbohm: Bibliographical Notes. (1944)
Grushow, Ira. The Imaginary Reminiscences of Max Beerbohm. (1984)
Hall, N. John. Max Beerbohm: A Kind of a Life. (2002)
Hart-Davis, Rupert. A Catalogue of the Caricatures of Max Beerbohm. (1972)
Lynch, Bohun. Max Beerbohm in Perspective. (1922)
McElderderry, Bruce J. Max Beerbohm. (1971)
Riewald, J. G. Sir Max Beerbohm, Man and Writer: A Critical Analysis with a Brief Life and Bibliography. (1953)
Riewald, J. G. The Surprise of Excellence: Modern Essays of Max Beerbohm. (1974)
Riewald, J. G. Remembering Max Beerbohm: Correspondence Conversations Criticisms. (1991)
Viscusi, Robert. Max Beerbohm, or the Dandy Dante: Rereading with Mirrors. (1986
-
List Of English Writers
Douglas AdamsKingsley AmisMatthew ArnoldW. H. AudenJane AustenPam AyresMax BeerbohmHilaire BellocAlan BennettWilliam Blake J. M. BarrieArnold BennettEnid BlytonRobert BoltJohn BetjemanAnne BrontëCharlotte BrontëRupert BrookeElizabeth Barrett BrowningRobert...
-
Arthur Quiller-couch
Sir Arthur Thomas Quiller-Couch (21 November 1863 - 12 May 1944) was a Cornish writer, who published under the pen name of Q. Born at Bodmin in Cornwall, he was educated at Newton Abbot College, at Clifton College, and Trinity College, Oxford and later...
-
John Galsworthy
John Galsworthy OM (IPA: /?g??lzw??ð?/) (14 August 1867 ? 31 January 1933) was an English novelist and playwright. Notable works include The Forsyte Saga (1906?1921) and its sequels, A Modern Comedy and End of the Chapter. He won the Nobel Prize in...
-
Lord Alfred Douglas
Lord Alfred Bruce Douglas (22 October 1870 ? 20 March 1945) was a poet, a translator and a prose writer, better known as the intimate friend and lover of the writer Oscar Wilde. Much of his early poetry was Uranian in theme, though he tended, later in...
-
Arnold Bennett
Life Bennett was born in a modest house in Hanley in the Potteries district of Staffordshire. Hanley is one of a conurbation of six towns which joined together at the beginning of the twentieth century as Stoke-on-Trent. Enoch Bennett, his father, qualified...
Biography