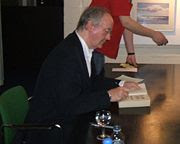 Philip Pullman CBE (born October 19, 1946) is a British writer. He is the best-selling author of His Dark Materials, a trilogy of fantasy novels, and a number of other books.
Biography
Pullman was born in Norwich, Norfolk, UK, to Royal Air Force pilot Alfred Outram and Audrey Evelyn Outram née Merrifield. The family travelled with his father's job, including to Southern Rhodesia (now Zimbabwe), where he spent time at school. His father was killed in a plane crash in 1953 when Pullman was seven. His mother remarried and with a move to Australia came Pullman's discovery of comic books including Superman and Batman, a medium which he continues to espouse. From 1957 he was educated at Ysgol Ardudwy school in Harlech, Gwynedd and spent time in Norfolk with his grandfather, a clergyman. Around this time Pullman discovered John Milton's Paradise Lost, which would become a major influence for His Dark Materials.
From 1963 Pullman attended Exeter College, Oxford, receiving a Third class BA in 1968. In an interview with the Oxford Student he stated that he "did not really enjoy the English course" and that "I thought I was doing quite well until I came out with my third class degree and then I realised that I wasn?t ? it was the year they stopped giving fourth class degrees otherwise I?d have got one of those".He discovered William Blake's illustrations around 1970, which would also later influence him greatly.
Pullman married Judith Speller in 1970 and began teaching children and writing school plays. His first published work was The Haunted Storm, which joint-won the New English Library's Young Writer's Award in 1972. He nevertheless refuses to discuss it. Galatea, an adult fantasy-fiction novel, followed in 1978, but it was his school plays which inspired his first children's book, Count Karlstein, in 1982. He stopped teaching around the publication of The Ruby in the Smoke (1986), his second children's book, whose Victorian setting is indicative of Pullman's interest in that era.
Pullman taught part-time at Westminster College, Oxford between 1988 and 1996, continuing to write children's stories. He began His Dark Materials about 1993. Northern Lights (published as The Golden Compass in the US) was published in 1996 and won the Carnegie Medal, one of the most prestigious British children's fiction awards, and the Guardian Children's Fiction Award.
Pullman has been writing full-time since 1996, but continues to deliver talks and writes occasionally for The Guardian. He was awarded a CBE in the New Year's Honours list in 2004. He also co-judged the prestigious Christopher Tower Poetry Prize (awarded by Oxford University) in 2005 with Gillian Clarke. Pullman also began lecturing at a seminar in English at his alma mater, Exeter College, Oxford, in 2004.[2][3] He is currently working on The Book of Dust, a sequel to his completed His Dark Materials trilogy.
On 23 November 2007, Pullman was made an honorary professor at Bangor University.
His Dark Materials
Philip Pullman signing a copy of The Amber SpyglassHis Dark Materials consists of Northern Lights (titled The Golden Compass in North America), The Subtle Knife and The Amber Spyglass. The first volume of the trilogy, "Northern Lights", won the Carnegie Medal for children's fiction in the UK in 1995. The Amber Spyglass, the last volume, was awarded both 2001 Whitbread Prize for best children's book and the Whitbread Book of the Year prize in January 2002, the first children's book to receive that award. The series won popular acclaim in late 2003, taking third place in the BBC's Big Read poll. Pullman has written a companion piece to the trilogy entitled, Lyra's Oxford, and has planned two more. These are the soon-to-be-published Once Upon a Time in the North and the as-yet-unwritten The Book of Dust, which is tentatively set for release in 2009.
In 2005 Pullman was announced as joint winner of the Astrid Lindgren Memorial Award for children's literature.
Religious perspective
Pullman is a supporter of the British Humanist Association and an Honorary Associate of the National Secular Society. New Yorker journalist Laura Miller has described Pullman as one of England's most outspoken atheists.
The His Dark Materials books have been controversial with some Christian groups. Peter Hitchens has argued that Pullman actively pursues an anti-Christian agenda. In support of this contention, he cites an interview in which Pullman is quoted as saying: "I'm trying to undermine the basis of Christian belief." In the same interview, Pullman also "acknowledge(s) that a controversy would be likely to boost sales. But I'm not in the business of offending people. I find the books upholding certain values that I think are important. Such as that this life is immensely valuable. And that this world is an extraordinarily beautiful place, and we should do what we can to increase the amount of wisdom in the world'."
Hitchens views the His Dark Materials series as a direct rebuttal of C. S. Lewis's series. Although Pullman has criticized C. S. Lewis's series The Chronicles of Narnia as religious propaganda, the two series have several things in common. Both feature children facing adult moral choices, talking animals, religious allegories, parallel worlds, and concern the ultimate fate of those worlds. The first published Narnia book, The Lion, the Witch and the Wardrobe, begins with a young girl hiding in a wardrobe, as does the first His Dark Materials book, Northern Lights/The Golden Compass.
Literary critic Alan Jacobs (of Wheaton College) argues that in his recasting of John Milton's trilogy, Pullman replaces a theist world-view with a Rousseauist one. However, Pullman has found support from other Christians, most notably Rowan Williams, the Archbishop of Canterbury. These groups and individuals contend that Pullman's negative portrayal of the "Church" in His Dark Materials amounts to an attack on dogmatism and the use of religion to oppress, not on Christianity itself. Dr. Williams has gone so far as to propose that His Dark Materials be taught as part of religious education in schools. Moreover, authors of works dedicated to critical appraisals of religious themes in his writing have described Pullman as a friendly and generous debating partner.
Other Christian writers, such as Kurt Bruner and Jim Ware, while finding his anti-Christian position troubling, "also uncover spiritual themes within the books, which, like shafts of light, break through an otherwise gloomy universe?despite Pullman?s best efforts to keep them out. In the end, the authors argue that Pullman offers an unwitting tribute to the God he intended to discredit." in their book Shedding Light on His Dark Materials.
Screen adaptations
A film adaptation of The Butterfly Tattoo finished principal photography on 30 September 2007. Postproduction is currently underway in Manchester and Amsterdam. The Butterfly Tattoo is a Philip Pullman supported project to allow young artists a chance to get film industry experience. The film is produced by the Dutch production company Dynamic Entertainment.
A co-produced BBC and WGBH Boston television adaptation of The Ruby in the Smoke, starring Billie Piper and Julie Walters, was screened in the UK on BBC One on 27 December 2006 and premiered on PBS Masterpiece Theatre in America on 4 February 2007. The BBC and WGBH have plans to adapt the other three Sally Lockhart novels, The Shadow in the North, The Tiger in the Well, and The Tin Princess, for television.
A film adaptation, titled The Golden Compass, was released in December 2007 by New Line Cinema, starring Nicole Kidman, Ian McKellen, Daniel Craig, Sam Elliott, Christopher Lee, and Dakota Blue Richards.
A mini-series adaptation of I Was a Rat was produced by the BBC and aired in three one-hour installments in 2001.
Bibliography
Non-series books
1972 The Haunted Storm
1976 Galatea
1982 Count Karlstein
1987 How to be Cool
1989 Spring-Heeled Jack
1990 The Broken Bridge
1992 The White Mercedes
1993 The Wonderful Story of Aladdin and the Enchanted Lamp
1995 Clockwork, or, All Wound Up
1995 The Firework-Maker's Daughter
1998 Mossycoat
1998 The Butterfly Tattoo (re-issue of The White Mercedes)
1999 I was a Rat! or The Scarlet Slippers
2000 Puss in Boots: The Adventures of That Most Enterprising Feline
2004 The Scarecrow and his Servant
Sally Lockhart
1985 The Ruby in the Smoke
1986 The Shadow in the North (first published as The Shadow in the Plate)
1991 The Tiger in the Well
1994 The Tin Princess
His Dark Materials
1995 Northern Lights, retitled The Golden Compass in the US
1997 The Subtle Knife
2000 The Amber Spyglass
Companion Books
2003 Lyra's Oxford
2008 Once Upon a Time in the North (not yet published)
2009 (According to Pullman, although this could change) The Book of Dust (not yet published)
Plays
1990 Frankenstein
1992 Sherlock Holmes and the Limehouse Horror
Non-fiction
1978 Ancient Civilisations
1978 Using the Oxford Junior Dictionary
Source:
For quiz related to this personality visit squareroot
Abraham "Bram" Stoker (8 November 1847 ? 20 April 1912) was an Irish writer, best remembered as the author of the influential horror novel Dracula. In his honour, the Horror Writers Association recognizes "superior achievement" in horror writing with...
Terence David John Pratchett, OBE (born 28 April 1948) is a British fantasy and science fiction author, best known for his Discworld series. Other works include the Johnny Maxwell Trilogy and the Bromeliad Trilogy. He also closely collaborates on adaptations...
Biography McEwan was born in Aldershot in England and spent much of his childhood in East Asia, Germany and North Africa, where his Scottish army officer father, David McEwan was posted. He was educated at Woolverstone Hall School, the University of Sussex...
Nick Hornby (born 17 April 1957 in Redhill, Surrey, England) is an English novelist and essayist. He is best known for the novels High Fidelity, About a Boy and the football memoir Fever Pitch. In his work he frequently touches upon sports, music, and...
Sir William Gerald Golding (19 September 1911 ? 19 June 1993) was a British novelist, poet and Nobel Prize for Literature laureate best known for his novel Lord of the Flies. He was also awarded the Booker Prize for literature in 1980, for his novel...