Biography
Rupert Brooke
Rupert Chawner Brooke (August 3, 1887 ? April 23, 1915) was an English poet known for his idealistic War Sonnets written during the First World War (especially The Soldier), as well as for his poetry written outside of war, especially The Old Vicarage, Grantchester and The Great Lover. He was also known for his boyish good looks, which prompted the Irish poet William Butler Yeats to describe him as "the handsomest young man in England".
Biography
Brooke was born at 5 Hillmorton Road in Rugby, Warwickshire, England, the son of a William Parker Brooke, a Rugby schoolmaster and Ruth Mary Brooke née Cotterill. He attended Hillbrow Prep School before being educated at Rugby School. While travelling in Europe, he prepared a thesis entitled "John Webster and the Elizabethan Drama", which won him a scholarship to King's College, Cambridge, where he became a member of the Cambridge Apostles, helped found the Marlowe Society drama club and acted in plays including the Cambridge Greek Play. Brooke made friends among the Bloomsbury group of writers, some of whom admired his talent, while others were more impressed by his good looks. Brooke belonged to another literary group known as the Georgian Poets, and was the most important of the Dymock poets, associated with the Gloucestershire village of Dymock, where he spent some time before the war. He also lived in the Old Vicarage, Grantchester (a house now occupied by Jeffrey Archer and his wife Mary Archer).
Brooke suffered from a severe emotional crisis in 1913, some say caused by sexual confusion and jealousy, resulting in the breakdown of his long relationship with Ka Cox. Intrigue by both Virginia Woolf and Lytton Strachey is said[citation needed] to have played a part in Brooke's nervous collapse and subsequent rehabilitation trips to Germany.
As part of his recuperation Brooke toured the United States and Canada to write travel diaries for the Westminster Gazette and visited several islands in the South Seas. It was later revealed that he may have fathered a daughter with a Tahitian woman (Taatamata) with whom he seems to have enjoyed his most complete emotional relationship[citation needed]. He was also romantically involved with the actress Cathleen Nesbitt. Brooke was once engaged to Noel Olivier, whom he met while she was a 15-year-old at the progressive Bedales School.
His accomplished poetry gained many enthusiasts and followers and he was taken up by Edward Marsh, who brought him to the attention of Winston Churchill, then First Lord of the Admiralty. He was commissioned into the Navy shortly after his 27th birthday and took part in the Royal Naval Division's Antwerp expedition in October 1914. He sailed with the British Mediterranean Expeditionary Force on 28 February 1915 but developed septic pneumonia from an infected mosquito bite. He died at 4.20 pm on 23 April 1915 off the island of Lemnos in the Aegean on his way to a battle at Gallipoli. As the expeditionary force had orders to depart immediately, he was buried at 11 pm in an olive grove on the island of Skyros, Greece. His grave remains there today.
As a side-note, Rupert Brooke's brother, 2nd Lt. William Alfred Cotterill Brooke was a member of the 8th Battalion London Regiment (Post Office Rifles) and was killed in action near Le Rutoire Farm on the historic Loos battlefield on 14 June 1915, aged 24. He is buried in Fosse 7 Military Cemetery (Quality Street), Mazingarbe, Pas de Calais, France. He had only joined the battalion on 25 May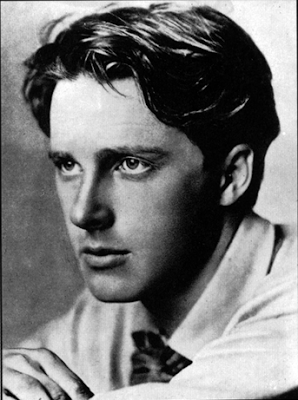 .
-
List Of English Writers
Douglas AdamsKingsley AmisMatthew ArnoldW. H. AudenJane AustenPam AyresMax BeerbohmHilaire BellocAlan BennettWilliam Blake J. M. BarrieArnold BennettEnid BlytonRobert BoltJohn BetjemanAnne BrontëCharlotte BrontëRupert BrookeElizabeth Barrett BrowningRobert...
-
Charles Kingsley
Charles Kingsley (June 12, 1819 ? January 23, 1875) was an English novelist, particularly associated with the West Country and north-east Hampshire. [edit] Life & Character Kingsley was born in Holne, Devon, the second son of a Rev. Charles Kingsley...
-
English Vicar Turned Puritan ? Reverend William Worcester
B. about 1601 in (probably) Rugby, England M. (1) 11 Feb 1627 in Olney, England Wife: Sarah Brown M. (2) 22 Jul 1650 in Salisbury, Massachusetts Wife: Rebecca Hall D. 28 Aug 1662 in Salisbury, Massachusetts Emigrated: about 1637 William Worcester was...
-
A Tailor And Sexton In Canada ? William Pepperell
B. 1764 in Durnford, England M. 28 Dec 1790 in Durnford, England Wife: Mary Browne D. 23 Jan 1841 in Charlottetown, Prince Edward Island Emigrated: 1809 William Pepperell was born in 1764 in Durnford, England, a village in Wiltshire county, but nothing...
-
Open: An Autobiography (vintage)
Open: An Autobiography (Vintage) Review ...
Biography