Biography
The Socialist Preacher ? George Henry Hewes
B. 17 Oct 1853 in Charlottetown, Prince Edward Island
M. 17 Jul 1879 in Boston, Massachusetts
Wife: Nancy Sophia French
D. 18 Sep 1923 in Tujunga, California
The entire heritage of George Henry Hewes was from the southwest of England, but he himself was from Charlottetown, Prince Edward Island. He was born there on October 17, 1853 to Charles Hughes and Maria Bevan, and was one of six children. When George was 4 years-old, the family entered the United States at Boston, and by 1858, settled in Whitewater, Wisconsin. George's father died sometime between 1860 and 1864, when his mother was listed living back in Charlottetown as a widow.
Records show that in 1870, George lived with his older brother Charles in South Boston. It's believed that about this time the family changed the spelling of the name from "Hughes" to "Hewes." George's brother was a carriage maker, and after he died in 1872, George took up that profession as well. He began to be listed in the Boston city directory in 1875, and the following year, his mother and younger brother James were listed there as well.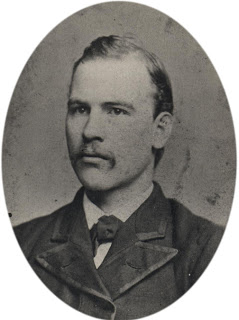 George Hewes in about 1875
By the end of the decade, George met a young woman named Nancy French and they were married on July 17, 1879. Between 1880 and 1894, George and Nancy had five children. Nancy's father had been a minister, and her widowed mother was involved in city missionary work. Mrs. French became part of George's household and remained with them until her death in 1900. Nancy?s grandfather, Abel Kittredge, also lived with them for a short time.
On October 14, 1880, George took the step of becoming a U.S. citizen. Within a couple of years, George took another big step and relocated his family out west. In about 1882, they moved to Le Mars, Iowa. On June 14, 1885, a tornado struck the town and damaged the Hewes house, moving it five feet off the foundation. The terrified family took refuge in the cellar, which was flooded, but nobody got hurt. This event had George rethink the decision to live in Iowa, and in November 1889, the family moved to Los Angeles.
Nancy's brother Frank, who already lived in Los Angeles, helped George find work as a carriage maker. The family eventually settled in an area south of downtown Los Angeles, known as "The Neighborhood," and George began doing minister work in his off hours. There is no record of him ever having been ordained by any religion. On evenings and weekends, he devoted himself to the down and out residents living around him, inviting people of all races and religions to benefit from his charity. At first he worked out of somebody else's kitchen; then within a few years, he built a settlement house which he called "The Church of the Neighborhood." His interests were in providing a free kindergarten for young children, and counseling young men, particularly those who were drifters.
George branched out into socialist politics and acquired some prominence in the city. In 1898, he spoke at a "mass meeting" of religious and socialist leaders. His speech was paraphrased in the Los Angeles Herald: "Competition must give place to cooperation. Socialism gives every man a right to live and work. If we do not change conditions there will come a revolution. People must have something to do. They believe there is no law for the poor and it must be true. The workingman must have a place or he must go down. Let us combine and make the Declaration of Independence a fact not a theory."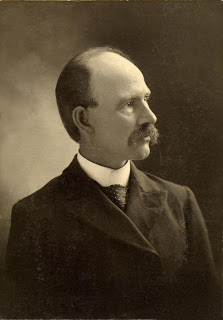 George in about 1900
Around the turn of the century, it appears that George gave up his day job to devote full time to his religious and political aspirations. In 1902, he put himself forward as candidate for president of the County Council of Labor. He was unsuccessful. Then in November, he ran for the U.S. Congress seat in Los Angeles County as a Socialist candidate. He won 4.2% of the vote, a total of 1,261 votes. By the end of 1904, though, his political activities appear to have come to an end. That year, he also turned over his settlement house to the Episcopil Church.
In 1905, George moved the family to Berkeley, where his only son, Charles, was a freshman at the University of California. George spent about 10 years in Berkeley. He watched as Charles graduated and moved away. The time in northern California ended in 1916 when George's wife Nancy died of cancer. Not wanting to live alone in his old age, he moved in with daughter Eleanor in Los Angeles.
All during this time, George continued working, transitioning from being a "carriage maker" to a "car body builder." His grandchildren who lived with him recalled he had a slight English accent and kept a Union Jack on the wall of his room, likely due to his ancestry. It was also said of him by his grandaughter, Maude Elwood, "Grandpa was a gentleman, but a pretty raunchy one at times, especially when he'd had a snortful." This suggested he liked to drink, at least at this time of his life.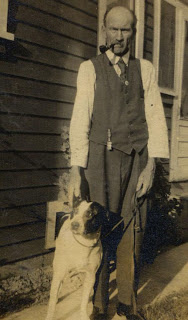 George with granddaughter Maudie's dog, Jack
In 1920, George began to have respiratory problems and sought a way to get out of the city for fresh air. So he bought a small lot in Tujunga, a hillside town just north of Los Angeles, and built a house for himself. The street where he lived became named after him: George Street (it was later renamed Wyngate Street when Tujunga became a part of Los Angeles). George died there on September 18, 1923 at age 69. The cause of death was described as "myocarditis," an inflammation of the heart. He was buried in an unmarked grave at Grand View Memorial Park in Glendale.
Children:
1. Eleanor Mabel Hewes ? B. 6 Jul 1880, Boston, Massachusetts; D. 21 Nov 1942, Los Angeles, California; M. James William Elwood (~1869-1925), 18 Feb 1898, Los Angeles, California
2. Charles Edward Hewes ? B. 12 Oct 1883, Le Mars, Iowa; D. 5 Apr 1950, Santa Monica, California; M. Anita Melgrave Winant (1884-1978), 19 Oct 1909, Tucson, Arizona
3. Gertrude Elisabeth Hewes ? B. 22 Sep 1885, Le Mars, Iowa; D. 18 Dec 1968, Alameda, California
4. Olive Beatrice Hewes ? B. 16 Jun 1887, Le Mars, Iowa; D. 6 Jan 1966, Los Angeles, California; M. Milo Joseph Markel (1883-1951), 31 Mar 1908, Los Angeles, California
5. Faith Augusta Hewes ? B. 11 Aug 1894, Los Angeles, California; D. 17 Aug 1974, Merced, California; M. Karl Milton Koch (1894-1955), 23 Aug 1918, Los Angeles, California
Sources:
Family Bible of George and Nancy Hewes
1860, 1870, 1880, 1900, 1910 and 1920 U.S. Censuses
City Directories of Boston, Massachusetts, Berkeley, California and Los Angeles, California, 1866-1921
Marriage record of George Henry Hewes and Nancy Sophia French, Boston Massachusetts, 17 Jul 1879
Naturalization certificate of George Henry Hewes, Boston, Massachusetts, 14 Oct 1880
"The Wind's Work,"
The Evening Sentinel
, Le Mars, Iowa, 16 Jun 1885
Letters written by Frank Emerson (nee James French) to Sophia French, Los Angeles, California, 1885-1889
Into the Streets and Lanes, Thomas C. Marshall, 1948
"The Mass-Meeting ? The Los Angeles Theater Packed,"
Los Angeles Herald
, 7 Feb 1898
"Gray Splits His Council,"
Los Angeles Times
, 15 Jan 1902
U.S. House of Representatives election results in California, 1902
Letters of Maude Graham to Thomas Milton Mitchell, 1965-1981
Death certificate of George Henry Hewes, Tujunga, California, 18 Sep 1923
Family stories of Thomas Milton Mitchell, Maude Graham and Nancy Elwood, 1976-1999
Birth certificate of Eleanor Mabel Hewes, 6 Jul 1880
Death certificate of Eleanor Elwood, 24 Nov 1942
Marriage certificate of James Elwood and Eleanor Hewes, 23 Feb 1898
Death certificate of James William Elwood, 30 Nov 1925
California death records, 1940-1997
Social Security death index
Property Title Statement of Identity, Charles E. Hewes, 5 Dec 1941
California county marriages, 1850-1952
Death certificate of Milo Joseph Markel, 3 May 1951
Property Title Statement of Identity, Faith A. Koch, 15 Dec 1941
-
Widow Of A Minister ? Sophia Newell Kittredge
B. 22 Nov 1824 in Nelson, New Hampshire M. 7 Aug 1849 in Nelson, New Hampshire Husband: Reverend James Riddle French D. 22 Dec 1900 in Los Angeles, California Sophia Newell Kittredge was born November 22, 1824 in Nelson, New Hampshire to Abel Kittredge...
-
The Woman In The Hoop Skirt ? Maria Bevan
B. 5 Oct 1820 in Halifax, Nova Scotia M. (1) 15 Jan 1838 in Charlottetown, Prince Edward Island Husband: John Baird (or Beard) M. (2) 15 Jun 1842 in Charlottetown, Prince Edward Island Husband: Charles W. Hughes D. 14 Dec 1888 in Boston, Massachusetts...
-
Five Feet Tall And Five Feet Wide ? Eleanor Mabel Hewes
B. 6 Jul 1880 in Boston, Massachusetts M. 18 Feb 1898 in Los Angeles, California Husband: James William Elwood D. 21 Nov 1942 in Los Angeles, California Eleanor Mabel Hewes had her beginnings in Boston. She was born there to George Hewes and Nancy French...
-
English Soldier Settling In Canada ? Charles W. Hughes
B. 1819 in Almondsbury, England M. 15 Jun 1842 in Charlottetown, Prince Edward Island Wife: Maria (Bevan) Baird D: before 1864 Emigrated: 4 Sep 1838 Charles Hughes was from a village northeast of Bristol, England called Almondsbury. He was born in 1819...
-
The Mysterious Drifter ? James William Elwood
B. (probably) 18 Sep 1869 in Memphis, Tennessee M. 18 Feb 1898 in Los Angeles, California Wife: Eleanor Mabel Hewes D. 5 Nov 1925 in Los Angeles, California There is no certainty of James William Elwood?s whereabouts until February 1898; he told many...
Biography