Biography
Thomas de Quincey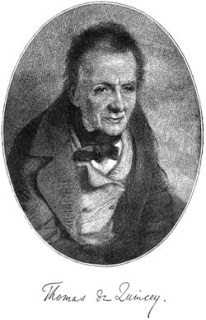 Thomas de Quincey (August 15, 1785 ? December 8, 1859) was an English author and intellectual, best known for his book Confessions of an English Opium-Eater (1822).
Life and work
[edit] Child and student
He was born in Manchester, England. His father was a successful businessman with an interest in literature who died when Thomas was quite young. Soon after Thomas's birth the family moved to The Farm and then later to Greenhay, a larger country house near Manchester. In 1796 De Quincey's mother, now a widow, moved to Bath and enrolled him at King Edward's School, Bath.
Thomas was a weak and sickly child. His youth was spent in solitude, and when his elder brother, William, came home, he wreaked havoc in the quiet surroundings. De Quincey's mother (who counted Hannah More amongst her friends) was a woman of strong character and intelligence, but seems to have inspired more awe than affection in her children. She brought them up very strictly, taking Thomas out of school after three years because she was afraid he would become big-headed, and sending him to an inferior school at Winkfield in Wiltshire.
In 1800, De Quincey, aged fifteen, was ready for the University of Oxford; his scholarship was far in advance of his years. "That boy," his master at Bath School had said, "that boy could harangue an Athenian mob better than you or I could address an English one." He was sent to Manchester Grammar School, in order that after three years' stay he might obtain a scholarship to Brasenose College, Oxford, but he took flight after nineteen months.
His first plan had been to reach William Wordsworth, whose Lyrical Ballads (1798) had consoled him in fits of depression and had awakened in him a deep reverence for the poet. But for that De Quincey was too timid, so he made his way to Chester, where his mother dwelt, in the hope of seeing a sister; he was caught by the older members of the family, but, through the efforts of his uncle, Colonel Penson, received the promise of a guinea a week to carry out his later project of a solitary tramp through Wales. From July to November, 1802, De Quincey lived as a wayfarer. He soon lost his guinea by ceasing to keep his family informed of his whereabouts, and had difficulty making ends meet. Still apparently fearing pursuit, he borrowed some money and travelled to London, where he tried to borrow more. Having failed, he lived close to starvation rather than return to his family.
Discovered by chance by his friends, De Quincey was brought home and finally allowed (1803) to go to Worcester College, Oxford, on a reduced income. Here, we are told, "he came to be looked upon as a strange being who associated with no one." During this time he began to take opium. He left, apparently about 1807, without a degree. In the same year he made the acquaintance of Samuel Taylor Coleridge and William Wordsworth, having already sought out Charles Lamb in London. His acquaintance with Wordsworth led to his settling in 1809 at Grasmere, in the beautiful English Lake District; his home for ten years was Dove Cottage, which Wordsworth had occupied and which is now a popular tourist attraction. De Quincey was married in 1816, and soon after, having no money left, he took up literary work in earnest.
[edit] Translator and essayist
In 1821 he went to London to dispose of some translations from German authors, but was persuaded first to write and publish an account of his opium experiences, which that year appeared in the London Magazine. This new sensation eclipsed Lamb's Essays of Elia, which were then appearing in the same periodical. The Confessions of an English Opium-Eater were soon published in book form. De Quincey then made literary acquaintances. Tom Hood found the shrinking author "at home in a German ocean of literature, in a storm, flooding all the floor, the tables, and the chairs?billows of books." Richard Woodhouse speaks of the "depth and reality of his knowledge. ... His conversation appeared like the elaboration of a mine of results. ... Taylor led him into political economy, and the study of classics."
From this time on De Quincey maintained himself by contributing to various magazines. He soon exchanged London and the Lakes for Edinburgh and its suburb, Lasswade, where he spent the remainder of his life. Blackwood's Edinburgh Magazine and its rival Tait's Magazine received a large number of contributions. The English Mail-Coach appeared in 1849 in Blackwood. Joan of Arc had already been published (1847) in Tait. De Quincey throughout his life drank laudanum?after 1821, twice in great excess. During his last years he nearly completed a collected edition of his works.
[edit] Influence
His immediate influence extended to Edgar Allan Poe, Fitz Hugh Ludlow and Charles Baudelaire, but even major 20th century writers such as Jorge Luis Borges admired and claimed to be partly influenced by his work. Berlioz also loosely based his Symphonie Fantastique on Confessions of an English Opium Eater, drawing on the theme of the internal struggle with one's self.
[edit] Online texts
Wikisource has original works written by or about:
Thomas de QuinceyProject Gutenberg e-texts of some of Thomas De Quincey's works
Wikisource : Les Derniers jours d'Emmanuel Kant, translated in French by Marcel Schwob
Thomas De Quincey elibrary PDFs of Confessions of an English Opium-Eater, On Murder Considered as One of the Fine Arts, and The Literature of Knowledge and the Literature of Power
Thomas De Quincey in Spanish
[edit] Bibliography
Selected works:
Confessions of an English Opium Eater, 1822
On the Knocking at the Gate in Macbeth, 1823
Walladmor, 1825
Murder Considered as One of the Fine Arts, 1827
Klosterheim, or The Masque, 1832
Lake Reminscences, 1834-40
The Logic of the Political Economy, 1844
Suspiria de Profundis, 1845
The English Mail Coach, 1849
Autobiographical Sketches, 1853
Selections Grave and Gay, from the Writings, Published and Unpublished, by Thomas De Quincey, 1853-1860 (14 vols.)
Romances and Extravaganzas, 1877
Collected Writings, 1889
Uncollected Writings, 1890
The Posthumous Works, 1891-93
Memorials, 1891
Literary Criticism, 1909
The Diary, 1928
Selected Writings, 1937
Recollections of the Lake Poets, 1948 (written 1830-40)
New Essays, 1966
Literarische Portraits. Schiller, Herder, Lessing, Goethe, German Translation by Thomas Klandt. revonnah Verlag Hannover. ISBN 3-927715-95-6
-- The Works of Thomas De Quincey, 21 vols (London: Pickering and Chatto, 2000-2003) [This is the most uptodate and scholarly edition]
[edit] References
Morrison, Robert (2006). Thomas De Quincey: On Murder. Oxford: Oxford University Press, 201.
Bleiler, Everett (1948). The Checklist of Fantastic Literature. Chicago: Shasta Publishers, 98.
-
William Wordsworth
William Wordsworth (April 7, 1770 ? April 23, 1850) was a major English romantic poet who, with Samuel Taylor Coleridge, helped launch the Romantic Age in English literature with their 1798 joint publication, Lyrical Ballads. Wordsworth's masterpiece...
-
Francis Thompson
Francis Thompson (December 18, 1859 ? November 13, 1907) was an English poet and ascetic. After attending college, he moved to London to become a writer, but in menial work, became addicted to opium, and was a street vagrant for years. A married couple...
-
Robert Southey
Robert Southey (August 12, 1774 ? March 21, 1843) was an English poet of the Romantic school, one of the so-called "Lake Poets", and Poet Laureate. Although his fame tends to be eclipsed by that of his contemporaries and friends William Wordsworth and...
-
Arthur Quiller-couch
Sir Arthur Thomas Quiller-Couch (21 November 1863 - 12 May 1944) was a Cornish writer, who published under the pen name of Q. Born at Bodmin in Cornwall, he was educated at Newton Abbot College, at Clifton College, and Trinity College, Oxford and later...
-
Charles Lamb
Charles Lamb (London, 10 February 1775 ? Edmonton, 27 December 1834) was an English essayist with Welsh heritage, best known for his Essays of Elia and for the children's book Tales from Shakespeare, which he produced along with his sister, Mary...
Biography