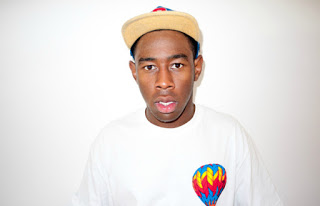 Tyler Gregory Okonma
(born March 6, 1991), better known by his stage name
Tyler, The Creator
, is an American rapper and record producer A Los Angeles native, he is best known as the leader and co-founder of the alternative hip hop collective Odd Future,
and has rapped on and produced songs for
nearly every Odd Future release. Okonma also creates all the artwork for the group's releases and said in an interview with DJ Semtex that he designs all the group's clothing and other merchandise as well.
He is currently signed to English independent record label XL Recordings, and his own record label, Odd Future Records.
Early life
Tyler Okonma was born in Los Angeles, California to a Nigerian father and a mother of African-American and white Canadian descent.
He claims that he has never met his father,
and spent his early life living in the communities of Ladera Heights and Hawthorne in southwest Los Angeles County.
At the age of seven, he would take the cover out of an album's case and create covers for his own imaginary albums including a tracklist with song times before he could even make music.
At the age of 14, Okonma taught himself how to play piano.
In his twelve years of schooling, he attended twelve different schools, in Los Angeles and Sacramento areas.
Music career
Bastard and Goblin (2009-2011)
On December 25, 2009, Tyler self-released his first album,
Bastard
. The album was eventually ranked 32nd on Pitchfork Media's list of the Top Albums of 2010. On February 11, 2011, Tyler released the music video for "Yonkers", the first single from his second album,
Goblin
, which was released May 10, 2011. The video has received attention from several online media outlets. An extended version with a third verse can be purchased on iTunes.
After the release of "Yonkers," Tyler announced that he had signed a one-album deal with XL Recordings.
Tyler and fellow OF member Hodgy Beats made their television debut on February 16, 2011 when they performed "Sandwitches" on
Late Night with Jimmy Fallon
.
On March 16, Tyler and Hodgy performed "Yonkers" and "Sandwitches" on the 2011 mtvU Woodie Awards, being joined by other members of Odd Future during "Sandwitches".
Goblin
was released on May 10, 2011. During an interview with Tyler for
Interview
, Waka Flocka Flame expressed his interest in collaborating with the Odd Future frontman to direct a music video for him.
Wolf and Loiter Squad (2012-present)
Tyler first mentioned the album in early 2010 saying that he would have an album titled
Wolf
. In early 2011 he told fans through his Formspring account that his third album would be called Wolf and it is scheduled to be released in May 2012. The album will continue Tyler's sessions with his fictional therapist, Dr. TC, as hinted by the title track on his first album,
Bastard
, in which Dr. TC says "this is the first of three sessions..."
Tyler's third album
Wolf
is scheduled for release in 2013. It will contain the instrumentals that Tyler has been making since the age of 15.
In August 2011, Tyler said that the album will be more focused on beats and have less rapping. He has said that on the album he will try to make music similar to his current interests, which he has said do not contain rapping.
During the time fans have been in waiting for
Wolf
, Tyler performed several guest verses for other artists, notably "Trouble on My Mind" by GOOD Music artist Pusha T, "Martians vs. Goblins by Game (also featuring Lil Wayne), "I'ma Hata" by DJ Drama (also featuring Waka Flocka Flame and D-Bo), the title track from fellow Odd Future member Domo Genesis' collaboration album with The Alchemist,
No Idols
, and "Blossom & Burn" by Trash Talk (also featuring Hodgy Beats). Tyler also co-produced the song "666" from MellowHype's third album
Numbers
, which featured Mike G.
Tyler won Best New Artist for "Yonkers" at the 2011 MTV Video Music Awards.,
In an interview with DJ Semtex, he confirmed that he will handle all the production on the album, except one song produced by Left Brain. This was how the production on
Goblin
was dealt with.
Tyler initially announced in early 2011, after Los Angeles hip hop collective Odd Future announced that they will get their own TV show called
Loiter Squad
. It wasn't until September 8, 2011 that the show was finally confirmed as a 15-minute live action show composed of various sketches, man on the street segments, pranks and music made by OF. Dickhouse Productions, the production partnership that created
Jackass
, is scheduled to produce the show. The show premiered on March 25, 2012.
Tyler has also directed music videos, acted in two roles, and also done work as a graphic artist.
Criticism
Tyler has been criticized for his use of homophobic slurs, in particular, his frequent use of the epithet
faggot
in his lyrics and on Twitter.
He has denied accusations of homophobia, stating, "I'm not homophobic. I just say
faggot
and use
gay
as an adjective to describe stupid shit,"
and, "I'm not homophobic. I just think
faggot
hits and hurts people."
However, he later said in an interview with MTV about the slurs, "Well, I have gay fans and they don't really take it offensive, so I don't know. If it offends you, it offends you. If you call me a nigga, I really don't care, but that's just me, personally. Some people might take it the other way; I personally don't give a shit."
Misogyny in hip hop culture
Tyler has also been criticized for his graphic depictions of violence against women and his misogynistic lyrics.
Brent DiCrescenzo of
Time Out Chicago
writes that rape is a "predominant theme" of
Goblin
and Hermione Hoby of
The Guardian
writes that Tyler's "rape and murder fantasies (are) graphic enough to send the vomit rising along with the bile."
The Fader
tallied 68 uses of the term "bitch" over
Goblin's
73 minutes.
Responding to Canadian indie pop duo Tegan and Sara's criticism of his lyrics,
Tyler tweeted: "If Tegan and Sara need some hard dick, hit me up!"
Legal issues
On December 22, 2011, Tyler was arrested during a show at the Roxy Theatre in West Hollywood, and charged with "suspicion of vandalism" for alleged destroying of sound equipment belonging to the venue. He was released on $20,000 bail.
Feuds
In the song "Yonkers," Tyler disses numerous artists, such as rappers/singers B.o.B and Bruno Mars, and Hayley Williams, frontwoman of band Paramore. Tyler, the Creator also disses Bruno Mars in The Game's song "Martians vs. Goblins," in which he and Lil Wayne are featured artists. In response, B.o.B released a similar diss track, entitled "No Future" that also references Tyler's group, Odd Future. Ironically, Tyler praised the song, and initially did not think it was a diss track. Bruno Mars, in response to the verse "stab Bruno Mars in his goddamn esophagus," said, "[Tyler] has to wait in line if he wants to stab me...[Tyler's] definitely not the first guy that's said something like that to me and he's not going to be the last."
Los Angeles rapper Hopsin also dissed him in his "Ill Mind of Hopsin 4" music video, released in July 2011. As a response, he was parodied in the "Martians vs. Goblins" music video.
Tyler, The Creator and R&B singer Chris Brown feuded due to claims Brown tweeted on Twitter of Odd Future's music containing a "demonic" message. Tyler had made several sarcastic remarks via Twitter afterwards, leading to a heated feud between the two musicians. Before a live performance alongside Frank Ocean, Tyler, The Creator called out Chris Brown referring to Brown's savage beating of fellow musician Rihanna. Afterwards, Brown and Tyler cleared up the feud when Tyler tweeted that he is a fan of Chris Brown's song "Look At Me Now" featuring Lil Wayne and Busta Rhymes. According to Tyler, The Creator there are things "[his fans] don't even know" about the feud.
Tyler has also feuded with former collaborator Brandun DeShay. Prior to SXSW 2011, DeShay confronted Tyler through Formspring and said that he was going to "settle this" at SXSW. Tyler has since told fans that the only song they ever collaborated on was "Session", from Tyler's debut album
Bastard
. Tyler re-released the album one year after its initial release, replacing Brandun DeShay's verse with a new one by Mike G. Tyler has since said that any other song performed by the two of them were created by DeShay, and that he recorded verses over Tyler's songs without his permission. According to Tyler, DeShay hit him at one point. Tyler also disses DeShay in his song "Yonkers", by bragging about his own success and publicity.
Through Formspring, Tyler has also said that he does not like Vince Staples, although he praised his rapping abilities.
Vince has collaborated with several members of Odd Future, notably Earl Sweatshirt, Mike G, Domo Genesis & The Jet Age of Tomorrow. In 2011, Tyler said that he does not dislike Vince, but he dislikes the fact that people think he is a part of Odd Future when he is not actually in the group.
BiographyJessica Ellen Cornish, known by her stage name is Jessie J was born in London, March 27, 1988, Jessie J is a British singer and songwriter. Jessie J earned fame by writing songs for music artists like Justin Timberlake, Alicia Keys, Miley...
Biography Drake or "Aubrey Drake Graham" was born on October 24, 1986 in Toronto, Ontario. He is the son of Dennis Graham, a drummer who has worked with Jerry Sandi Graham and Lee Lewis, education. Two of his uncles, Larry Graham and teenie...
Biography Chris Brown or "Christopher Maurice", he was born May 5, 1989, Tappahannock, Virginia, the Joyce Hawkins, former Director of the gardener and Clinton Chris Brown, amendments to the Inspector of the local prison. Son para has...
Eva Alordiah better known to most people by her stage name Eva is a rapper, singer, dancer, model, makeup artist, writer and songwriter born to Nigerian parents from Delta State. She moved to Lagos as a child and graduated from Bowen University with a...
Liv Rundgren Tyler (born Liv Rundgren, July 1, 1977) is an American actress and former child model. She is the daughter of Aerosmith's lead singer, Steven Tyler, and model Bebe Buell. Tyler began a career in modeling at the age of 14 but, after less...