Biography
Vince McMahon: The Unauthorized Biography of the WWE Chairman
Vince McMahon: The Unauthorized Biography of the WWE Chairman Review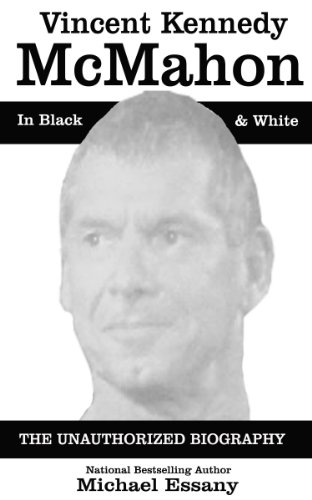 "Vince McMahon: The Unauthorized Biography of the WWE Chairman" is a first of its kind comprehensive exploration of the life, controversies, and legacy of Vince McMahon from national bestselling author Michael Essany.
From McMahon's impoverished upbringing with an abusive stepfather to his Napoleon-like conquests as a brash young wrestling promoter, WWE fans can relive the remarkable and unlikely accomplishments, stunning failures, and extraordinary events that define the life and career of Vincent Kennedy McMahon.
TABLE OF CONTENTS
Chapter 1: A No Holds Barred Beginning
Chapter 2: On The Ropes
Chapter 3: Napoleon
Chapter 4: The 'Mania' Begins
Chapter 5: The King of Controversy
Chapter 6: The Bill and Hillary of Professional Wrestling
Chapter 7: Time to Play "The Game"
Chapter 8: The McMahon Legacy
EXCERPT FROM CHAPTER 1:
Violent. Dramatic. Controversial. Scandalous.
These descriptions could very easily apply to the world of professional wrestling. But perhaps more fittingly, they pertain to the childhood of Vincent Kennedy McMahon.
"I grew up in an 8-foot wide trailer," McMahon admits. "That's where I come from. And it's a tremendous advantage, quite frankly. Because I am Americana. I'm middle class - actually, lower middle class."
As a youth, the future billionaire and head of sports entertainment's most powerful brand was tormented by physical cruelty, confined to a trailer park, and, by McMahon's own admission, subjected to some form of sexual abuse.
Born August 24, 1945, in Pinehurst, North Carolina, Vincent K. McMahon represents the third generation of a legendary professional wrestling family - a dynasty that includes his grandfather Jess McMahon - also a boxing and wrestling promoter - and his father, Vince McMahon, Sr., the proverbial founding father of contemporary sports entertainment.
Vince Jr., however, did not personally know his biological father for most of his early years. For the majority of his adolescence, Vincent Kennedy McMahon - as he is internationally recognized today - was known as Vince Lupton. Vince was given the surname of Lou Lupton, one of his five revolving stepfathers. But as McMahon would reveal years later, it was Lupton's violent outbursts that seemingly did more than anyone or anything else to spoil the innocence of his childhood.
Read more in this eBook!
-
Jennifer Aniston
Jennifer Aniston was born in Sherman Oaks, California on February 11, 1969. Her parents were both actors and encouraged her high school interest in drama. She had a few minor roles before landing one on the NBC sitcom Friends as Rachel Green. The...
-
Gordon E. Moore
Chairman Emeritus of the board Gordon E. Moore is the retired chairman and CEO of Intel Corporation. Moore co-founded Intel in 1968, serving initially as executive vice president. He became president and CEO in 1975 and held that post until elected chairman...
-
Whitney Houston: An Unauthorized Biography
Whitney Houston: An Unauthorized Biography Review See more picture @ amazon.com She still wondered, "Am I good enough? Am I pretty enough? Will they like me?" It was the burden that made her great and the part that caused her to stumble in the...
-
No Direction Home: The Life And Music Of Bob Dylan (the Acclaimed Biography)
No Direction Home: The Life and Music of Bob Dylan (The Acclaimed Biography) Review ...
-
Stephenie Meyer: The Unauthorized Biography Of The Creator Of The Twilight Saga
Stephenie Meyer: The Unauthorized Biography of the Creator of the Twilight Saga Review ...
Biography