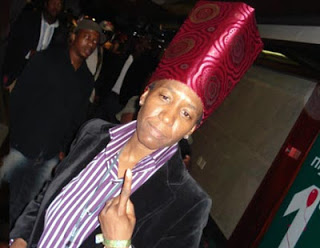 Weird MC
(born
Adesola Adesimbo Idowu
)
is a Nigerian rapper, songwriter, and producer. Known for her English/Yoruba lyrics. Weird MC - also known as
Shola Idowu
and
The Rappatainer
- is one of Africa's token number of female rap artistes,
and one of the few Nigerian women associated with Afrobeat
Early life
Ogun-native Idowu was born in England to conservative parents who did not encourage her to go into showbusiness, yet she was not discouraged
She had her secondary school education in Nigeria, where she made friends with four other girls, with whom she formed the hip-hop group
Weirdos
. Despite their popularity on the campus circuit, they failed to land a record deal, and soon disbanded.
Music career
Idowu gained admission into Ogun State University to study Law, but left a year later to focus on her music career. Influenced by Fela Kuti, Lauryn Hill, Da Roots, Miriam Makeba, Queen Latifah and Jimi Hendrix, Idowu travelled back to England where she competed in rap contests in London, including Club 291 contest, similar to America's Apollo, in which she came third. After working with music producer Kevin Best for two months, Idowu released the single
Wanna Make You Jack
/
Let's Get Wet
, which received positive reviews from music critics and reached number one in the Choice FM charts.
By now, Idowu had began to use the name by which she is now known - Weird MC, which was coined from the name of her former group.
After a long sabbatical, Idowu returned to her homeland where she released the album
Simply Weird
, a blend of American-style hip hop and Afrobeat, and featured the video-single
Allen Avenue
- she was the first Nigerian artiste to release a video-single, which she also produced. The
Allen Avenue
video raised controversy, as her androgyny made fans question her true gender.
Simply Weird
has been described as the first ever full-length rap album,
yet this milestone was reached a decade before, with artistes like Emphasis, Junior 'n' Pretty,
and Sound on Sound
.
Nevertheless, despite the popularity of
Allen Avenue
, the album failed to sell an impressive number of copies. Critics agreed that
Simply Weird
was ahead of its time ("People felt it was too foreign? not rootsy, or ?African? enough.").
Despite this setback, Idowu was honoured with several awards, including the very first AMEN award for Best Hip Hop Album.
In 2006, Idowu released her second album,
After Da Storm
. Hip hop was now recognised as a major form of music in Nigeria, and the Don Jazzy and JJC produced single
Ijoya
- which means Time To Dance - was a massive success.
Ijoya
earned her an AMEN award for Most Pop Song, and a Channel O Music Video Award for Best Special Effect. Following the success of
After Da Storm
, Idowu studied Music Technology in London.
Apart from being a solo artiste, Idowu has collaborated with other artistes including Femi Kuti and close friend
kween and many more.........in recent times
Biography Jennifer Lynn Lopez was born July 24, 1969,in the Bronx, New York, and raised on Blackrock Avenue in the New York City borough's Castle Hill neighborhood, also known by her nickname J.Lo, is an American music artist, actress, singer, dancer,...
Duncan Daniels is a singer, Music Producer and Songwriter, born in Boston, Massachusetts, raised in England and Nigeria. Over the years Duncan Daniels has perfected the art of bringing to life a diverse mix of Pop, Rock, and R&B . His music combines...
Estelle Swaray born 18th January 1980 to a Senegalese mother and a father from Grenada, she is most widely known as Estelle and formerly Est'elle, Estelle is a female British hip-hop artist and producer who was born in West London. Estelle is one...
Femi Kuti was born in London in 1962. He quit school in 1978 to play saxophone in his father's band Egypt 80. In 1986, while Fela enjoyed huge popularity which attracted government disapproval, Femi Kuti took up the pioneer's afrobeat mantle and...
Darey also known as Dare Art Alade is a Nigerian award-winning musician and singer-songwriter. He is the son of the renowned Nigerian entertainer, Art Alade. Darey Art Alade was born to legendary Nigerian Jazz pioneer Art Alade and Olapeju Alade. Dare,...