Biography
William Morris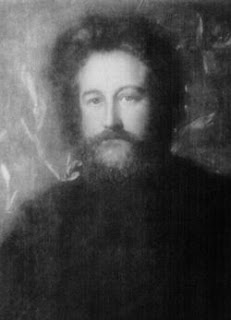 William Morris (March 24, 1834 ? October 3, 1896) was an English artist, writer, and socialist. He was one of the principal founders of the British Arts and Crafts movement, a pioneer of the socialist movement in Britain, and a writer of poetry and fiction. He is perhaps best known as a designer of wallpaper and patterned fabrics.
Early life and education
Born on his family's estate of Elm House in Walthamstow, he went to school at Marlborough College, but left in 1851 after a student rebellion there. He then went to Exeter College, Oxford after studying for his matriculation to the university. He became influenced by the work of art and social critic John Ruskin while there.
[edit] Pre-Raphaelite Brotherhood
It was at Exeter that Morris met his life-long friends and collaborators, Dante Gabriel Rossetti, Edward Burne-Jones, Ford Madox Brown and Philip Webb. He also met his wife, Jane Burden, a working-class woman from Oxford whose pale skin, figure, and wavy, abundant dark hair were considered by Morris and his friends the epitome of beauty.
These friends formed an artistic movement, the Pre-Raphaelite Brotherhood. They eschewed the tawdry industrial manufacture of decorative arts and architecture and favoured a return to hand-craftsmanship, raising artisans to the status of artists. He espoused the philosophy that art should be affordable, hand-made, and that there should be no hierarchy of artistic mediums.
[edit] Marriage and family
Morris married Jane Burden at St Michael at the Northgate, Oxford, on 26 April 1859. They had two daughters, Jane (called Jenny), who developed epilepsy after a boating accident, and Mary (called May), who herself became a designer and writer.
[edit] Business career
David's Charge to Solomon (1882), a stained-glass window by Edward Burne-Jones and William Morris in Trinity Church, Boston, Massachusetts.
Morris's painting La bele Iseult, also called Queen Guenevere, is his only surviving easel painting, now in the Tate Gallery.Morris left Oxford to join an architecture firm, but soon found himself drawn more and more to the decorative arts. He and Webb built Red House at Bexleyheath in Kent, Morris's wedding gift to Jane. It was there his design ideas began to take physical shape. (In honour of his connection with Bexleyheath, a bust of Morris was added to an original niche in the brick clock tower in the town centre in 1996.) He also built Standen House in Sussex along with Philip Webb.
In 1861, he founded the firm of Morris, Marshall, Faulkner & Co. with Gabriel Rossetti, Burne-Jones, Ford Madox Brown and Philip Webb. In 1874 Rossetti and Ford Madox Brown decided to leave the firm, requiring a return on their shares which proved to be a costly business. Throughout his life, he continued to work in his own firm, although the firm changed names. Its most famous incarnation was as Morris and Company. The company encouraged the revival of traditional crafts such as stained glass painting, and Morris himself single-handedly recreated the art of tapestry weaving in Britain. His designs are still sold today under licences given to Sanderson and Sons and Liberty of London.
Morris's commissions included the ceiling within the dining room of Charleville Forest Castle, Ireland and interiors of Bullers Wood House, now Bullers Wood School in Chislehurst, Kent.
[edit] Writings
[edit] Poetry
Morris began publishing poetry and short stories through a magazine founded with his friends while at university. His first independently published work, The Defence of Guenevere (1858) was coolly received by the critics, and he was discouraged from publishing more for a number of years. He had also made a painting of King Arthur's Queen Consort. However, "The Haystack in the Floods", probably these days his best-known poem, dates from just after this time. It is a grimly realistic piece set during the Hundred Years War in which the doomed lovers Jehane and Robert have a last parting in a convincingly portrayed rain-swept countryside.
One early minor poem was "Masters in this Hall" (1860), a Christmas carol written to an old French tune.[1]
When he returned to poetry in the late 1860s it was with The Earthly Paradise, a huge collection of poems loosely bound together in what he called a leather strapbound book. The theme was of a group of medieval wanderers who set out to search for a land of everlasting life; after much disillusion, they discover a surviving colony of Greeks with whom they exchange stories. The collection brought him almost immediate fame and popularity.
The last-written stories in the collection are retellings of Icelandic sagas. From then until his Socialist period Morris's fascination with the ancient Germanic and Norse peoples dominated his writing. Together with his Icelandic friend Eiríkr Magnússon he was the first to translate many of the Icelandic sagas into English, and his own epic retelling of the story of Sigurd the Volsung was his favourite among his poems.
Due to his wide poetic acclaim, Morris was offered the Poet Laureateship, after the death of Tennyson in 1892, but declined.
[edit] Translations
Morris also translated large numbers of medieval and classical works, including collections of Icelandic sagas such as Three Northern Love Stories (1875), Virgil's Aeneid (1875), and Homer's Odyssey (1887).
[edit] Fantasy novels
In the last nine years of his life, Morris wrote a series of fantasy novels ? including The Wood Beyond the World and The Well at the World's End ? that have been credited as important milestones in the history of fantasy fiction, because, while other writers wrote of foreign lands, or of dream worlds, or the future (as Morris did in News from Nowhere), Morris's works were the first to be set in an entirely invented fantasy world.[2]
These were attempts to revive the genre of medieval romance, and not wholly successful, partly because he eschewed many literary techniques from later eras.[3] In particular, the plots of the novels are heavily driven by coincidence; while many things just happened in the romances, the novels are still weakened by the dependence on it.[4] Nevertheless, large subgenres of the field of fantasy have sprung from the romance genre, but indirectly, through their writers' imitation of William Morris.[5] The Wood Beyond the World, is considered to have heavily influenced C. S. Lewis' Narnia series, while J. R. R. Tolkien was inspired by Morris's reconstructions of early Germanic life in The House of the Wolfings and The Roots of the Mountains. James Joyce also drew inspiration from his work.[6]
[edit] Architecture
Although Morris never became a practising architect, his interest in architecture continued throughout his life. In 1877, he founded the Society for the Protection of Ancient Buildings. His preservation work resulted indirectly in the founding of the National Trust. Combined with the inspiration of John Ruskin ? in particular his essay "The Nature of Gothic" from the second volume of The Stones of Venice ? architecture played an important symbolic part in Morris's approach to socialism. His patterns became used for such household objects such as wallpaper and bathroom tiles.
[edit] Socialism
William Morris, publisherMorris and his daughter May were amongst Britain's first socialists, working directly with Eleanor Marx and Engels to begin the socialist movement. In 1883, he joined the Social Democratic Federation, and in 1884 he organised the breakaway Socialist League. Morris found himself rather awkwardly positioned as a mediator between the Marxist and anarchist sides of the socialist movement, and bickering between the two sides eventually tore the Socialist League apart. This side of Morris's work is well-discussed in the biography (subtitled "Romantic to Revolutionary") by E. P. Thompson. It was during this period that Morris wrote his best-known prose works, in particular A Dream of John Ball and the utopian News from Nowhere.
Morris and Rossetti rented a country house, Kelmscott Manor at Kelmscott, Oxfordshire, as a summer retreat, but it soon became a retreat for Rossetti and Jane Morris to have a long-lasting affair. After his departure from the Socialist League, Morris divided his time between the Company, then relocated to Merton Abbey,[7] Kelmscott House in Hammersmith, the Kelmscott Press, and Kelmscott Manor. At his death at Kelmscott House in 1896 he was interred in the Kelmscott village churchyard.
[edit] The Kelmscott Press
The Nature of Gothic by John Ruskin, printed by Kelmscott Press. First page of text, with typical ornamented border.In January 1891, Morris founded the Kelmscott Press at Hammersmith, London, in order to produce examples of improved printing and book design. The books were designed to make reference to the methods and techniques he used, which he saw as traditional methods of printing and craftsmanship, in line with the Arts and Crafts movement as a whole, and in response to the prevalence of lithography, particularly those lithographic prints designed to look like woodcut prints. He designed clear typefaces, such as his Roman 'golden' type, which was inspired by that of the early Venetian printer Nicolaus Jenson, and medievalizing decorative borders for books that drew their inspiration from the incunabula of the 15th century and their woodcut illustrations. Selection of paper and ink, and concerns for the overall integration of type and decorations on the page made the Kelmscott Press the most famous of the private presses of the Arts and Crafts movement. It operated until 1898, producing 53 works, comprising 69 volumes, and inspired other private presses, notably the Doves Press.
Among book lovers, the Kelmscott Press edition of The Works of Geoffrey Chaucer, illustrated by Burne-Jones, is considered one of the most beautiful books ever produced. A fine edition facsimile of the Kelmscott Chaucer was published in 2002 by The Folio Society.
[edit] Morris today
"Vision of the Holy Grail" (1890)The Morris Societies in Britain, the US, and Canada are active in preserving Morris's work and ideas.
The influence of William Morris lives on in modern interiors and architecture. Companies such as Harvest House and Stickley Furniture continue to sell Arts and Crafts-style pieces.
A fountain located in Bexleyheath town centre, named the Morris Fountain, was created in his honour and unveiled on the anniversary of his birth.
In April 2007, The Guardian newspaper reported that funding for the William Morris Gallery in Walthamstow was threatened by cost cutting by the London borough of Waltham Forest. A campaign to avoid the reduction in opening times and dismissal of key staff is underway.[8]
[edit] Literary works
The Defence of Guenevere, and other Poems (1858)
The Life and Death of Jason (1867)[9]
The Earthly Paradise (1868?1870)
Love is Enough, or The Freeing of Pharamond: A Morality (1872)
The Story of Sigurd the Volsung and the Fall of Niblungs (1877)
Hopes and Fears For Art (1882)
A Dream of John Ball (1888)
A Tale of the House of the Wolfings, and All the Kindreds of the Mark Written in Prose and in Verse (1889)
The Roots of the Mountains (1890)
Poems By the Way (1891)
News from Nowhere (or, An Epoch of Rest) (1890)
The Story of the Glittering Plain (1891)
The Wood Beyond the World (1894)
Child Christopher and Goldilind the Fair (1895)
The Well at the World's End (1896)
The Water of the Wondrous Isles (1897)
The Sundering Flood (1897) (published posthumously)
[edit] Translations
Grettis Saga: The Story of Grettir the Strong with Eiríkr Magnússon (1869)
The Saga of Gunnlaug the Worm-tongue and Rafn the Skald with Eiríkr Magnússon (1869)
Völsung Saga: The Story of the Volsungs and Niblungs, with Certain Songs from the Elder Edda with Eiríkr Magnússon (1870) (from the Volsunga saga)
Three Northern Love Stories, and Other Tales with Eiríkr Magnússon (1875)
The Odyssey of Homer Done into English Verse (1887)
The Aeneids of Virgil Done into English (1876)
Of King Florus and the Fair Jehane (1893)
The Tale of Beowulf Done out of the Old English Tongue (1895)
Old French Romances Done into English (1896)
-
Christina Rossetti
Christina Georgina Rossetti (December 5, 1830 ? December 29, 1894) was an English poet. Her siblings were the artist Dante Gabriel Rossetti, William Michael Rossetti, and Maria Francesca Rossetti. Their father, Gabriele Rossetti, was an Italian poet...
-
Arthur Quiller-couch
Sir Arthur Thomas Quiller-Couch (21 November 1863 - 12 May 1944) was a Cornish writer, who published under the pen name of Q. Born at Bodmin in Cornwall, he was educated at Newton Abbot College, at Clifton College, and Trinity College, Oxford and later...
-
Richard Jefferies
John Richard Jefferies (November 6, 1848 - August 14, 1887 ) was an English nature writer, essayist and journalist. He wrote fiction mainly based on farming and rural life. He was born at Coate, near Swindon, Wiltshire, the son of a farmer. His birthplace...
-
Laurence Housman
Laurence Housman (IPA: [?ha?sm?n]; July 18, 1865 - February 20, 1959) was an English playwright. The younger brother of the poet A. E. Housman, Laurence Housman was born in Bromsgrove, Worcestershire. After education at local schools, he went with his...
-
Hall Caine
Sir Thomas Henry Hall Caine CH, KBE (May 14, 1853?August 31, 1931), usually known as Hall Caine, was a British author. He is best known as a novelist and playwright of the late Victorian and the Edwardian eras. In his time he was exceedingly popular...
Biography