Biography
Biography Of Andy Uba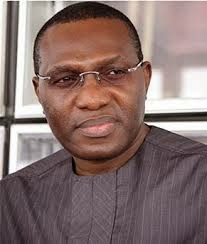 Andy Uba, a native of Uga in Aguata Local Government Area of Anambra State was born on December 14, 1958 in
Enugu
,
Enugu State
, Nigeria.
After his primary education, Andy Uba attended Boys High School Awkunanaw, Enugu for his secondary education. After secondary
education, Andy Uba traveled oversea for his tertiary education. He particularly schooled at
Concordia University
Montreal, Canada, where he obtained his first degree in Geology in the year 1984. After his first degree, he worked for some time with Golden State Mutual Insurance of California between the years 1985 and 1992 before he engaged in further studies at
California State University
and later
Buxton University
where he obtained his PhD in
Bio-sciences
in the year 1996.
While at the United States working, Andy Uba participated in the electioneering process that brought Olusegun Obasanjo to power in the year 1999. When the election was finally won by the Peoples Democratic Party, Andy Uba was appointed Special Assistant on Special Duties and Domestic Affairs to President

Olusegun Obasanjo

.
In the year 2007 Andy Uba contested for and actually was declared winner of a gubernatorial election in Anambra State of Nigeria. However, a challenge of the election in court by Peter Obi had the entire process truncated, as the court held that there was no vacancy in the Anamabra State?s Government House to warrant the election in the first place.
In April 2011, Andy Uba contested for and won election as PDP candidate for Anambra South Senatorial district.
Uba again, in the year 2015 contested for and won election as PDP candidate for Anambra South Senatorial district for a second term in the senate.
-
Biography Of Chimaroke Nnamani
Chimaroke Nnamani a native of Nkanu West Local Government Area of Enugu State, was born on April 10, 1959. He is a Nigerian politician who became the Governor of Enugu State from 1999 to 2007 under the platform of the People's Democratic Party (PDP)...
-
Biography Of Gilbert Nnaji
Gilbert NnajiGilbert Emeka Nnaji was born on July 18, 1966. He is an indigene of Nike in EnuguState. He had his primary Education at Community Primary School, Amoji, Nike. He then proceeded to Boys High School Awkunanaw where he did his Secondary Education....
-
Chris Ngige. Biography.
Dr. Chris Nwabueze Ngige was born on August 8, 1952. He studied medicine at the University of Nigeria-Nsukka where he graduated in 1979. After he became a medical doctor, Chris got employment in the civil service, servingdifferent...
-
Biography Of Rabiu Musa Kwankwaso; Ex-governor; Senator; Engineer; Kano State Celebrity; .
Rabiu Musa KwankwasoRabiu Musa Kwankwaso, a native of Kwankwaso town of Madobi Local government Area of Kano State, was born on October 21, 1956. Rabiu Musa Kwankwaso attended Wudil of Craft School. Thereafter, he gained admission into Kaduna Polytechnic....
-
Biography Of Ugwuanyi Ifeanyi Lawrence;
Ugwuanyi Ifeanyi Lawrence is a native of Orba Town in Udenu Local Government Area of Enugu State, Nigeria. He was born on March 1964. Ugwuanyi Ifeanyi Lawrence attended University of Nigeria, Nsukka. Ugwuanyi Ifeanyi Lawrence worked with Premier Insurance...
Biography