Biography
Chris Ngige. Biography.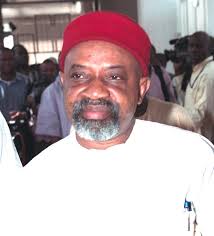 Dr.

Chris Nwabueze Ngige

was

born on August 8, 1952.
He studied medicine at the

University of Nigeria-Nsukka

where he graduated

in 1979.
After he became a medical doctor, Chris got employment in the civil service, serving
different times at the
National Assembly
and State House clinics. In the year 1998 he retired from the Federal Ministry of Health, having attained the position of a Deputy Director.
After his retirement, Chris Ngige joined the Nigerian politics. He was one of the
founders of the

People's Democratic Party

(PDP). In 1999, he was the Assistant National Secretary and Zonal Secretary of PDP in the South East geopolitical zone region of Nigeria.
In the year 2003, Chris Ngige contested election and won, becoming an elected governor of

Anambra State

. Assuming office, he broke ranks with some PDP bigwigs, who unsuccessfully attempted to remove him from office on July 10, 2003, through a fabricated letter of resignation which the state assembly accepted as genuine.
Chris Ngige?s election was however challenged in the election tribunal. In August 2005, the Governorship and National Assembly Election Tribunal led by Justice Nabaruma nullified Ngige's 2003 election victory. He went on appeal to the Court of Appeal, but the annulment was affirmed on 15 March 2006, in a judgment awarding victory to

Peter Obi

of the

All Progressives Grand Alliance

(APGA). As no further appeals were possible, Chris Ngige accepted the judgment in good faith and urged the good people of Anambra to give their total support to Mr. Peter Obi. Anambra State recorded lots of positive change in the 33 months that Chris Ngige was in office, especially in the area of road construction, which left him in good standing with the Anambra electorate.
On February 6, 2010, Chris Ngige contested for the governorship of Anambra State alongside other notable Anambra politicians including Andy Uba, Charles Chukwuma Soludo, Nicholas Ukachukwu, Uche Ekwunife, Peter Obi etc. A total of 25 candidates actually contested in that election. However, the then incumbent governor Peter Obi eventually emerged the winner, leading to his second term as the governor of Anambra State.
In April 2011, Chris Ngige contested for and won election as Senator representing Anambra Central Senatorial zone, on the

platform of

Action Congress of Nigeria

(ACN). At the end of the election exercise, Chris Ngige was declared the winner over Professor

Dora Akunyili

of the APGA, with 69,765 votes to Akunyili's 69,292.
After the end of his tenure as a senator of the Federal Republic of Nigeria, Chris Ngige contested again, but this time, he lost the election to Uche Ekwunife.
In September 2015, president Muhammadu Buhari nominated Chris Ngige as a minister of the Federal Republic of Nigeria, and he was successfully screened by the senate.
-
Biography Of Gilbert Nnaji
Gilbert NnajiGilbert Emeka Nnaji was born on July 18, 1966. He is an indigene of Nike in EnuguState. He had his primary Education at Community Primary School, Amoji, Nike. He then proceeded to Boys High School Awkunanaw where he did his Secondary Education....
-
Biography Of Chinwoke Mbadinuju
Chinwoke Mbadinuju was born on June 14, 1945. He was a Governor of Anambra State of Nigeria from May 29, 1999 to May 29, 2003. Mbadinuju studied Political Science, and has doctorate degree in Government. He later studied law in England. Mbadinuju worked...
-
Buhari To Rebuild Zik?s Mausoleum.
The body language of the president of the Federal Republic Of Nigeria have demonstrated his readiness to carry the Igbos along in his administration. There has been complaint from the South Easterners that the Buhari?s administration have not appointed...
-
Biography Of Chris Okotie; Pastor; Politician; Delta State Celebrity.
Chris OkotieChristopher Oghenebrorie Okotie popularly referred to as Pastor Chris Okotie was born on June 16, 1958 to Mr. Francis and Mrs. Cecilia Okotie in Ethiope-West Local Government Area of Delta State. He is a popular Nigerian Musician, Televangelist,...
-
Biography Of Andy Uba
Andy Uba, a native of Uga in Aguata Local Government Area of Anambra State was born on December 14, 1958 in Enugu, Enugu State, Nigeria.After his primary education, Andy Uba attended Boys High School Awkunanaw, Enugu for his secondary education....
Biography