Biography
Biography of Maupe Ogun, TV Presenter.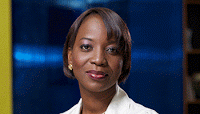 Maupe Ogun
Maupe Ogun, the young amiable News Presenter and Reporter had her University Education at University of Lagos ,Unilag where she bagged a degree in English Language. She proceeded further to the University of Anglia,
Norwich in the United Kingdom where she obtained her Masters in International Relations and Development Studies.
Maupe Ogun?s love for Broadcasting brought her into the broadcast industry in 2007.
In other to further pursue the career of her dreams, Maupe joined Channels in 2009 as a News presenter and Reporter and she has worked on the International desk, producing and presenting programmes like The World Today and Diplomatic Channel.
She?s currently a co-host on Channels? hottest news and current affairs programme, Sunrise Daily with her colleagues Chamberlain and Sulaiman.
Its worthy to note that for a lady, she is well vast in issues of politics and current affairs and her hobbies revolves around engaging in stimulating political discussions, reading and traveling.
For the young and talented TV Presenter, the Sky is her starting point.
-
Biography Of Gloria Ume-ezeoke, Presenter, Channels Television.
Gloria Ume-EzeokeGloria Ume-Ezeoke is a news presenter, reporter and host of the weekly programme Dateline Abuja. She is married. Gloria even though a graduate of political science, enkindled her flair for broadcasting when she worked with the Nigerian...
-
Biography Of Sulaiman Aledeh, Presenter, Broadcast Journalist, Channels Television.
Sulaiman AledehSulaiman Aledeh popularly known as Sulai is a broadcast Journalist. He was born on April 5, 1973. He has presented programmes for radio and television like A.M Lagos, the flagship breakfast show for Radio Nigeria. He has been in the...
-
Biography Of Temitope Fagbemi, Presenter, Channels Television.
Temitope FagbemiTemitope Fagbemi is a news presenter and anchor of the Daily Foreign Affairs Programme, ?The World Today? on Channels Television. She is a graduate of Mass Communication and Media Technology from Lead City University in Ibadan.Temitope...
-
Biography Of Chamberlain Usoh; Journalist; Tv Presenter.
Chamberlain UsohChamberlain Usoh , the award winning TV Presenter and Journalist is a graduate of University of Lagos, Unilag where he studied Mass Communication. Chamberlain is a producer and news anchor at Channels Television and he is...
-
Biography Of Ijeoma Onyeator; Tv Presenter; Reporter
Ijeoma OnyeatorIjeoma Onyeator, an experienced TV Presenter and reporter, was born in Nairobi, Kenya.Ijeoma Onyeator graduated from the University of Lagos(Unilag) with a B.Sc.(Hons) degree in Mass Communication and went further to obtain a Master...
Biography