Biography
Biography of Mohammed Lawal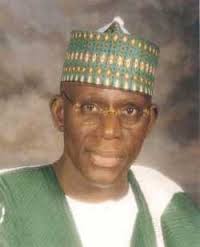 Mohammed Alabi Lawal was born in 1946 and died November 15, 2006.
He was a naval officer who became the military governor of Ogun
State between December 1987 and August 1990 when General Ibrahim Babangida was the military head of state of Nigeria.
In April 1999, Mohammed Lawal contested and won election as the governor of Kwara State under the platform of the UNIPP.
In 2003, he ran again for governor, but he lost the support of his previous supporter Abubakar Saraki who chose to support his own son Bukola Saraki as candidate for governor of Kwara state and his daughter Gbemisola R. Saraki as senator for Kwara State Central, both of whom got elected after the election.
Mohammed Lawal died in November 2006 at London hospital after a brief illness.
-
List Of Senators Of The Federal Republic Of Nigeria.
Abia State Senator Mao A. Ohuabunwa (Abia North) PDP Senator Theodore Ahamefule Orji (Abia Central) PDP Senator Enyinnaya Harcourt Abaribe (Abia South) PDP Adamawa State Sennator Binta Masi Garba (Adamawa North) APC Senator Ahmadu Abubakar (Adamawa South)...
-
Biography Of Habu Hashidu Abubakar
Abubakar Habu Hashidu was born on April 10, 1944. He is a Nigerian politician who became the governor of Gombe State, Nigeria from May 1999 to May 2003. Before he became the Governor of Gombe State, Hashidu was a minister of Water Resources as and a...
-
Biography Of Babachir David Lawal, Secretary To The Federal Government, Engineer.
Babachir David LawalEngr. Babachir David Lawal is a native of Hong Local Government Area of Adamawa State, Nigeria.He had his University Education at the prestigious Ahmadu Belllo University, Zaria where he graduated with a Bachelor?s degree in Engineering...
-
Biography Of Addulfatah Ahmed; Governor; Politician; Kwara State Celebrity.
Alhaji Abdulfatah AhmedAlhaji Abdulfatah Ahmed, was born on 29 December, 1963 at Kwara State Nigeria. Abdulfatah Ahmed?s early school was at Government College Funtua, Katsina State which happened between 1973 and 1978. Later, he proceeded to the school...
-
Biography Of Mohammed Abubakar Badaru
Mohammed Abubakar BadaruAlhaji Mohammed Abubakar Badaru- Governor of Jigawa State was Born in 1962 at Babura town in Jigawa State of Nigeria, Abubakar Badaru holds a B.Sc degree in Accounting from the famous Ahmadu Bello University (ABU) Zaria. He was...
Biography