Biography
Goodluck Ebele Jonathan - Biography.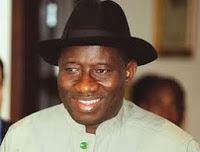 Biography of Goodluck Ebele Jonathan.
President Goodluck Ebele Azikiwe Jonathan was the current president of the Federal Republic of Nigeria. Goodluck Johnathan was born on November 20, 1957 in Finglas, Ogbia Local Government
Area of Bayelsa State of Nigeria to canoe makers. Many Ethnic groups in Nigeria have a naming to Pa. Ebele Jonathan (his father).
Goodluck Jonathan's earliest school were St. Stephen's Primary School, and St. Michael's Primary School, both in Otuoke, Bayelsa State. After his primary school, he proceeded to The Mater Dei High School, Imiringi, Delta State, where he had his secondary education. Goodluck Jonathan eventually got admission into the University of Port Harcourt where he studied Zoology and graduated with Second Class Upper Division. Goodluck Jonathan furthered his studies in University of Port Harcourt and earned himself a Masters Degree (M.Sc.) in Hydrology and Fisheries Biology and later, a Doctorate Degree in Zoology.

Goodluck Jonathan is happily married to Dame Patience Faka and they have two children, Aruabai Jonathan (female) and Ado Aruera Jonathan (male).
At various stages of his life, Goodluck Jonathan worked with the Customs and Excise Department as a Preventive Officer, as a teacher in a secondary school, as an Inspector of Science Education and thereafter as a lecturer in the University.
Apart from civil service, Goodluck Jonathan also served as a public officer in various capacities such as Assistant Director (Ecology) of the defunct Oil Mineral Producing Area Development Commission (OMPADEC) in charge of Environmental Protection, Deputy Governor of Bayelsa State from May 29, 1999 until December 12, 2005, Governor of Bayelsa State, Vice President and currently, the president of the Federal Republic of Nigeria.
Goodluck Jonathan have received several awards including:
Best Performing Deputy Governor in 2002 by IPAN;
'Democracy and Good Governance award by the Nigeria Union of Journalists in 2004.
'Niger Delta Development Award';
'Distinguished Personality' Award in 2006
'Africa Leadership Award, 2006.
'Best Performing Governor in Education in the South-South' in 2006.
'Ambassador for Peace Merit Award' as well
Leadership and Good Governance Merit.
-
Biography Of Muhammad Adamu Aliero
Muhammad Adamu Aliero was born on January 1, 1957. He is a native of Aliero in Aliero Local Government Area of Kebbi State. Adamu attended Islamic school where he had his earliest education experience. He had his elementary education at Aliero Town Planning...
-
Biography Of Doyin Okupe
Doyin Okupe is a medical doctor and a son of the late Chief Matthew Adekoya Okupe a banker. He is an indigene of Ogun State of Nigeria. Okupe was the Senior Special Assistant on Public Affairs to Nigeria?s former President Goodluck Jonathan. Before...
-
Biography Of Reno Omokri
Bemigho Reno Omokri, was born on January 22, 1974 to Helen Bemigho a civil servant and Justice Jean Omokri a justice of the Nigerian Court of Appeals. He is a Nigerian Lawyer, called to Bar in the year 2000. He studied for his LL.M in the University...
-
Biography Of Jonathan David Jang; Politician; Ex-governor; Plateau State Celebrity
Jonathan David JangJonathan David Jang was born on March 13, 1944 in Du Local Government of Plateau State. He had his primary education at Junior Primary School, Du and Senior Primary School, Riyom between the years 1953 and 1956. He had his secondary...
-
Biography Of Seriake Dickson; Lawyer; Policeman; Governor; Bayelsa State Celebrity
Seriake DicksonSeriake Dickson is a native of Toru- Orua Town of Sagbama Local Government Area of Bayelsa State, born on January 28, 1966. Seriake Dickson?s earliest school was at Kolobiriowei Primary School, Toru-Orua from 1972 to 1978. After...
Biography