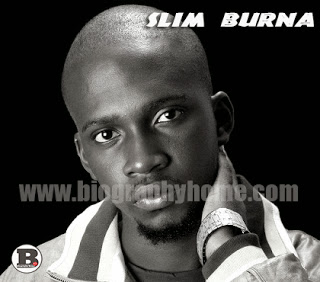 Gabriel Soprinye Halliday Idaomienyenimim (born 11 April 1988), known by his stage name Slim Burna is a Nigerian musician, singer, rapper and record producer. Soprinye was born in Essex, and grew up in the capital city of Rivers State in Southern Nigeria, Port Harcourt.
He worked as a record producer at Grafton Records before founding Street Rhymes in 2008.
Gabriel Soprinye Halliday was born in Essex, England. He returned to Nigeria with his family when he was just two years old and was raised in Port Harcourt. He grew up in a Christian household composed mainly of girls and is the oldest of three children with a step sister Francoise who is nine years older. He attended Tantua International High School and Ompadec science college. His Ikwerre mother Patience rizi Halliday (née Owhondah) was a business woman and his Bonny father Ezekiel Tamuno Halliday was the general manager of NTA Port Harcourt and a one-time Works commissioner in Rivers State, at age 73, he died due to high blood pressure (hypertension). Gabriel was in his late teens - 19 years old - at the time.
Growing up Slim Burna said he was forced to listen to songs from artists like, Tracy Chapman, Boyz II Men, Michael Jackson and Keith Sweat, but those songs didn't really interest him until he listened to 2pac, Bone Thugs-n-Harmony, Dmx, Obie Trice, Eminem, Cypress Hill, Wu-Tang Clan, and Ruff Ryders. That's when he fell in love with Hiphop and decided to start writing his songs. During his early years in the music industry, Gabriel's childhood friends gave him the name "Slim Burna" meaning "the slim bone that burns". His previous releases include "Whatz ur name", "Is 4 u", "I like to move it", "Kpasima" and "Highness Madness".
Slim Burna first gained recognition in 2009 when he released a remake of "Oyoyo" (originally recorded by J Martins) which was featured in several mixtapes put together by Naija DJs Coalition. The single became an instant hit. "Oyoyo" is a childhood slang in Nigeria used when the child's mum has returned home (mummy oyoyo). Slim Burna said he decided to do the re-make of "Oyoyo" because he felt the song wasn't complete. He released his first-ever promotional music video in December 2011 with cameo appearance by Tha-Ibz.
In May 2012, he collaborated with an award-winning export from Port Harcourt, M-Trill on the song titled "Oya Na" for his album effort "Dirty Dancehall". A remixed version of the song was later recorded with Ugandan artist Nick Nola and can be found on Nola's debut album, "Honey Moon". Slim Burna has previously released a couple of compilations, most notably "The Streets Mixtape" volumes 1, 2 and 3 which featured great songs from the upcoming and some of the best artists the Niger Delta and South South music scene has to offer. Also in 2012, Slim appeared in the music video for the duo 2Geez single "Celebrate" which he was featured in.
On April 11, 2013, Slim Burna released as a free gift for fans his debut mixtape "I'm On Fire". The 15-track offering saw the Port Harcourt musician turn 25 and featured guest appearances from Attitude of Dem Mama Soldiers, SQueeze, Bukwild Da Ikwerrian, Zubillionaire, Pi Piego, Knowledge, Young Stunna, DJ Joenel, and P Jaydino.
Following the release of ''I'm On Fire'', Slim was invited to make a cameo appearance in the music video for the single 'Murder Dem' by Port Harcourt hip hop artist and radio personality Zubillionaire (Zubi Wokocha). He also appeared on the song 'Bad Girl' from Young Paperboyz's second studio album ''Naija Boss Techno Reloaded''. In a September 2013 interview with Afro-Hits, Slim Burna mentioned that there's a possiblity he might work with songstress Muma Gee. Few weeks later, on September 23, 2013, he tweeted out a photograph of himself, his co-producer P Jaydino and Muma Gee in the studio.
On October 1, 2013, he released 'Oh Na Na Na' in celebration of Nigeria's 53rd Independence Day Anniversary. The song received its first radio play on Port Harcourt's Rhythm 93.7 FM on September 28, 2013.
Young Stunna was born Ikechukwu John-Ogbuku in Port Harcourt, Rivers State, Nigeria; He spent his early years in PH city, and was involved in different aspects of music from an early age, from singing in the church choir as a child , to learning...
Burna Boy, Real Name Damini Ogulu, hails from Mbiama in Ahoda West Local Government Area in Rivers State, he was born on the 2nd of july 1991, had his primary education at montessori international school before moving to lagos, he also attended Corona,...
The group #BusinessMen was inaugurated in the year 2007 by two young entrepreneurs, Jerome Batubo and Adasa Rawlinson Cookeygam who is currently one of nigeria's top video directors ( adasa squareball cookey) Jerome ?Business Man? Batubo (born on...
Totally cool hails from Uzairue ethnic group Etsako West, Edo State, Nigeria. He attended Montessorri Primary School Port Harcourt, Bereton Secondary School Port Harcourt then proceeded to First International Secondary School Port Harcourt to finish his...
Yemi Eberechi Alade popularly known as Yemi Alade, is a Nigerian Afro pop singer, born on March 13, 1989 in Abia State, Nigeria. Yemi?s father, Mr., James Alade is of Yoruba origin while her mother Helen Uzoma is an Igbo woman. Yemi is the fifth of seven...