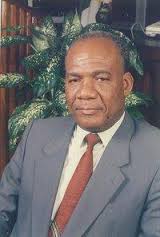 Abel Guobadia was born on June 28, 1932 in Benin City, Nigeria.
Abel attended C.M.S. Primary School Benin City from the year 1939 to 1945. After his primary education, he attended Government
College, Ibadan from 1946 to1951. He then got admission into the University College Ibadan where he schooled between 1952 and 1957. After he graduated from the University College Ibadan. In 1962, he proceeded to University of Pttsburgh, Pennsylvania on scholarship, and obtained his Ph.D in Solid State Physics 1966.
Before he enrolled for his Ph. D, Abel Guobadia worked a while as a Physics teacher at Osogbo Grammar School in 1957; Ilesha Grammar School in 1958; Government College Ughelli from 1958 to 1959; Edo College, Benin City in 1960; Government College Ibadan from 1960 to 1961 and the University of Nigeria, Nsukka from 1961 to 1962.
When he came back from oversea in 1966, Guobadia who has bagged his Doctorate Degree became a Senior Lecturer and Head of Department of Physics at the University of Lagos, Nigeria where he worked from 1966 to 1971.
Guobadia later moved to Nigeria's National Universities Commission where he worked throughout most of the 1970s and early 1980s and became the Director of Academic Planning. He subsequently became the Executive Secretary of the Commission and in 1983, Dr. Guobadia helped the University of Benin, Benin City establish a Consultancy Services Unit and he became the pioneer Director of the Unit.
In January 1984, Guobadia became the Commissioner of Education in the defunct Bendel State of Nigeria when Brigadier Jeremiah Useni was the Military Administrator of the state. When the government of the state changed hand in 1986 and Colonel John Mark Inienger became the military administrator, Guobadia was appointed the Bendel State Commissioner of Finance and Economic Planning. In the year 1987, President Ibrahim Babangida appointed Abel Guobadia the Nigeria's first resident Ambassador to the Republic of Korea.
When Abel Guobadia retired, he floated a private educational consulting firm, which he called Advanced Educational Services Limited, the firms object was to be responsible for developing academic programs for several universities in Nigeria. Abel Guobadia and Professor T. M. Yesufu played an influential and vital role in the establishment of the Igbinedion University, Okada in Edo State, Nigeria.
In the year 2000, after Olusegun Obasanjo became the president of Nigeria, Guobadia was appointed Nigeria's Chief Electoral Officer. He was later confirmed as the Chairman of Independent National Electoral Commission by the Nigerian Senate in May 2000.
Guobada retired as the INEC Chairman in May 2005.
Abel Guobadia was either the Chairman and/or member of the following boards: New Nigeria Bank, West African Examinations Council and the Nigerian Standards Organization. He has served the public in several capacities on Governing Councils of several Universities in Nigeria. Guobadia was former Pro-Chancellor and Chairman of Council of the Edo State University, Ekpoma.
In the year 1971, Abel Guobadia became the President of the Science Teachers Association of Nigeria (STAN) from 1971 to 1976. He remained a life fellow of STAN until his death. He was a Special Member of the Senate of the University of Benin.
Guobadia died on February 4, 2011 at the age of 78.
Iya AbubakarIya Abubakar was born December 14, 1934. He is a Nigerian politician and mathematician who was Federal Minister of Defence during the Second Republic of Nigeria, and senator for Adamawa North from May 1999 to May 2007. Iya Abubakar...
Attahiru Muhammadu Jega was born on January 11, 1957 in Jega, Kebbi State of Nigeria. He is a former Vice-Chancellor of Bayero University, Kano who becameChairman of the Independent National Electoral Commission (INEC) on June 8, 2010 subject to Senate...
Tam David WestProf. Tam David West is a former minister of petroleum and energy under General Muhammadu Buhari military government between 1984?1985, and minister of mines, power, and steel under the regime of General Ibrahim Babangida (1986)....
Mahmood Yakubu was born in Bauchi State of Nigeria in the year 1962. Mahmood had his primary education at Kobi Primary School Bauchi. After his primary education, Mahmood proceeded to the Teachers? college, Toro. Later he gained admission into the then...
Ibrahim Badamasi Babangida, a one time military head of state of Nigeria was born in 1941 at Minna, Niger State of Nigeria. He is from the Gwari ethnic group. Ibrahim Babangida's earliest Education is not known to Nigerian Biography, however, he...