Biography
Biography of Tam David West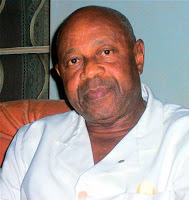 Tam David West
Prof. Tam David West is a former minister of petroleum and energy under General Muhammadu Buhari military government between 1984?1985, and minister of mines, power,
and steel under the regime of General Ibrahim Babangida (1986). He was eventually removed as minister and arrested by the Babangida regime for allegedly contributing to the economic adversity of the country. He was discharged and acquitted of these charges by Nigeria?s Special Appeal Court on August 8, 1991.
He had earlier served as commissioner of education and a member of the Executive Council of Rivers State (1975?1979), as a member of the 50-person Constitution Drafting Committee for the Federal Military Government of General Murtala Muhammed .
David-West was born in Buguma, Kalabari, in what is now Rivers State. He received his higher education at the University of Ibadan (1956-1958) and earned a BSc degree at Michigan State University (1958?1960), an MSc degree at Yale University (1960?1962), and a PhD degree at McGill University (1964?1966). David-West was consultant virologist and senior lecturer at the University of Ibadan in 1969 and was subsequently promoted to professor of virology in 1975.
-
Biography Of Abel Guobadia
Abel Guobadia was born on June 28, 1932 in Benin City, Nigeria. Abel attended C.M.S. Primary School Benin City from the year 1939 to 1945. After his primary education, he attended Government College, Ibadan from 1946 to1951. He then got admission into...
-
Biography Of Babachir David Lawal, Secretary To The Federal Government, Engineer.
Babachir David LawalEngr. Babachir David Lawal is a native of Hong Local Government Area of Adamawa State, Nigeria.He had his University Education at the prestigious Ahmadu Belllo University, Zaria where he graduated with a Bachelor?s degree in Engineering...
-
Biography Of Muhammadu Buhari; President, Politician; Katsina State Celebrity
Muhammadu BuhariMuhammadu Buhari is a native of Daura, a Fulani town situate in Katsina State of Nigeria. He was born on December 17, 1942. Muhamadu Buhari joined the army in the year 1962 and became the governor of the North-Eastern State during...
-
Biography Of Liyel Imoke; Ex-governor; Lawyer; Politician; Cross River State Celebrity
Liyel ImokeLiyel Imoke was born July 10, 1961. The earliest disclosed education of Liyel Imoke was his secondary education which he had at the following secondary schools: Mary Knoll College, Okuku, Ogoja and Federal Government College, Enugu which...
-
Biography Of Jonathan David Jang; Politician; Ex-governor; Plateau State Celebrity
Jonathan David JangJonathan David Jang was born on March 13, 1944 in Du Local Government of Plateau State. He had his primary education at Junior Primary School, Du and Senior Primary School, Riyom between the years 1953 and 1956. He had his secondary...
Biography