Biography
Biography of Babachir David Lawal, Secretary to the Federal Government, Engineer.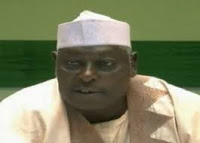 Babachir David Lawal
Engr. Babachir David Lawal is a native of Hong Local Government Area of Adamawa State, Nigeria.
He had his University Education at the prestigious Ahmadu Belllo University, Zaria
where he graduated with a Bachelor?s degree in Engineering in 1979.
Engr. Babachir Lawal had some experience in engineering by working with the Delta Steel Company, Aladja, The Nigerian External Telecommunications Limited and Data Sciences Limited.
He thereafter founded his own Information and Communications Technology(ICT) and Telecommunications Consulting Firm in 1990.
He is also a member of the following professional bodies- Nigeria Computer Society, the Nigeria Society of Engineers and the Council for the Regulation of Engineering in Nigeria.
Engr. Babachir David Lawal was appointed as the Secretary to the Federal Government(SFG) on August 27, 2015 by General Muhammadu Buhari, the President of the Federal Republic of Nigeria.
-
Biography Of Mohammed Lawal
Mohammed Alabi Lawal was born in 1946 and died November 15, 2006. He was a naval officer who became the military governor of Ogun State between December 1987 and August 1990 when General Ibrahim Babangida was the military head of state of Nigeria. ...
-
Abubakar Lawal Garba
ABUBAKAR LAWAL, born in 1964, is a member of the Federal House of Representatives, representing Yola North/Yola South/Girei Federal Constituency, Adamawa State, under the platform of All Progressives Congress (APC). Abubakar attended Government...
-
Femi Adesina. Biography
Femi Adesina is the special adviser on media and publicity to President Muhammadu Buhari. He was the managing director and editor-in-chief of The Sun newspaper. Femi attended University of Ife (now Obafemi Awolowo University), Lagos Business...
-
Biography Of Suleiman Husseini Adamu
Suleiman Husseini AdamuSuleiman Husseini Adamu was born on April 19, 1963. He hails from Kazaure Local Government Area of Jigawa State.He studied at the prestigious Ahmadu Bello University, Zaria, where he graduated in 1984 with a Bachelor of Engineering...
-
Biography Of Dave Umahi; Governor; Politician; Ebonyi State Celebrity.
Engr. David Nweze Umahi is the son of Elder Chief Joseph Umahi Nweze of Umunaga village, Uburu autonomouscommunity in Ohaozara Local Government Area of Ebonyi State. He was born on January 1, 1964. Dave Umahi attended Umunaga Primary School, Uburu between...
Biography