Biography
Biography of Bovi, Comedian, Delta State Celebrity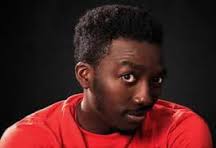 Bovi
Abovi Ugboma
popularly known as Bovi was born on September 25, 1979. He is a Nigerian comedian, director, producer, actor, and a writer.Even though he was born in Benin City, He is an indigene of Delta State, Nigeria.
He had his early education at Uniben Staff School in Benin City, then proceeded for his secondary education at Government College, Ughellii, Delta State, continued at Edokpolor Grammar School,and concluded his secondary school at Boys Model Secondary School, Onicha-olone, Delta Stae.
Bovi had his Univerisity education at Delta State University, Abraka where he bagged a degree in Theartre Arts.
He is happily married to Christabel Asimonye Ugboma and they are blessed with two kids, David and Elena Ugboma.
Bovi began his career as a reporter at NTA where he served and then came down to Lagos in 2004. He worked as Richard Mofe Damijo?s(RMD) Personal Assistant from 2004 till 2006 and during this period, RMD trained and mentored him. He later went on to set up his own production team in September 2006. Bovi?s comedy career truly kickstarted in April 2007 when he started airing the popular sitcom, ?Extended Family? which he featured in, conceptualized and produced. By 2008, Bovi was one of the most sought after comedians in Nigeria. He featured in Opa williams? Nite of 1000 Laughs and Basketmouths? Basketmouth Uncensored and ?Lord of the Ribs?. Bovi has worked with top Nigerian comedy giants including I Go Dye, I Go Save, Buchi, Basketmouth, Julius Agwu and Okey Bakassi. His Man on Fire show which began in 2013 has become one that Nigerians are looking forward to every year. Presently, he runs a production house called Kountry Kulture Networks which delves into production for television, film and even events.
Bovi Ugboma has become the toast of fans within and outside Nigeria. His broad spectrum of knowledge base and ability to manufacture jokes where others fail to explore appears to be his star power.

He went professional as an actor in 2007 and as a stand-up comedian in 2008. But his foray into entertainment actually dates back to 2004. It is worthy to note that he put in a lot of years as an apprentice and a researcher before going practical.
In 2008, Ayo Makun (AY) asked him to feature in his programme, and he obliged. He however later opted out.. As for Bright Okpocha (Basket Mouth), He has been an acquaintance of Bright Okpocha(Basketmouth) he disclosed in an interview that he understudied Basketmouth from 2005 to 2008 as he saw in Basketmouth a natural in the business. And also his ability to find humour in the driest places.

Bovi has had TV shows since 2007. He got two nominations for the maiden Africa Magic Viewers Choice Awards for best actor in Comedy and Best Writer category for his efforts in The Bovi Ugboma Show. He also had his first stand-up comedy show in 2013 titled Bovi - Man on Fire. But unlike most other shows, this was a solo stand-up comedy show.
Bovi Ugboma has won some awards including the Comedian of the year award by Culture People and Awards Ghana, also the Best Youth Comedian by the Standup Comedians Award.
-
Basket Mouth
Basket Mouth Real Name Bright Okpocha popularly known as BasketMouth was born in Uzor Street in Ajegunle Lagos, but he is a Native of Abia State. he was born in September 14th, 1978 and is currently married to Elsie Uzoma with kids he has a...
-
6 Nigeria?s Funiest Stand-up Comedians.
1. Basket Mouth. Bright Okpocha known as and called Basket Mouth was born in Lagos on September 14, 1978. He is an Igbo, one of the major tribes of Nigeria. He is particularly, an indigene of Abia State, in South Eastern geo-political zone of Nigeria....
-
Biography Of Elenu
ElenuAkinlami Babatunde Julius popularly known as Elenu is an upcoming Nigerian Comedian. He has always had the dream of becoming a Medical Doctor, but along the line, he fell in love with Computers and hence went ahead to obtain an Ordinary National...
-
Basket Mouth; Biography.
BasketmouthBiography of Basketmouth.Bright Okpocha popularly known as Basket Mouth was born in Lagos, Lagos State of Nigeria on September 14, 1978. Basket Mouth is however an Igbo, one of the major tribes of Nigeria. Basket Mouth is particularly, an indigene...
-
Biography Of A.y; Actor; Comedian, Ondo State Celebrity.
AYAyo Richard Makun also known as A.Y is a Nigerian Comedian, Actor, Professional Master of Ceremonies, live show host and writer. AY is the eldest son from a family of seven. He is from Ifon in Ondo State, but was however born and bred...
Biography