Biography
Biography of Elenu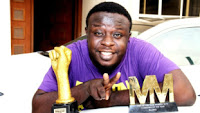 Elenu
Akinlami Babatunde Julius popularly known as Elenu is an upcoming Nigerian Comedian. He has always had the dream of becoming a Medical Doctor, but along the
line, he fell in love with Computers and hence went ahead to obtain an Ordinary National Diploma(OND) in Computer Science.
He got married to one Chinwe Anyanwu at Global Impact Church, Surulere, Lagos on June 15, 2013 and they are blessed with a son, Jayden.
Elenu however confesses that he never wanted to be a comedian. He never even knew what comedy was all about until the AY Comedy Competition. His talent as it seems led him into comedy. He knew while growing up that he had the ability to make people laugh but he never knew it was something that people could use to make money. However, his parents have been very supportive of his career.
His breakthrough in the comedy industry came when in November 10, 2006, he won the AY Open Mic Comedy Competition. That gave him the in-road he desired to get into comedy. Since then, the journey has been swift.
On disclosing the experience he had on his first day on stage, he has this to say ?My legs shook the first time I got on the big stage. It was a day after I won the AY Open Mic Competition. I was invited for the Nigerian Comedy Awards. After that, the next big stage I performed on was the AY live. That was the first time I saw a very large crowd. Before then, I was back stage trying to calm my nerves. Immediately I was called on the stage, I forgot all the jokes I had rehearsed. However, when I gave my first joke and people laughed, the jokes started coming back to me and I was able to overcome my fright.?
In 2011, he was regarded as the official comedian for his Excellency, Governor Godswill Obot Akpaibio, the executive governor of Akwa Ibom State. At the Godswill Akpabio Scrabble Classic, at the Gala Nite, midway into his performance, the governor stood up. He was so pleased that he called Elenu a comedian after his heart.
He updates himself by going out of his regular routine of jokes.
Elenu however complained that people tend to take them for granted for example he has this to say. ?The day I asked my fiancée out, she thought I was joking. The first thing that came out of her mouth was these comedians are very funny. For somebody that I expected to see reasons with what I was saying to take it as a joke really put me off but I get it all the time. A friend's car was stolen and I broadcast it on BB in case anybody sees it. The first comment I got was from somebody asking me if it was a joke. We accept it and it is something we have come to live with. It is not something we should be angry about.?
Elenu has as his role model AY and Basketmouth. He commends AY for grooming younger upcoming comedians and giving them a platform to showcase their talents through the AY Open Mic Competition.
His is also a journey from grass to grace as he was not born into a rich family. He had to do some menial jobs to help support his mother. He was raised by his mother and she was always supportive of his dreams. As a growing child, he became the man in the house. As a result of that, he had to start doing some menial jobs. He worked as a casual staff in the Nigerian Bottling Company just to help his mother.
Today, the story is different, he is living in his own house and driving his own car.
-
Basket Mouth
Basket Mouth Real Name Bright Okpocha popularly known as BasketMouth was born in Uzor Street in Ajegunle Lagos, but he is a Native of Abia State. he was born in September 14th, 1978 and is currently married to Elsie Uzoma with kids he has a...
-
Biography Of Gordons, Nigerian Comedian
Godwin Komone popularly known as Gordons is a Nigerian Comedian and Musical Artist. He is an indigene of Delta State and an Urhobo by tribe. Gordons attended Ighogbadu Primary School,Delta State and then proceeded to Nana College, Delta State for...
-
Biography Of Bovi, Comedian, Delta State Celebrity
BoviAbovi Ugboma popularly known as Bovi was born on September 25, 1979. He is a Nigerian comedian, director, producer, actor, and a writer.Even though he was born in Benin City, He is an indigene of Delta State, Nigeria. He had his early education...
-
Biography Of I Go Dye, Comedian, Delta State Celebrity
I Go DyeFrancis Agoda, popularly known as I Go Dye, was born on April 4, 1979. He is a Popular Nigerian Comedian, and an indigene of Abraka, in Ethiope East Local Government Area of Delta State, Nigeria. He is married and blessed with ...
-
Biography Of A.y; Actor; Comedian, Ondo State Celebrity.
AYAyo Richard Makun also known as A.Y is a Nigerian Comedian, Actor, Professional Master of Ceremonies, live show host and writer. AY is the eldest son from a family of seven. He is from Ifon in Ondo State, but was however born and bred...
Biography