Biography
Biography of Ebele Okoye; Animator; Anambra State Celebrity.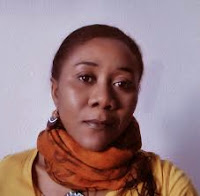 Ebele Okoye
Ebele Okoye is an award-winning Nigerian filmmaker. She was born on October 6, 1969 at Onitsha, Anambra State Nigeria. Ebele Okoye studied Fine and Applied Arts (Graphic design/Illustration) at
the Institute of Management and Technology Enugu (Nígeria) from 1985 to 1989.
After she graduated in 1989, she worked in Advertising agencies, while freelancing as a cartoonist for Magazines and Newspapers, in Nigeria.
In 1995, she went into full time studio painting holding local and international exhibitions.
She later traveled to Germany to further her studies. Upon Ebele Okoye's arrival in Germany, she did a Guest Programme at the University of Cologne. After some time at University of Cologne, Ebele Okoye proceeded to University of Applied Sciences Duesseldorf, Germany, where she trained on Communication Design. She later also got trained in traditional 2D Cartoon Animation at the Internationale Filmschule Koeln.
The Nigerian painter and animator Ebele Okoye has been resident in Cologne, Germany, since the year 2000. She is Married.
-
Goodluck Ebele Jonathan - Biography.
Biography of Goodluck Ebele Jonathan.President Goodluck Ebele Azikiwe Jonathan was the current president of the Federal Republic of Nigeria. Goodluck Johnathan was born on November 20, 1957 in Finglas, Ogbia Local Government Area of Bayelsa State of Nigeria...
-
Biography Of P-square (peter Okoye & Paul Okoye); Musicians, Anambra Sate Celebrities.
P-SquareP-Square is the stage name adopted by the Nigerian R&B duo and identical twin brothers Peter Okoye and Paul Okoye. P-Square both attended St. Mulumba?s Secondary school Jos, Nigeria. While in...
-
Biography Of Dr. Ifeanyi Eric Okoye; Pharmacist; Entrepreneur; Anambra State Celebrity.
Dr. Ifeanyi Eric Okoye Dr. Ifeanyi Eric Okoye , the founder and Chief Executive Officer of Juhel Nigeria Limited is a Pharacist who has a Masters and a Doctorate Degree in Pharmaceutical Technology. He is an indigene of Anambra State. In 1982, Dr. Okoye...
-
Biography Of Seriake Dickson; Lawyer; Policeman; Governor; Bayelsa State Celebrity
Seriake DicksonSeriake Dickson is a native of Toru- Orua Town of Sagbama Local Government Area of Bayelsa State, born on January 28, 1966. Seriake Dickson?s earliest school was at Kolobiriowei Primary School, Toru-Orua from 1972 to 1978. After...
-
>> Biography Of Walt Disney
Walter Elias "Walt" Disney ( December 5, 1901 – December 15, 1966) was an American business magnate, cartoonist, animator, voice actor, and film producer. As a prominent figure within the American animation industry and throughout the world, he is...
Biography