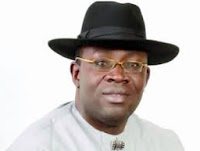 Seriake Dickson
Seriake Dickson is a native of Toru- Orua Town of Sagbama Local Government Area of Bayelsa State, born on January 28, 1966. Seriake Dickson?s earliest school was at Kolobiriowei Primary School, Toru-Orua from 1972 to 1978. After his primary school, Seriake Dickson attended Government Secondary School, Toru-Ebeni between 1978 and 1983.
In the year 1988, Seriake Dickson joined The Nigeria Police. While working with the Nigeria Police, he got admission into the
Rivers State University of Science and Technology, Port Harcourt to study Law. In the year 1992, Seriake Dickson became a law graduate, and thereafter proceeded to Nigerian Law School, and was eventually called to bar in the year 1993.
Having become a lawyer, Seriake Dickson was elevated to the rank of a Cadet Assistant Superintended of Police in 1994. However, Seriake Dickson soon left the police for private laws practice. Accordingly, he pitched his tent with Serena David Dokubo & Co as an Associate, and worked in the law firm between 1994 and 1995. Thereafter, he joined Aluko & Oyebode in Lagos as an associate. From Aluko & Oyebode, Seriake Dickson founded his own law firm: Seriake Dickson & Co., in Portharcourt, Rivers State.
Seriake Dickson later joined politics leading to his becoming the State Chairman of Alliance for Democracy (AD) between 1990 and 2000. Between the years 2000 and 2002, he held the position of the National Legal Adviser of the party.
In the year 2006, Seriake Dickson was appointed the Attorney-General and Commissioner for Justice of Bayelsa State, a position he held until the year 2007 during the regime of Dr. Goodluck Ebele Jonathan as the governor of Bayelsa State.
In the year 2007, Seriake Dickson was elected a member representing Sagbama/Ekeremor Federal Constituency of Bayelsa State in the Federal House of Representatives of the Federal Republic of Nigeria. In the year 2011, he was re-elected for the second time to represent his constituency at the House of Representative.
On February 14, 2012, Seriake Dickson was elected the Governor of Bayelsa State.