Biography
Biography of Gilbert Nnaji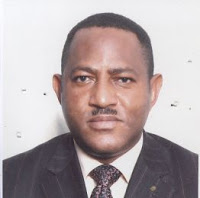 Gilbert Nnaji
Gilbert Emeka Nnaji was born on July 18, 1966. He is an indigene of Nike in Enugu
State.
He had his primary Education at Community Primary School, Amoji, Nike. He then proceeded to Boys High School Awkunanaw where he did his Secondary Education. He then attended the University of Nigeria(UNN) where he graduated with a B.Sc in Banking and Finance.
Gilbert Nnaji began his career in politics when he became the Chairman of the Enugu East Local Government from 1997 to 1998. He was again re-elected as Chairman from 1999 to 2002.
Gilbert contested for the Federal House of Representatives and won in 2003. He was in the Federal house of representatives for two tenures. It is worthy to note that he was Deputy House Leader while at the Federal House of Representatives.
In the 2015 elections, he contested for the Enugu East senatorial district and won under the platform of the People?s Democratic Party(PDP). However, his opponent, former Governor Chimaroke Nnamani went to the election petition tribunal to contest the result.
Gilbert Nnaji?s victory was nullified by the National Assembly Election Tribunal sitting in Enugu State in October, 2015.
The tribunal in its judgement ruled that Nnaji was not the duly elected candidate in the election.
The tribunal ordered the Independent National Electoral Commission (INEC) to issue the Certificate of Return to a former Governor of the state, Chimaroke Nnamani, who contested on the platform of the People for Democratic Change (PDC) and got the highest number of votes in the election.
-
Biography Of Gershom Henry Bassey, Senator
Gershom Henry BasseyGershom Henry Bassey was born on January 1, 1963. He is an indigene of Cross River State. Prior to his senatorial ambition, he was the Chairman of Cross River State Water Board. He was also the Chairman of the strategic Policy Committee...
-
Chris Ngige. Biography.
Dr. Chris Nwabueze Ngige was born on August 8, 1952. He studied medicine at the University of Nigeria-Nsukka where he graduated in 1979. After he became a medical doctor, Chris got employment in the civil service, servingdifferent...
-
Biography Of Ita Solomon Enang, Ssa To The Government On Senate Matters
Ita Solomon EnangSenator Ita Solomon Enang was born on August 23, 1962. He is an indigene of Akwa-Ibom State. From 1974 to 1979, He attended the Presbyterian Teachers Training College,Ididep in Akwa Ibom State. He thereafter got admission in 1980...
-
Biography Of Sullivan Iheanacho Chime; Ex-governor; Politician; Enugu State Celebrity.
Sullivan Iheanacho ChimeSullivan Iheanacho Chime, a native of Udi in Udi Local Government Area of Enugu State, was born on April 10, 1959. Sullivan Iheanacho Chime attended the College of Immaculate Conception (CIC), Enugu where he had his secondary education...
-
Biography Of Ugwuanyi Ifeanyi Lawrence;
Ugwuanyi Ifeanyi Lawrence is a native of Orba Town in Udenu Local Government Area of Enugu State, Nigeria. He was born on March 1964. Ugwuanyi Ifeanyi Lawrence attended University of Nigeria, Nsukka. Ugwuanyi Ifeanyi Lawrence worked with Premier Insurance...
Biography