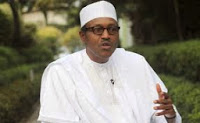 Muhammadu Buhari
M
uhammadu Buhari is a native of Daura, a Fulani town situate in Katsina State of Nigeria. He was
born on December 17, 1942. Muhamadu Buhari joined the army in the year 1962 and became the
governor of the North-Eastern State during the regime of Murtala Mohammed. Later, he was appointed Minister or Federal Commissioner for Petroleum and Natural Resources during the military regime of General Olusegun Obasanjo in 1976. When the Nigerian National Petroleum Corporation was created in 1977 Muhammadu Buhari was made the head.
On December 31, 1983, the government of the civilian President Shehu Shagari was removed in a coup d?etat,
Major-General Buhari was selected by the high ranking military officials to lead the country. The then Federal government, led by General Muhammadu Buhari and
Tunde Idiagbon
introduced a public campaign against indiscipline known as "War Against Indiscipline" (WAI). This initiative was highly commended by Nigerians because it brought sanity to the system.
Muhammadu Buhari is admired by many for his uprightness and stand against corruption. His government was able to keep the country economically buoyant not withstanding its rejection of
IMF
loan and refusal to adopt
IMF
directives which include devaluation of the
Naira
.
Muhammadu Buhari?s government reduced
inflation
by refusing to devalue the nation's currency.
However, the regime was also criticized for moves to silence critics of the administration, as decrees were passed curbing press freedom and allowing for opponents to be detained up to three months without formal charges. The regime also banned industrial actions such as strikes and lockouts by civil servants.
Later in time, Muhammadu Buhari was appointed as the Chairman of the Petroleum Trust Fund (PTF), a body funded from the revenue that accrued from the increase in price of petroleum products, to use for developmental projects around the country.
Buhari contested the Presidential election as the candidate of the All Nigeria People's Party(ANPP) on 2003 and lost.
Gen. Buhari, In t
he 2007 April Presidential polls, again contested. His main contender then was Umaru Yar'Adua of the Peoples Democratic PartyPDP), who is also from the same state - Katsina and he lost.
In March 2010, Buhari left the ANPP for the Congress for Progressive Change (CPC), a party that he had helped to found.
He said that he had supported foundation of the CPC "as a solution to the debilitating, ethical and ideological conflicts in his former party the ANPP".
Gen.Buhari was the CPC Presidential candidate in the 16 April 2011 general election, running against incumbent President Goodluck Jonathan of the People's Democratic Party (PDP), Mallam Nuhu Ribadu of Action Congress of Nigeria (ACN), and Ibrahim Shekarau of ANPP. Again he lost.
In 2015, Muhammadu Buhari not detered by his previous failures, contested for the Presidencial election under the platform of the All Progresive Congress(APC) and after a very tight race with the incubent, His Excellency, Goodluck Ebele Jonathan, Muhammadu Buhari emerged the winner and was declared the president elect.
This was made possible because the Nigerian masses wanted change and they voted for change as Buhari had promised in his campaign that his regime would have a zero tolerance for corruption and ahe also promised to tackle youth unemployment, security and general infrastructure like electricity.
In 1971, Buhari married his first wife, Safinatu Buhari(nee Yusuf) (First lady of Nigeria December 1983-August 1985). They had five children together, four girls and one boy. Their first daughter, Zulaihat (Zulai) is named after Buhari?s mother. Their other children are Fatima, Musa (deceased), Hadiza, and Safinatu.
In 1988, Buhari divorced his first wife Safinatu. In December 1989, Buhari married his second and current wife Aisha Buhari(nee Halilu). They also have five children together, a boy and four girls. They are Aisha, Halima, Yusuf, Zarah and Amina.
On 14 January 2006, Safinatu Buhari, the former first lady, died from complications of diabetes and She was buried at Unguwar Rimi cemetery in accordance with Islamic rites.
In November 2012, Buhari's first daughter, Zulaihat Junaid(nee Buhari) died from sickle cell anaemia, two days after having a baby at a hospital in Kaduna.
READ NEWS ON BUHARI.
Sambo Dasuki was born on December 2, 1954 in Wusasa, Zaria in Kaduna Sate of Nigeria. He is the first son of Alhaji Ibrahim Dasuki, the 18th Sultan of Sokoto. He is a retired Nigerian Army Colonel and former National Security Adviser (NSA) to President...
Mallam Adamu Adamu Graduated from Ahmadu Bello university From Zaria, Where he Read Accountancy. He his a writer & A renowned public analyst and columnist with Daily Trust, Mallam Adamu Adamu, to many, needs no much introduction.He is a public commentator...
Osagie E. EhanireDr. Osagie E. Ehanire is a Medical Doctor and an outstanding surgeon. He an indigene of Edo State in Nigeria. He holds a degree in Medicine from Ludwig Maximillians University, Munich. He also holds post graduate Diplomas from the Teaching...
Hammed Ibrahim AliColonel Hammed Ibrahim Ali was born on January 15, 1955. He was Military Administrator of Kaduna State, Nigeria from August 1996 ? August 1998 during the military regime of General Sani Abacha. He is married and blessed with 4 children....
Aisha Buhari Aisha Buhari, the pretty and charming first lady of the Federal Republic of Nigeria was born on the 17thof February 1971. She is an indigene of Adamawa State. The soft spoken but eloquent first lady is fluent in English and arabic. Aisha...