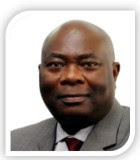 Omole Olusola Adesina
Omole, Olusola Adesina is a distinguished communication and public relations expert whose experience and training span not only the fields of media and communication,
but also management activities. He was appointed the Director General of Nigerian Television Authority in February 2014
Omole Olusola was born in 1951. He is happily married and blessed with two daughters and a Son and Grandchildren.
Omole had his University Education at University of Ibadan, (UI) from 1977 to 1980 where graduated with a First Class Honours Degree in Communication Arts.
Between January and April 1972, Before he gained admission into the University of Ibadan, he had earlier worked briefly as a Postal Officer with the defunct Post & Telegraph Department, General Post Office, Marina. He thereafter left the postal services and took up another employment as an English Language and Literature teacher at the Olivet Baptist High School, Oyo in April 1972 and worked till December, 1973.
His outstanding proficiency in English even as a secondary school certificate holder saw him picking up another employment with the highly rated Daily Times of Nigeria newspapers as an Editorial Proof reader, where he handled assignments in sub editing and general proof reading for all Daily Times publications.
Omole was still driven by ambition and destiny when he got another job as an Announcer and News Reader at the Nigerian Broadcasting Corporation (NBC) now FRCN between 1974 and 1976. It was there that his communication skills were fine-tuned preparatory to the future roles he was to play in the communication industry. With his exposure in the media he ventured into Salesmanship as he got another employment as a Sales Executive with Rank Xerox Nigeria Limited in July 1976 and served the organization till September 1977, where he exhibited a high level of competence in the art of customer satisfaction and management.
After graduating from the University in 1980, Sola Omole was posted to the Nigerian Television Authority for NYSC primary assignment. With the flair for television broadcast practice, he was retained by the Authority and was given a substantive employment as Editor/Newscaster in September 1981. He diligently served the NTA till 1985, when he moved to the private sector and specifically to Gulf Oil Company, now Chevron Nigeria Limited as Advisor Public Communications.
Omole?s long service of 25 years with Chevron and the subsequent exhibition of class in each position he manned saw him assuming other bigger responsibilities like Coordinator Community Affairs and PR, Manager Public Affairs, Senior Advisor Community and Corporate Affairs (Chevron, California) and Manager International Government Affairs (Chevron, Washington, DC). After meritorious services at the Chevron with an excellent record of performance, he retired in December 2010.
A man whose destiny has forbidden him to stay at any point in time without a job, he took another employment as the Chief Executive Officer of the Musical Society of Nigeria (MUSON Centre) in April 2012. At MUSON Centre, he employed fully his vast experience and exposure in the management of the Centre.
Still being guided by an unfathomable fate, Omole became the preferred choice for the position of Director General of the Africa?s largest TV network, the Nigerian Television Authority in February 2014. Coming back to a profession that could be termed his natural calling, he is currently repositioning NTA for better service delivery: bringing innovations in the area of NTA programming and news.
It is worthy to note that Omole Sola derives a whole wealth of knowledge from reading. In an interview with daily trust on what book had made an impact on him while growing up he has this to say
?It will have to be a book like Things Fall Apart. The impact it made on me was not something that happened consciously. Achebe is a master storyteller. If one looks away from the page, one can literally see the drama unfolding so vividly. I have various editions of Things Fall Apart.?
Again on when asked what his favourite reading place was, he said?
I read mostly in my study. I also travel read. I used to love watching movies when I fly but over the years I have lost interest in watching movies.
Now, I read books. I serial read, I am often known to be reading three books at the same time.?
Furthermore, when asked to list five of his favourite books, he has this to say?



The Clifton Chronicles by Jeffrey Archer-.

I stumbled on this book in a store in California and bought it. When my son was expecting his own son, we all gathered around waiting for the arrival of the baby so I invited my in-law for a walk. We went into Barnes and Nobles and I found the 2nd volume then I bought the 3rd and 4th one. Suspenseful!
John Grisham?s books- are legal thrillers. The other day on my way back from a trip, I was on the plane with the INEC chairman Professor Attahiru Jega and he was reading a Grisham. I thought to myself, this is a reading soul mate.


Segun Adeniyi?s Power, Politics and Death

- An incredible book I was amazed that an individual can have the amount of influence he had in decision making at the highest level. I believe President Yar?Adua must have had a lot of respect for him.


Any books on American Politics. The Americans commit their political experience to books. I have read Bill Clinton, George W. Bush, Condoleezza Rice. These books help you understand leadership and decision making processes. I have also read Obafemi Awolowo and I have read Ghandhi. Ghandi is one of the few books I have in Paperback because I could not leave it. Great narrative about the life of an exceptional individual.
Wole Soyinka:- You Must set Forth at Dawn.
I got someone to get me the hardcover. Then I went to a congressional hearing for Africa in Washington DC and was Africa?s representative for Chevron at the time. I saw Professor Soyinka. But I did not have the book so I went up to him to autograph a piece of paper for me for the book telling him I had a copy at home and hoping he would believe me, he did.?
Segun OniOlusegun Oni popularly known as Segun Oni was born on September 5, 1954 at Ifaki in Ekiti State, Nigeria to Hezekiah Adebomi Oni and Comfort Ajayi Oni. His father died on January 28, 1981. Segun Oni is a Nigerian Politician and an...
Sola AtereSola Atere was born at Isua in Akoko South East Local Government Area of Ondo State. He is an Indigene of Ondo State. He Attended the University of Lagos, the University of Abuja and the Nigerian Institute of Journalism among others. He...
Ibrahim Lawal Damisa Alhaji Ibrahim Lawal Damisa a consummate broadcast Journalist was born on the 2nd of February, 1956. He had his early education at the Kudu and Arewa Primary Schools in Kazaure as well as the l.E.A Primary School, Karkarna all...
Eugenia AbuEugenia Abu is the Executive Director Programmes of the Nigerian Television Authority, NTA. She had her University Education at Ahmadu Bello University Zaria, where shebagged a degree in English in 1981. She proceeded further to obtain...
John Olatchy MomohJohn Olatchy Momoh (OON) is the Chairman and CEO of Channels Television, a Television station he founded in 1992. He was born on July 1, 1957 in Lagos, Nigeria. He was born into a humble background as his father was a cook. The Television...